printer friendly version
T&A on your cellphone
August 2009
IT infrastructure
Cellular time and attendance adds a new dimension to access control.
It is not always financially viable to place a traditional clocking machine to control time and attendance (T&A) at each and every point where employees are stationed, particularly when staff numbers are less than 10. This is also applicable when there are no fixed sites involved and employees travel to different locations to undertake work.
Beget Solutions, a division of JSE-listed Beget Holdings, has developed a system, integrated into its MobileBIO Website, where employees can clock in and out using their cellphones. The employee sends the text 'CLOCK A' for IN or 'CLOCK B' for OUT via premium rated SMS to a designated short code for the system to register the activity. There is also an option to send a text comment, for example, 'At client xyz'. The cellphone number acts as the employee's unique ID. An SMS is sent back immediately confirming receipt of the SMS clock.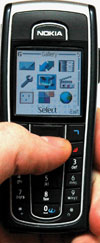 By means of LBS (location based services) the actual location of the employee is plotted and stored in the Beget system. Employers can log into the MobileBIO Website to access SMS reports and to track the whereabouts of their staff making the system ideal for applications such as self-posting guards where site supervision is difficult, travelling representatives, and for companies such as plumbers and electricians that have several vehicles and teams on different sites at different times.
The SMS clocking can be used integral to Beget's other fingerprint-based biometric systems to provide full management of all staff T&A by writing the in and out clocking functions – from both fixed and mobile clocking devices – into a central database. Where fingerprint capture is not possible, SMS clocking not only reduces the manual input of clocking information but allows for more effective control of employee movements.
The system works over both MTN and Vodacom networks.
For more information contact Delmé Hawkins, Beget Solutions, 086 112 3438, [email protected]
Further reading:
Rack-mounted, three-phase online UPS
Security Services & Risk Management IT infrastructure Products
The new Eaton 93PX 15-20 kVA UPS combines high efficiency with a compact footprint, lower TCO, and improved cybersecurity to provide stable power for critical IT, industrial, manufacturing, and medical applications.
Read more...
---
Automated, real-time traffic analysis and ML-based mitigation
IT infrastructure Products
NetScout Systems has launched Adaptive DDoS Protection for its Arbor Threat Mitigation System (TMS) to dramatically improve the detection of distributed attacks that dynamically change vectors and target numerous destination IP addresses at once.
Read more...
---
Five reasons why your board should push cybersecurity 'boundaries'
Security Services & Risk Management IT infrastructure
From a technological perspective, micro-segmentation of your IT security environment can be viewed as a way to identify, isolate and curtail the reach of any threat – even once it is in your network.
Read more...
---
Plan to use AI? Get your data ready
Integrated Solutions IT infrastructure
Artificial Intelligence (AI) is often perceived as an intelligent system that can handle any task. However, this notion crumbles when the AI is given poorly formatted or incorrect data. You cannot simply provide a few spreadsheets or databases to AI and expect it to work flawlessly.
Read more...
---
The future of innovative business lies at the edge
IT infrastructure
Connectivity issues previously limited Edge's potential, but innovations like 5G and IoT have made it seamless. The data generated by connected devices enhances analytics, and AI improves customer experiences.
Read more...
---
AI-powered cyber protection for consumers
IT infrastructure Cyber Security
Acronis Cyber Protect Home Office is designed for the evolving landscape of cyber threats by integrating Acronis' cyber protection and secure backup solutions, combining AI-powered defence mechanisms, robust data backup, remote management tools, and mobile device protection.
Read more...
---
Paratus signs re-seller agreement with Starlink for Africa
News IT infrastructure
Pan-African telco and network services provider Paratus Group announced it has entered an agreement as a distributor for Starlink's high-speed services across the African continent, available immediately in Mozambique, Kenya, Rwanda and Nigeria.
Read more...
---
What is the 3-2-1 rule
IT infrastructure
Data corruption is a bit like a car accident. It does not happen often to a person, but when it does, even a minor fender bender can create inconvenience, and a major smash can cause months, even years, of problems.
Read more...
---
Undersea cable incidents highlight need for network resilience
IT infrastructure
South Africa's undersea cable network is an indispensable digital lifeline, tethering the country to the global digital community. Daily, these cables process terabytes of data, underpinning near every local sector.
Read more...
---
Secure backup strategies imperative for business continuity
IT infrastructure Cyber Security
Cybercrime is on the rise, and businesses need to adjust how they manage their data to fend off attackers, or risk irreparable damage, writes Lisa Strydom, Senior Manager Channel and Alliance for Africa at Veeam Software.
Read more...
---