printer friendly version
The hook in fish-eyes
August 2009
CCTV, Surveillance & Remote Monitoring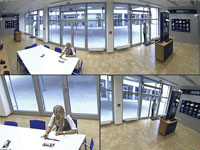 By adding a fish-eye lens to a megapixel IP camera, manufacturers are offering video solutions that generate a much wider field of view than standard cameras. The design objective of these systems is to provide greater area coverage per camera, thus lowering the number of cameras needed at any one site and saving the customer money. But one of the key issues with these systems is related to the video delivery between the camera and the recording server.
While the purpose of fish-eye cameras is to save the customer money, they do not deliver on the promised image quality and ironically, are not cost effective. Based on the centralised system topology, these fish-eye cameras require a separate computer plus recording software with image distortion correction capabilities.
Why is this the case? It is the way centralised IP cameras handle video. To match the image quality of a high-quality camera, a standard fish-eye megapixel camera would have to transfer 3 megapixel video made up of raw images to a server. However each raw image is approximately 10 megabytes. If the camera was to stream 3-megapixel raw images at 12 frames per second, it would require 1 gigabit (10 megabyte x 12 fps x 8 bits = 1 gigabit) of bandwidth – and that is just from one camera. Bandwidth requirements of this nature would effectively kill even the best corporate networks.
To get around this problem, centralised cameras have to include intelligence on the camera to first compress the images on the camera to a much lower resolution (normally MPEG-4/H.264) and then send them to the recording server to be processed and for the image analysis and distortion correction to be performed. Without this capability, the quality of fish-eye cameras is substandard.
So how is the MOBOTIX Hemispheric technology different? Based on the decentralised platform, the camera has all the recording server (DVR/NVR) functionality built-in, thus all the image correction, video processing, recording and storage management is handled by the camera.
This also means the raw megapixel image can be stored in the Mobotix camera – key to the success of the system. A benefit here is that there is no bandwidth usage while recording and users can action pan, tilt and zoom within the recorded images stored at the camera and inspect every section of the room, in very high detail within the raw image.
What is important to note is that full DVR search functionality (time, date and event) can be performed on the video stored locally in the camera (microSD), or at the camera (USB/Ethernet HDD, NAS), from a local or remote location.
To ensure the integrity of the hemispheric video quality, Mobotix uses the MxPEG codec – the only video codec in the world that has been specifically designed for video surveillance applications. MxPEG delivers consistent JPEG-like 3-megapixel resolution, at around five times less storage utilisation than M-JPEG.
The MOBOTIX Q24 ships with 4 GB of internal storage fitted, upgradeable to 32 GB, allowing for several days of on-board event based video recording. If more storage is required at the camera, users can opt for recording to USB flash (currently up to 64 GB), USB HDD (250 GB and higher). With the video recording software, storage and alarm management built-in the Q24 is install-ready, with ­nothing else to spend.
For more information contact Burg van der Westhuizen, Industrial Automation & Control, +27 (0)12 657 3600, burg@iacontrol.co.za
Credit(s)
Further reading:
Drones and cybersecurity?
October 2019 , CCTV, Surveillance & Remote Monitoring
Hacker drones can eavesdrop electronically on conversations, can perform network attacks, or can create fake wireless access points.
Read more...
---
Body-worn cameras transforming security
October 2019 , CCTV, Surveillance & Remote Monitoring, Security Services & Risk Management
Police Service Northern Ireland now has over 7 000 officers using 2 500 cameras covering approximately 173 000 incidents each year.
Read more...
---
Camera Selection Guide 2019
CCTV Handbook 2019 , CCTV, Surveillance & Remote Monitoring
The Camera Selection Guide 2019 includes a range of IP, analogue, thermal and speciality cameras aimed at a broad range of surveillance functions.
Read more...
---
Intelligent analytics and the brains to match
September 2019, Bosch Building Technologies , CCTV, Surveillance & Remote Monitoring, Integrated Solutions
What if the brains behind our security cameras could be trained to improve their cognitive ability to pay attention, learn, and problem-solve according to specific rules and situations?
Read more...
---
AI-powered autonomous Drone-in-a-Box
September 2019 , CCTV, Surveillance & Remote Monitoring, Integrated Solutions
Organisations in the mining, energy and industrial, oil and gas, ports and terminals sectors can optimise security and business operations, whilst reducing risks and operational costs
Read more...
---
Cybersecurity for video surveillance systems
September 2019, Mobotix , Cyber Security, CCTV, Surveillance & Remote Monitoring
Video surveillance systems are increasingly accessible over any IP network, which has led to the rise of potential cyberattack.
Read more...
---
What are the cybersecurity issues in video surveillance?
November 2019, Axis Communications SA , Editor's Choice, CCTV, Surveillance & Remote Monitoring, Cyber Security
he importance of the data captured by surveillance cameras – and what can be done with it – has led to a new breed of cybercriminals, looking for insights to steal and sell.
Read more...
---
The safe city and its need for interoperability
November 2019 , Integrated Solutions, CCTV, Surveillance & Remote Monitoring
Interoperability continues to present one of the greatest challenges, particularly with video management systems, video recording devices and cameras.
Read more...
---
A platform approach to safer and smarter cities
November 2019, Milestone Systems , CCTV, Surveillance & Remote Monitoring
Selecting the right platform to manage the vast data collected from smart and safe cities is critical to the ultimate success of the project.
Read more...
---
Creating safe cities with smart technology
November 2019, Secutel Technologies , CCTV, Surveillance & Remote Monitoring
In a digital age, where resilience and responsiveness are paramount to fighting crime and creating a safer world, CCTV systems are becoming part of every city's infrastructure.
Read more...
---