printer friendly version
Video analytics ignores recession
August 2009
CCTV, Surveillance & Remote Monitoring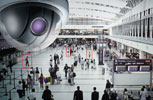 ABI Research predicts the video surveillance market will be worth more than $41 billion in 2014.
Despite constraints on most sectors as a result of the worldwide recession, the global video surveillance market posted a 10% growth rate in 2008 and 2009 and is on track to accelerate when the economy starts to recover, according to ABI Research. In fact, the prognosis for the growth of this new technology is so good that ABI Research predicts the total market will be worth more than $41 billion in 2014, a figure not to be sneezed at, says Jack Edery, CEO of Elvey Security Technologies.
Edery says the growing popularity and utilisation of video analytics (also called intelligent video or video content analysis) comes, at least in part, on the back of recession-based crime. Edery, who describes video analytics as the computerised identification of events and objects, says its strength lies in its ability to automatically identify items of interest without human assistance.
The arrival of video analytics, intended to improve on the surveillance capabilities of closed circuit television (CCTV), has not been without controversy, though. Over-promised and under-delivered in numerous instances, the technology in its infancy proved a big disappointment to many end-user pioneers. However, in its new, refined form, Edery says it is transforming the way security, safety and marketing images are reviewed.

Discernable move
There is a discernable move from analogue to IP (Internet Protocol) surveillance, says Elvey's technical director Zane Greeff. He explains why: "Initially, set-ups were complex and confusing, which resulted in operating errors, poor performance and unacceptably high levels of downtime. Coupled with the high cost of implementation – sometimes as much as R9000 per camera – and one can see why video analytics started off on the wrong foot."
However, after going back to the drawing board, the technology has reached a point where it is successfully combining advanced capabilities with affordability and easy installation and operation.
That there is a great need for video analytics is indisputable, he maintains. "Research shows that the efficiency level of the operator drops dramatically over time and that after little more than 20 minutes, the average operator takes in only about 5% of the information presented.
"A typical CCTV control room comprises banks of monitors that are only effective for as long as the operator is concentrating enough to be able to spot anything out of the ordinary. While the use of video motion detection (VMD) has become a standard in all CCTV installations, potentially providing operators with more information and accordingly more scope to deal with false alarms, it remains limited in its application and vulnerable to outside conditions and camera positioning."
Which is where video analytics comes in. Through the combined use of algorithms, intelligent software and IP-based video surveillance technology, video analytics is able to analyse video for specific data, behaviour and objects.
The future of analytics
Far from their original set-up complexity, Greeff says today's best video analytic systems are easy to install. They are also cost-effective and simply integrated into good legacy and CCTV systems, hence his prediction that the technology will become indispensable to the retail, industrial, manufacturing, processing and banking sectors in the near future. "Not only will video analytics curb or contain crime such as shrinkage, burglary and robbery, it also has a significant role to play in terms of reducing workplace bullying and violence."
Further, he predicts its increasing utilisation on high-risk sites, because of its ability to provide accurate, realtime event footage in a wide range of applications.
For more information contact Kenny Chui, Elvey Security Technologies, +27 (0)11 401 6700, [email protected], www.elvey.co.za
Credit(s)
Further reading:
Turkish university installs IDIS surveillance
CCTV, Surveillance & Remote Monitoring Products
IDIS video streamlines complex surveillance systems for learning institution, upgrading a 350-camera system with 24/7 control room monitoring to transform security for Social Sciences University of Ankara (ASBU).
Read more...
---
Brighter, greener, and smarter
Dahua Technology South Africa Products CCTV, Surveillance & Remote Monitoring
Dahua Technology released its new Dahua CH II Series Indoor Fine Pixel Pitch LED display, providing visual clarity and promoting energy efficiency and sustainability.
Read more...
---
Smart water management
Axis Communications SA CCTV, Surveillance & Remote Monitoring Integrated Solutions
South Africa is currently facing a water crisis, with scarcity and inefficient water management posing significant challenges to sustainable, consistent access to water. Smart technology and powerful partnerships may offer a proactive solution to SA's water crisis.
Read more...
---
Helping retailers optimise monitoring and security
Guardian Eye Retail (Industry) CCTV, Surveillance & Remote Monitoring
From a smart retail perspective, it is crucial to understand that monitoring stock and other assets through camera surveillance and a variety of Internet of Things (IoT) sensors stretches further than the stores themselves.
Read more...
---
Empowering Istanbul's public transportation
Dahua Technology South Africa CCTV, Surveillance & Remote Monitoring Integrated Solutions
Dahua's intelligent transportation solution, using technologies like DSM and AI-based passenger flow counting, has facilitated an intelligent system upgrade for nearly 6 400 minibuses and electric buses in Istanbul.
Read more...
---
Smart manufacturing redefined
Hikvision South Africa CCTV, Surveillance & Remote Monitoring Industrial (Industry)
AI and intuitive visualisation technology allows managers to monitor manufacturing sites, production, and operational processes, and to respond in real time in the event of an issue – helping to drive efficiency and productivity.
Read more...
---
AI is getting smarter, and critical infrastructure is set to benefit
Axis Communications SA CCTV, Surveillance & Remote Monitoring
With technology advancing at an astonishing pace, AI has emerged as a defining trend in today's business arena. Enterprises across all sectors are prioritising this technology, embracing its transformative potential to drive change and growth.
Read more...
---
Collaboration delivers integrated and holistic security
Guardian Eye CCTV, Surveillance & Remote Monitoring News Integrated Solutions
Guardian Eye and Lytehouse have partnered to integrate their speciality solutions and provide a holistic security offering that overcomes the fragmentation of security systems and services.
Read more...
---
Manage security systems remotely
Hikvision South Africa CCTV, Surveillance & Remote Monitoring IT infrastructure Products
Hikvision launched a new generation of smart managed switches that, in conjunction with the Hik-Partner Pro mobile app, enable installers to remotely deploy and configure security systems with comprehensive operation and maintenance capabilities.
Read more...
---
Synology enhances functions for advanced surveillance integration
Technews Publishing CCTV, Surveillance & Remote Monitoring IT infrastructure Products
With the capability to function as both an API client and server, Surveillance Station offers a versatile platform for integration, whether it's embedding video streams into other platforms or overlaying external data onto recorded video.
Read more...
---