printer friendly version
Trends in video surveillance
July 2009
CCTV, Surveillance & Remote Monitoring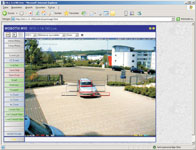 IP cameras use technology to change the face of surveillance.
In recent years, the increase in terrorist related activities has propelled video surveillance technology into the public conscience as something both relevant and important. A recent IMS study reported that the demand for reliable video surveillance is increasing at a CAGR of 38% and will achieve a market value of USD $4 billion by 2011.
Many people see technology as a solution to many of the problems that exist in the video surveillance world. It is true that technology can be used for good, but with new developments come new challenges issues. The digital divide is one such issue, one that people are actively trying to overcome. The Internet has created new and innovative ways for people to share information and apply it in realtime (ok, close to realtime).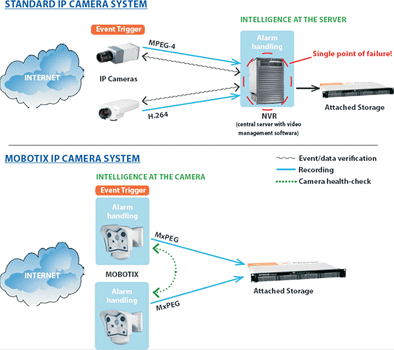 Intelligent video analysis
As more attention is focused on safety and security issues, the requirements for video surveillance analysis has steadily increased, which in turn increases the demands on processing capabilities.
Simon Hall, chief editor of MxInstaller said: "Intelligent video (IV) has been introduced to improve a surveillance system's ability to detect differing event types in realtime, and take appropriate action, whether that be to record the event, alert security personnel and so on. Whilst IV is seen as the obvious way forward, there is an ongoing debate within the industry about where the decision-making intelligence should reside – 'at the edge' of the network (ie, at the camera), or at the server. It should be noted that the debate exists due to the fact that most surveillance systems are server-based."
Mobotix is the latest company to offer a camera that takes the intelligence to the edge in such a way that users do not need a central server or DVR/NVR. Even the NVR capabilities are pushed out to the edge and the camera handles it. Pushing the NVR capabilities out to the edge offers unprecedented cost advantages and redundancy because the system is not server reliant – thus there is no single point of failure in the alarm management.
This results in a decentralised system that can make decisions and sends only the results down to a storage device without additional software. The camera can even host internal storage, also resulting in cost savings on expensive bandwidth equipment.
The cameras also have an intelligent health checking procedure, a broken or malfunctioned camera will be reported by a healthy camera by means of an IP network or SMS message. Functions like voice over IP, sound monitoring and tamper alarms are also an integral part of each camera. The camera can also handle telephony functions like remote control via DTMF signalling.
Video motion detection
Mobotix cameras possess integrated video motion detection. The user can define various rectangular areas in the camera image to monitor. Each of these areas can be assigned a separate set of parameters in order to respond to different circumstances.
The motion detection is a two-stage function. First of all, a check is performed to determine which of the pixels in the specified image field have changed. This is done by way of a pixel-for-pixel comparison with the previous image and by checking whether the set percentage threshold (first parameter) has been exceeded for this image field. In a second stage, a check is then performed to determine whether the number of pixels which are detected as having moved exceeds a specified area portion (second parameter) within the field being monitored.
In addition, full control can be intercepted and suppressed with a pre-definable maximum value (third parameter). This means that in situations where the number of pixels which have been detected as having moved exceeds the maximum limit, the camera detects this as a malfunction and, in this case, there is no event triggered.
The motion detection function operates best if the size of the detection areas is adapted in line with the size of the object being detected. It is advisable to detect motion via several small areas which are positioned at the most important places in the camera image (for example a door) instead of across a single analysis area comprising the entire image.
In addition, reference panes can be set with the Mobotix cameras; they act and are set like the detection panes. However, they do not generate an event, they suppress it. Thanks to the reference panes, malfunctions such as a light source being switched on or the shadows of moving trees, can be filtered out.
For more information contact Burg van der Westhuizen, Industrial Automation & Control, +27 (0)12 657 3600.
Credit(s)
Further reading:
Drones and cybersecurity?
October 2019 , CCTV, Surveillance & Remote Monitoring
Hacker drones can eavesdrop electronically on conversations, can perform network attacks, or can create fake wireless access points.
Read more...
---
Body-worn cameras transforming security
October 2019 , CCTV, Surveillance & Remote Monitoring, Security Services & Risk Management
Police Service Northern Ireland now has over 7 000 officers using 2 500 cameras covering approximately 173 000 incidents each year.
Read more...
---
Camera Selection Guide 2019
CCTV Handbook 2019 , CCTV, Surveillance & Remote Monitoring
The Camera Selection Guide 2019 includes a range of IP, analogue, thermal and speciality cameras aimed at a broad range of surveillance functions.
Read more...
---
Intelligent analytics and the brains to match
September 2019, Bosch Building Technologies , CCTV, Surveillance & Remote Monitoring, Integrated Solutions
What if the brains behind our security cameras could be trained to improve their cognitive ability to pay attention, learn, and problem-solve according to specific rules and situations?
Read more...
---
AI-powered autonomous Drone-in-a-Box
September 2019 , CCTV, Surveillance & Remote Monitoring, Integrated Solutions
Organisations in the mining, energy and industrial, oil and gas, ports and terminals sectors can optimise security and business operations, whilst reducing risks and operational costs
Read more...
---
Cybersecurity for video surveillance systems
September 2019, Mobotix , Cyber Security, CCTV, Surveillance & Remote Monitoring
Video surveillance systems are increasingly accessible over any IP network, which has led to the rise of potential cyberattack.
Read more...
---
What are the cybersecurity issues in video surveillance?
November 2019, Axis Communications SA , Editor's Choice, CCTV, Surveillance & Remote Monitoring, Cyber Security
he importance of the data captured by surveillance cameras – and what can be done with it – has led to a new breed of cybercriminals, looking for insights to steal and sell.
Read more...
---
The safe city and its need for interoperability
November 2019 , Integrated Solutions, CCTV, Surveillance & Remote Monitoring
Interoperability continues to present one of the greatest challenges, particularly with video management systems, video recording devices and cameras.
Read more...
---
A platform approach to safer and smarter cities
November 2019, Milestone Systems , CCTV, Surveillance & Remote Monitoring
Selecting the right platform to manage the vast data collected from smart and safe cities is critical to the ultimate success of the project.
Read more...
---
Creating safe cities with smart technology
November 2019, Secutel Technologies , CCTV, Surveillance & Remote Monitoring
In a digital age, where resilience and responsiveness are paramount to fighting crime and creating a safer world, CCTV systems are becoming part of every city's infrastructure.
Read more...
---