printer friendly version
IP access control
May 2009
Access Control & Identity Management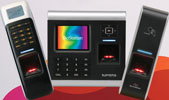 Suprema's BioStar access control software and biometric security technology combines IP connectivity and biometric security. A biometric device installed at each door works not only as a reader but also as an intelligent controller. Separate secure relay units can be installed inside a door to eliminate security breaches.
Joining biometrics and IP makes a perfect fit by leveraging the merits of each technology. The increased cost of implementing biometric technology is reduced by removing expensive control panels from the system and lessening the burden of wiring from a central panel to each reader.
BioStar offers lower cost per access point by eliminating control panels, and supports flexible zone management for anti-passback and alarms. BioStar can be networked on the company's existing LAN, RS485 or a combination of both. As long as there is a communication path among devices, they can be grouped together to be controlled and synchronised as one logical unit.
BioStar is compatible with Suprema's BioStation, BioEntry Plus and BioLite net.
For more information contact Suprema, 0860 Suprema/0860 787 736, www.suprema.co.za
Further reading:
The AI knows best
Access Control & Identity Management
RBA makes use of the vast computing power of machine learning to analyse thousands of data points to determine how risky a transaction may be.
Read more...
---
Enterprise identity fraud prevention
Access Control & Identity Management
Trustmatic brings government-grade facial 1:N search capabilities to the cloud, supporting face deduplication and identification against watchlists, and providing seamless integration via REST API.
Read more...
---
Gallagher announces ISO 27001 certification
Gallagher News Access Control & Identity Management
Gallagher has announced it has achieved ISO 27001 accreditation, a standard that ensures organisations protect their information in a systematic and efficient way, through a comprehensive Information Security Management System (ISMS).
Read more...
---
Remote management of access points
Salto Systems Africa Access Control & Identity Management
SALTO BLUEnet Wireless has been developed to meet the demands of security and ease-of-use. This access control system is networked through Bluetooth RF and designed for doors where real-time control is required.
Read more...
---
Biometrics and breathalysers
Access Control & Identity Management
ERSBio partners with ALCO-Safe to incorporate alcohol testing into customised, intelligent time and attendance solutions.
Read more...
---
RealPass-N document reader
Suprema Access Control & Identity Management
A compact, multi-functional full-page document reader, Suprema's RealPass-N offers one-step scanning to capture images and data from multiple documents including ICAO Doc 9303 compliant eMRTD such as e-passports, e-visas, ID cards and barcodes.
Read more...
---
Contactless access control solution
LD Africa Access Control & Identity Management
The Matrix Cosec Argo Face offers advanced contactless user access in an all-in-one product composed of a door controller powered by facial recognition technology.
Read more...
---
ZKTeco Experience Centre
ZKTeco News Access Control & Identity Management
ZKTeco South Africa has opened the doors to its innovative and interactive space, the ZKTeco Experience Centre in Centurion, Pretoria and welcomes visitors to partake in the 'Powered by ZKTeco' experience.
Read more...
---
Touchless school access control
neaMetrics Suprema Editor's Choice Access Control & Identity Management Integrated Solutions Education (Industry) Products
Wolverhampton Grammar School deployed a Suprema access control solution, integrated with Paxton to resolve its legacy access control challenges.
Read more...
---
Visible light facial recognition
ZKTeco Access Control & Identity Management
The ZKTeco SpeedFace-V5L [TI] is a fully upgraded version of the SpeedFace-V5L [TD] visible light facial recognition body temperature detection terminal, supporting facial and palm recognition.
Read more...
---