printer friendly version
Finding a vein
May 2009
Access Control & Identity Management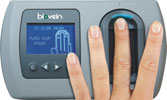 Biometric identification working off the veins of a finger is ideal for harsh working environments.
Fingerprint-based biometric access control and time and attendance systems are reputed to be somewhat ineffective in harsh environments, such as those associated with mines or construction sites. Workers who handle abrasive materials or when fingers are dirty or exposed to continual moisture that distort fingerprints can have difficulty clocking in or out, resulting in pay discrepancies or not being able to gain access to their work area.
The solution is to go deeper.
New technology developed by Hitachi in Japan uses the unique patterns of veins inside fingers to positively identify people. This technology has been incorporated into a time and attendance (T&A) and access control system called BioVein, a product from French biometrics company, the Easydentic Group.
It is now available exclusively through Pretoria-based Beget Solutions, a division of Beget Holdings, a JSE-listed company specialising in access control and time and attendance solutions.
Hitachi's finger vein authenticating system captures images of the latticework of minute blood vessels under the skin. A near-infrared light is passed through the finger allowing an image to be recorded on a CCD camera underneath. These vein patterns, like other biometric data, are unique to each individual.
Where finger vein authentication is proving to be the most sophisticated of all biometric identification methods, is in its high level of accuracy. The condition of the finger – dirty, wet, even if light gloves are worn – cannot affect the sensor readings so identification is guaranteed.
Because the vein pattern is inside the body, it is impossible to duplicate or damage. Vein authentication provides a solution for the current limitations experienced by fingerprint biometric solutions as well as for the harsh working conditions in which they are required to be implemented. The technology ensures the confidentiality of personal data and is therefore safe and secure for the individual.
Data collection is based on a contact-less principle. A finger need not directly touch the reader for the vein pattern to be read. This means the system has an added advantage of being hygienic.
The 3D finger vein profile is image-processed using a special algorithm resulting in digital data that can be stored in a data repository.
The BioVein reader can be used as a standalone system allowing programming and operation to be carried out on the unit itself via the LCD screen, or from any PC over a network. It can be integrated into door access systems or turnstiles, and into centralised time and attendance management systems to provide full audit trails of staff working hours.
The implementation of T&A and access control is vital for organisations with a large staff complement, or when working on shifts or overtime that needs to be properly managed. In a tougher economy where full worker productivity is important it becomes even more necessary to bring in tighter control systems. Biometric identification for access control eliminates problems such as buddy clocking and ghost workers.
BioVein has been successfully implemented in Europe for access control to both large and small businesses. This vein identification technology is also successfully used in Japan to verify identities in computer login systems, as validation devices for ATM and door access systems.
For more information contact André Potgieter, Beget Holdings, 086 112 3438, info@beget.co.za
Further reading:
The AI knows best
Access Control & Identity Management
RBA makes use of the vast computing power of machine learning to analyse thousands of data points to determine how risky a transaction may be.
Read more...
---
Enterprise identity fraud prevention
Access Control & Identity Management
Trustmatic brings government-grade facial 1:N search capabilities to the cloud, supporting face deduplication and identification against watchlists, and providing seamless integration via REST API.
Read more...
---
Gallagher announces ISO 27001 certification
Gallagher News Access Control & Identity Management
Gallagher has announced it has achieved ISO 27001 accreditation, a standard that ensures organisations protect their information in a systematic and efficient way, through a comprehensive Information Security Management System (ISMS).
Read more...
---
Remote management of access points
Salto Systems Africa Access Control & Identity Management
SALTO BLUEnet Wireless has been developed to meet the demands of security and ease-of-use. This access control system is networked through Bluetooth RF and designed for doors where real-time control is required.
Read more...
---
Biometrics and breathalysers
Access Control & Identity Management
ERSBio partners with ALCO-Safe to incorporate alcohol testing into customised, intelligent time and attendance solutions.
Read more...
---
RealPass-N document reader
Suprema Access Control & Identity Management
A compact, multi-functional full-page document reader, Suprema's RealPass-N offers one-step scanning to capture images and data from multiple documents including ICAO Doc 9303 compliant eMRTD such as e-passports, e-visas, ID cards and barcodes.
Read more...
---
Contactless access control solution
LD Africa Access Control & Identity Management
The Matrix Cosec Argo Face offers advanced contactless user access in an all-in-one product composed of a door controller powered by facial recognition technology.
Read more...
---
ZKTeco Experience Centre
ZKTeco News Access Control & Identity Management
ZKTeco South Africa has opened the doors to its innovative and interactive space, the ZKTeco Experience Centre in Centurion, Pretoria and welcomes visitors to partake in the 'Powered by ZKTeco' experience.
Read more...
---
Touchless school access control
neaMetrics Suprema Editor's Choice Access Control & Identity Management Integrated Solutions Education (Industry) Products
Wolverhampton Grammar School deployed a Suprema access control solution, integrated with Paxton to resolve its legacy access control challenges.
Read more...
---
Visible light facial recognition
ZKTeco Access Control & Identity Management
The ZKTeco SpeedFace-V5L [TI] is a fully upgraded version of the SpeedFace-V5L [TD] visible light facial recognition body temperature detection terminal, supporting facial and palm recognition.
Read more...
---