printer friendly version
A finger on fun
May 2009
Access Control & Identity Management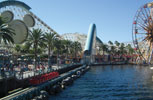 Biometrics can speed the frustrating process of gaining access to theme parks.
Theme parks promise fun for all, but securing them can be a challenge. There are many areas within this entertainment environment that face security threats on a daily basis, whether through ticket fraud, resale of season tickets or simply long lines deterring customers from entering the park.
To minimise these risks, the theme park industry has been looking at automated identity verification to provide the answer.
International biometric solutions provider Lumidigm, supported locally by Brand New Technologies, has developed a biometric identity verification system that increases the bottom line of theme parks and enhance guests' privacy.
"Lumidigm's biometric verification system uses unique biometric information from a fingertip to verify a ticket holder," says Dave Crawshay-Hall, CTO Brand New Technologies. "The system compares the information on the ticket with the guest's own unique biometric information. This process takes 1,2 seconds from start to finish — and is fully unattended and anonymous."
This robust solution has already been successfully deployed at a major theme park organisation in the United States. At this implementation the sensors are outdoors and exposed to all weather conditions including sun, wind, and rain; the population using the sensors is very diverse; the sensors are unattended, and the guests are untrained. Despite these adverse conditions the results have been spectacular. The benefits realised include:
* Prevention of sharing and resale of multiday, multipark, season or annual passes.
* Increase reliability due to reliable and consistent automated identity verification. The time required to check IDs is radically reduced as guests no longer need to provide confidential information such as ID numbers and addresses to manually verify against a photo ID.
* More return customers as the automated identity verification increases throughput: shorter lines mean more satisfied customers and more time for in-park spending.
Even individual concerns regarding invasion of privacy are addressed as complete fingerprint data is not necessary for thorough identity verification, and no fingerprint images are ever recorded. Lumidigm turnstile sensors collect just enough data from the fingertip to verify an individual. That information is then encoded as a number. A fingerprint image cannot be recreated from this encoded information, and the encoding is park-specific.
"This level of biometric scan is like asking for the last three digits of your phone number. With three digits of your phone number, no one will know your full number. Guests can therefore rest assured that they are not being fingerprinted," concludes Crawshay-Hall.
Further reading:
The AI knows best
Access Control & Identity Management
RBA makes use of the vast computing power of machine learning to analyse thousands of data points to determine how risky a transaction may be.
Read more...
---
Enterprise identity fraud prevention
Access Control & Identity Management
Trustmatic brings government-grade facial 1:N search capabilities to the cloud, supporting face deduplication and identification against watchlists, and providing seamless integration via REST API.
Read more...
---
Gallagher announces ISO 27001 certification
Gallagher News Access Control & Identity Management
Gallagher has announced it has achieved ISO 27001 accreditation, a standard that ensures organisations protect their information in a systematic and efficient way, through a comprehensive Information Security Management System (ISMS).
Read more...
---
Remote management of access points
Salto Systems Africa Access Control & Identity Management
SALTO BLUEnet Wireless has been developed to meet the demands of security and ease-of-use. This access control system is networked through Bluetooth RF and designed for doors where real-time control is required.
Read more...
---
Biometrics and breathalysers
Access Control & Identity Management
ERSBio partners with ALCO-Safe to incorporate alcohol testing into customised, intelligent time and attendance solutions.
Read more...
---
RealPass-N document reader
Suprema Access Control & Identity Management
A compact, multi-functional full-page document reader, Suprema's RealPass-N offers one-step scanning to capture images and data from multiple documents including ICAO Doc 9303 compliant eMRTD such as e-passports, e-visas, ID cards and barcodes.
Read more...
---
Contactless access control solution
LD Africa Access Control & Identity Management
The Matrix Cosec Argo Face offers advanced contactless user access in an all-in-one product composed of a door controller powered by facial recognition technology.
Read more...
---
ZKTeco Experience Centre
ZKTeco News Access Control & Identity Management
ZKTeco South Africa has opened the doors to its innovative and interactive space, the ZKTeco Experience Centre in Centurion, Pretoria and welcomes visitors to partake in the 'Powered by ZKTeco' experience.
Read more...
---
Touchless school access control
neaMetrics Suprema Editor's Choice Access Control & Identity Management Integrated Solutions Education (Industry) Products
Wolverhampton Grammar School deployed a Suprema access control solution, integrated with Paxton to resolve its legacy access control challenges.
Read more...
---
Visible light facial recognition
ZKTeco Access Control & Identity Management
The ZKTeco SpeedFace-V5L [TI] is a fully upgraded version of the SpeedFace-V5L [TD] visible light facial recognition body temperature detection terminal, supporting facial and palm recognition.
Read more...
---