printer friendly version
SAIS Autumn Ball
May 2009
News
Hi-Tech Security Solutions was there to help the South African Institute of Security celebrate its annual ball at the Indaba Hotel, Johannesburg in March 2009. The Master of Ceremonies was the SAIS immediate past chairman, Francois Marais.
Terry Scallan, the chairman of the Board of Governors of the South African Institute of Security welcomed all those present and presented Rosemary Cowan, the institute administration manager, with a certificate of appreciation for her dedication to the institute.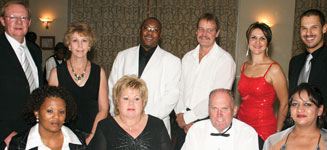 Front: Mrs Baloyi, Mrs Conradie, Terry Scallan (Chairman of SAIS), Agatha Scallan. Back: Commissioner Ben Groenewald, Mrs Groenewald, Zondi Baloyi (CEO - SASSETA), Steve Conradie (CEO – SIA) and guests
Gert Pretorius, the SAIS vice-chairman then handed over UK Security Institute membership certificates to Terry Scallan and Errol Peace.

Past chairmen of SAIS: Francois Marais, Eric Magnus, Reggie Marimuthu and Terry Scallan
Invited guests who attended the ball were: Steve Conradie the CEO of SIA and a patron of the institute, Zonge Baloyi, the CEO of SASSETA and a patron of the institute, Graeme Stickels of the South African Qualifications Authority and Selma Black the SASA national vice-president, Eric Magnus a former SAIS chairman and assistant commissioner of Police, Ben Groenewald.

Francois Marais, Reggie Marimuthu, Eric Magnus, Zondi Baloyi, Terry Scallan and Steve Conradie
The guests were entertained to a superb demonstration of belly dancing – and then danced the night away to the wonderful sounds of Havana Gas. The evening was such a success that next year's event has already been arranged and will be held on Saturday 20 February 2010 at the Indaba Hotel.
The following companies sponsored various aspects of the event:
* Surprise entertainment sponsored by Welsh & Associates.
* Welcome drinks sponsored by Hi-Tech Security Solutions.
* Red wine on each table sponsored by Omega Risk Solutions.
* White wine on each table sponsored by SASSETA.
* Sparkling wine on each table sponsored by Specialised Exhibitions.
* Design and printing of tickets by Risk Diversion.
Prizes awarded in the course of the proceedings were sponsored by:
* Anglo American.
* Gold Fields.
* Omega Risk Solutions.
* Sun International.
* Unisa.
Further reading:
From the editor's desk: The new old normal
Technews Publishing News
After two years, the industry is eventually able to get back to a form of normality and Africa's biggest security show is back. Understandably, some people are still nervous about meeting in person ...
Read more...
---
Africa's largest data centre obtains internationally accredited certifications
News IT infrastructure Financial (Industry)
Africa Data Centres has strengthened the integrity of its day-to-day running by acquiring ISO certifications through the internationally recognised authority in ISO certification, the British Standards Institution South Africa (BSI).
Read more...
---
Gallagher announces ISO 27001 certification
Gallagher News Access Control & Identity Management
Gallagher has announced it has achieved ISO 27001 accreditation, a standard that ensures organisations protect their information in a systematic and efficient way, through a comprehensive Information Security Management System (ISMS).
Read more...
---
Entries open for 2022 OSPA Awards
Editor's Choice News
Entries for the South Africa Outstanding Security Performance Awards (OSPAs) are now open. The OSPAs are designed to recognise the work of companies, individuals and teams.
Read more...
---
Corporations protected, but not secure
News Cyber Security Security Services & Risk Management
Nearly three quarters of South Africa's top 100 corporates are investing more in cybersecurity than the industry average, but an almost equal proportion don't feel fully protected by their current cybersecurity strategy.
Read more...
---
Use of malware, botnets and exploits expands
News
Nuspire, a managed security services provider (MSSP), has announced the release of its Q1 2022 Threat Report. The report outlines new cybercriminal activity and tactics, techniques and procedures (TTPs), ...
Read more...
---
Real-world ransomware
News
Ransomware hit 51% of South African organisations surveyed for Sophos' Annual 'State of Ransomware 2022'; and 49% of South African organisations that had data encrypted in a ransomware attack paid the ransom.
Read more...
---
New renewable energy partnership
News
SolarWorld Africa partners with Meyer Burger to bring solar technology to South Africa and sub-Saharan Africa. The partnership will see both leading businesses serve the African renewable energy sector.
Read more...
---
inq. expands in SA with acquisition of Syrex
News
Inq., a Convergence Partner's company, is set to acquire Syrex, a provider of hyper-converged cloud technology solutions in South Africa to provide innovative and reliable solutions to the South African market.
Read more...
---
Check Point and DCC partner for SA and SADC channel
News
Check Point Software Technologies has appointed Drive Control Corporation (DCC) as its official distributor for South Africa and the SADC region. The appointment will see DCC distributing Check Point's ...
Read more...
---