printer friendly version
Protecting your IP network from external threats
September 2008
Surveillance
Nearly all network video installations transmit sensitive information that should be protected from unauthorised users and potential hackers. There are several ways to provide security within a wired or wireless network and between different networks and clients. Everything from the data to the use and accessibility of the network should be controlled and secured.
Today, IP surveillance systems can be made just as secure as those used by banks for ATM transactions. Network cameras and video servers are currently being used in highly sensitive locations such as the air and sea ports security purposes.
Secure transmission
Some of the most common ways to secure communications on a network and the Internet include authentication, authorisation, IP address filtering, VPNs and Hypertext Transfer Protocol over Secure Socket Layer (HTTPS). Some of these methods secure the data as it travels over the network, while others secure the network path itself. Authentication identifies the user to the network and is most commonly done by providing verifiable information like a username and password, and/or by using an X509 (SSL) certificate.
The 802.1X standard is a new port-based authentication framework available for even higher levels of security in a both wired and wireless system. All users' access requests are filtered through a central authorisation point before access to the network is granted.
Authorisation analyses the authentication information and verifies that the device is the one it claims to be by comparing the provided identity to a database of correct and approved identities. Once the authorisation is complete, the device is fully connected and operational within the network.
IP address filtering is another way to restrict communication between devices on a network or the Internet. Network cameras can be configured to only communicate with computers at pre-determined IP addresses - any computer from an IP address that is not authorised to interface with the device will be blocked from doing so.
Privacy settings prevent others from using or reading data on the network. There are a variety of privacy options available, including encryption, virtual private net-works (VPNs) and Secure Socket Layer/Transport Layer Security (SSL/TLS). In some cases, these settings can slow down network performance because data has to be filtered through multiple applications before it is accessed at its final destination. This could have a negative impact on the performance of an IP surveillance installation, which often requires realtime access to video.
Additional network security can be created with the use of firewalls. Firewall software normally resides on a server and protects one network from users on other networks. The firewall examines each packet of information and determines whether it should continue on to its destination or be filtered out. The firewall serves as a gate-keeper, blocking or restricting traffic between two networks, such as a video surveillance network and the Internet.
Wireless security
Wireless network cameras can create additional security needs. Unless security measures are in place, everyone with a wireless device in the network's range is able to access the network and share services.
To better secure IP surveillance installations with a wireless component, users should look at using Wired Equivalent Privacy (WEP) and Wi-Fi Protected Access (WPA). WEP creates a wireless network that has comparable security and privacy to that of a wired network. It uses keys to prevent people without the correct key from accessing the network, which is the security commonly found in home networks. Data encryption protects the wireless link so that other typical local area network (LAN) security mechanisms - including password protection, end-to-end encryption, VPNs and authentication - can be put in place.
However, WEP has several flaws making it unsuitable for use in a corporate environment. The standard uses a static key, making it easy to hack into the network with inexpensive off-the-shelf software. For additional protection, wireless IP surveillance should employ WPA, which changes the encryption for every frame transmitted. WPA is considered the base level of security for corporate wireless networks, but for even higher security, WPA2 should be used. WPA2 uses Advanced Encryption Standard (AES), the best encryption available for wireless networks today.
Protecting system access
In addition to protecting data, it is critical to protect access to the system via a Web interface or an application housed on a PC server. Access can be secured with user names and passwords, which should be at least six characters long - the longer the better. Passwords should also mix lower and upper cases and use a combination of numbers and letters. Additionally, tools like finger scanners and smart cards can also be used to increase security.
Viruses and worms are also a major security concern in IP surveillance systems, so a virus scanner with up-to-date filters is recommended. This should be installed on all computers and operating systems should be regularly updated with service packs and fixes from the manufacturer. Network cameras and video servers with read-only memory will also help protect against viruses and worms. Viruses and worms are programs that write themselves into a device's memory. By using network cameras and video servers with read-only memory, these programs will not be able to corrupt the devices' internal operating systems.
Employing the outlined security measures makes an IP surveillance network secure and allows users the flexibility of off-site access without the worry that video will fall into the wrong hands. Understanding and choosing the right security options - such as firewalls, virtual private networks (VPNs) and password protection - will eliminate concerns that an IP surveillance system is open to the public.
Technology and products for providing IT and network security is an enormous industry today, providing appropriate security for the most demanding applications within government, military and the financial world. All this technology can be used in an IP surveillance installation.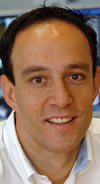 Roy Alves, country manager, Axis Communications
For more information contact Roy Alves, country manager, Axis Communications, +27 (0)11 548 6780, roy.alves@axis.com
Credit(s)
Further reading:
Pentagon appointed as Milestone distributor
Elvey Security Technologies News & Events Surveillance
Milestone Systems appointed Pentagon Distribution (an Elvey Group company within the Hudaco Group of Companies) as a distributor. XProtect's open architecture means no lock-in and the ability to customise the connected video solution that will accomplish the job.
Read more...
---
Embracing next-generation surveillance for safer cities
Surveillance Integrated Solutions AI & Data Analytics
With the South African government highlighting the importance of building smart cities by integrating advanced technologies to make them more resilient and liveable, the role of next-generation network video and surveillance technologies cannot be ignored.
Read more...
---
Hik-Connect for Teams released
Hikvision South Africa Products & Solutions Surveillance
Hikvision has released an update for its security management platform; Hik-Connect for Teams not only meets the specific needs of individual users, but also caters to various medium-sized businesses (SMBs) and multi-site management scenarios.
Read more...
---
The human factor side of video management systems
Leaderware Editor's Choice Surveillance Risk Management & Resilience
A video management system (VMS) is central to, and the most vital element to any control room operation using CCTV as part of its service delivery, however, all too often, it is seen as a technical solution rather than an operational solution.
Read more...
---
A simple system for complex protection
Surveillance AI & Data Analytics IoT & Automation
Reconeyez is a company that provides autonomous wireless visual verification systems with built-in artificial intelligence. Running on batteries, each device includes communication capabilities, creating a mesh network between the various devices, linking them to the control room.
Read more...
---
Revolutionise your security with integrated solutions
Secutel Technologies Products & Solutions Surveillance
By merging the capabilities of SecuVue and Secutraq, Secutel has forged a robust system empowering users to fine-tune analytics and harness facial recognition, pose detection, and XFS, among other features.
Read more...
---
Edge could help transform South Africa's healthcare
Axis Communications SA Infrastructure
Edge computing has emerged as a game-changing technology for many industries, and the healthcare sector is no exception. In particular, South Africa's healthcare industry could significantly benefit from the potential of this technology.
Read more...
---
Safer roads to a sustainable future
Dahua Technology South Africa Surveillance
With the ever-increasing number of vehicles on the road, it is imperative to constantly improve the quality of transportation monitoring and traffic management in urban and rural areas.
Read more...
---
From damage management to false alarm prevention
Dallmeier Electronic Southern Africa Transport (Industry) Surveillance Logistics (Industry)
Video surveillance is undergoing an exciting evolution; today's IP-based solutions can be fully integrated into digital systems. With the increasing integration of artificial intelligence (AI); logistics, in particular, can make processes more transparent and exploit previously untapped potential.
Read more...
---
Marshall Security partners with Blacklight to introduce Reconeyez to KZN
News & Events Surveillance Power Management
Marshal Security has joined forces with Blacklight Group to launch Reconeyez, a cutting-edge battery-powered surveillance platform with mesh network capability, in the KwaZulu-Natal market.
Read more...
---