printer friendly version
Working in mysterious ways
November 2007
Access Control & Identity Management

Motivation
The Salesian Institute, a charitable organisation that works with Cape Town's street children, is one of the latest converts to biometrics.
The organisation, a Roman Catholic religious order, was founded in the mid 19th century by Saint John Bosco to care for the young and poor children of the industrial revolution and has a global community of over 34 000 priests, brothers and sisters in some 130 countries.
The first community members arrived in Cape Town in 1896, and the Institute's current home was built in 1910. It currently runs a series of initiatives for street children including Learn to Live which provides a full school educational programme for between 80 and 120 students at any time. The Institute also has an 18-month residential skills programme for young men to provide rehabilitation and skills training.
Following a mid 2007 audit by the Department of Social Services, the Institute was advised to improve the time and attendance system used for its 45 staff.
This presented the Institute with a dilemma. While it needed to comply with government recommendations, purchasing a T&A system would draw money from budgets allocated to its educational projects, thus disadvantaging the street children it supports.
Rewards
Father Naughton, bursar for the Salesian Institute, says, "We reconciled ourselves to the fact that we needed to implement a new system. We researched the different solutions on the marketplace and decided that a fingerprint T&A system would be more effective than a conventional clock card system."
The Institute contacted SuperVision's Cape Town office to ask for advice on which biometric technology was the most appropriate for its environment.
Charlie Stewart, SuperVision's sales and marketing manager, says, "As soon as we heard about the Salesian Institute's work we decided that this was one project we must support. This feeling was reinforced when we met with Father Naughton and his team and saw the wonderful work the Institute is doing for some of the most underprivileged members of society."
SuperVision contacted ADI International, who supplies it with Sagem biometric terminals, to ask if the company would be interested in contributing to the project and the two companies agreed to donate a complete T&A system to the Salesian Institute.
ADI provided an MA100 reader with a Sagem Verif dongle and Maci software license, while SuperVision donated an enrolment reader, its T&A software and its services to install the system.
Implementation
The biometric terminal is installed next to the guard room at the main entrance to the Salesian Institute's building in Green Point and is used by all staff when they arrive at and leave work.
A network connection allows the terminal to upload profiles and download clocking information to the Institute's HR PC from where clockings are checked and salaries paid.
Review
Father Naughton comments, "As we are almost entirely funded by charitable donations, it is incredibly difficult for us to justify expenditure on infrastructure or any activity which is not directly related to our guiding mission to care for the young and poor. We were delighted that SuperVision and ADI share our vision and were willing to provide us with a worldclass time and attendance system."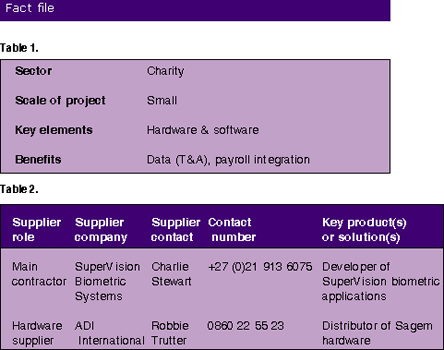 Credit(s)
Further reading:
Paxton opens first experience centre in South Africa
Paxton News Access Control & Identity Management
The new Paxton Experience Centre in Johannesburg is now open and welcoming security installers and end users who want to see Paxton's products in action.
Read more...
---
Securing a luxurious residential estate
Turnstar Systems Residential Estate (Industry) Access Control & Identity Management
Turnstar Systems recently partnered with Balwin Munyaka Residential Estate to secure the entrance to its Crystal Lagoon, ensuring only authorised residents and guests can access the site.
Read more...
---
Visitor management via QR code
ATG Digital Access Control & Identity Management Products
ATG Digital has launched its QR Code Reader to enhance access control's security and efficiency. The new QR Code Reader enables seamless, contactless access control, creating an efficient user journey.
Read more...
---
District secures activity centre
Paxton Access Control & Identity Management Products
Paxton's Net2 access control solution is a user-friendly and flexible networked access control system, which made installing and managing access control security at an activity centre straightforward.
Read more...
---
GardaWorld partners with Gallagher
Gallagher Access Control & Identity Management
Access control via facial recognition was at the top of GardaWorld's wish list, and Gallagher's integration with IDEMIA's VisionPass played a crucial role in delivering a seamless experience.
Read more...
---
ZK-IWB Series
ZKTeco Products Access Control & Identity Management
Experience the ultimate virtual meeting solution with ZKTeco's ZK-IWB system. Featuring a built-in 13-megapixel UHD camera and 6-microphone array, the solution ensures clear audio and video experiences with an 8 metre pickup distance.
Read more...
---
Security for critical industries
ZKTeco Government and Parastatal (Industry) Access Control & Identity Management
The traditional reliance on human observation and physical presence for security is being complemented and, in many cases, replaced by biometric technology to enhance risk management and ensure comprehensive protection.
Read more...
---
Access to nuclear plants
Suprema Access Control & Identity Management
Korea Hydro & Nuclear Power was in need of a fully redundant access control system that should provide enhanced performance while still being able to interoperate with existing equipment.
Read more...
---
Secure your site during outages
Paxton Access Control & Identity Management
The PaxLock Pro range is our collection of wireless, battery powered smart door handles. They are efficiently designed to consume minimal energy to operate, and the batteries generally last around two years.
Read more...
---
Securing data centres and control rooms
Access Control & Identity Management
The demand for data centres and control rooms to store and manage digital information is at an all-time high, however, the rise in cyber threats and physical security risks has raised concerns about how companies can effectively protect these vital infrastructures.
Read more...
---