printer friendly version
Wine and brandy safe with RFID
August 2005
Asset Management, EAS, RFID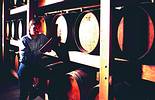 KWV International has called upon radio frequency identification (RFID) middleware specialist SACO Systems to help track more than 100 000 vats of wine and brandy as they mature. As this process takes many years and involves various employees, KWV needed a failsafe, informative method of managing the vats.
With 28 years of experience in tracking technology, SACO Systems was well placed to examine KWV's requirements and propose a suitable solution. The company came up with a simple answer whereby each individual vat was fitted with a passive RFID tag containing information about the vat's history, as well as its contents. Once SACO had manufactured, installed and commissioned the tracking system, employees no longer had to walk around the cool, dark cellars with a clipboard. Now, a handheld terminal is all it takes, and the whole process is documented and monitored. In addition to preventing mistakes from being made, the company now has a traceable system that also furnishes them with a valuable database that can be used to make further improvements if required.
"RFID is such a versatile technology that, if correctly applied, it could add value in fields ranging from agriculture and wine making through to automated manufacturing," enthuses SACO Systems' Des Oliver. "The possible applications are countless. RFID is a flexible technology with a variety of uses and one often finds that if you just apply your mind, it suits just about any application in most fields or industries."
For more information contact Des Oliver, SACO Systems, 011 652 5320, doliver@SACO.co.za
Further reading:
Argility showcases SkyData IoT Platform
Issue 6 2020 , Asset Management, EAS, RFID
SkyData, a device agnostic IoT cloud platform, is transforming asset and resource monitoring and management.
Read more...
---
IoT security seal
Issue 4 2020 , Asset Management, EAS, RFID
With the current lockdown and ports operating at reduced capacity, the need for automation has been taken to a new level.
Read more...
---
Managing outputs, attendance and time
Issue 5 2020 , Asset Management, EAS, RFID
What started out as a great idea to bring structure, order, measurement and accountability to fieldwork, has virtually overnight turned into an indispensable tool.
Read more...
---
ZKTeco offers touchless access for people and vehicles
Issue 4 2020, ZKTeco , Asset Management, EAS, RFID
ZKTeco sports a range of touchless entrance control solutions from licence plate recognition cameras through to facial recognition and multi-modal access solutions.
Read more...
---
Li-ion UPS battery from Schneider Electric
Issue 2 2020 , Asset Management, EAS, RFID
Schneider Electric has announced the launch of the APC Smart-UPS Lithium-Ion UPS Battery to South Africa, offering double the lifespan of VRLA batteries.
Read more...
---
Taking identity management seriously
Issue 2 2020 , Asset Management, EAS, RFID
The most important and critical part of identity management is the enrolment/registration part of the process. This is where the real-world human being must be linked to the cyber world digital identity with forensic proof.
Read more...
---
Reducing identity fraud with a selfie
Access & Identity Management Handbook 2020, Technews Publishing , Asset Management, EAS, RFID
Authenticating your identity remotely via an app has become a reality with a new solution from South African company iiDENTIFii.
Read more...
---
Schneider Electric launches EcoStruxure Asset Advisor
Issue 2 2020 , Asset Management, EAS, RFID
Vendor-neutral asset risk management via sensors and cloud-based monitoring tools offers 24/7 data-driven predictive service for business continuity.
Read more...
---
Security enhancements at Sharm El-Sheikh
November 2019 , Asset Management, EAS, RFID
ADANI Systems supplied the X-ray screening equipment, including combined high-energy and low-energy systems, for Sharm El-Sheikh.
Read more...
---
Learn from their mistakes
October 2019 , Logistics (Industry), Asset Management, EAS, RFID
One of the cardinal rules of business is to learn from the mistakes you make during your journey, but sometimes another company's error can be just as instructive.
Read more...
---