printer friendly version
New intrusion control panel for SME market
August 2004 Perimeter Security, Alarms & Intruder Detection, Security Services & Risk Management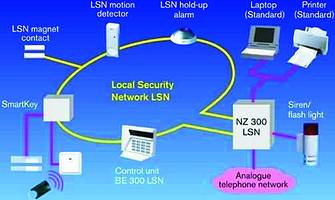 Bosch Security Systems has launched a new intrusion control panel, which is unobtrusive yet has the capacity to secure both medium-sized and small projects. The NZ 300 LSN intrusion alarm central unit includes 'intelligent' security technology that until now has only been affordable for larger applications.
As well as setting new standards as the basis for the local security network (LSN) from Bosch, the NZ 300 LSN is also breaking new ground in its appearance.
LSN was developed by Bosch and has become the industry standard in the field of security technology. LSN features single, wire-saving transmission technology, which is extremely flexible, since the components such as panel, peripherals and customer service can be combined as needed and adapted to customer requirements, explains Shane Nefdt, Product Manager of Bosch Security Systems, Southern Africa.
The NZ 300 LSN is operated via an LCD keypad with up to eight separate keypads, which can be installed either into one partition or configured into eight partitions, in various locations on the property for easy access. The LCD display provides precise information about the location and time of the alarm or disturbance, and the background memory stores the last 1024 date and time stamped events, which can be called up at any time.
An analog dial-up modem is integrated for purposes of alarm transmission, as well as remote operation and maintenance. The system can be armed in the conventional manner, via codes entered into the keypad, or can be time controlled. With the SmartKey, Bosch offers an additional innovative arming option and saves the trouble of looking for keys. Up to 40 different operator codes can be specified for defining authority levels relating to both function and time.
Systems must be carefully planned, says Nefdt, if they are to be suitable and effective. "It is wise to allow an expert to advise you and create a tailor-made package for your specific needs," he recommends.
Credit(s)
Further reading:
Is AI the game-changer for streamlining anti-money laundering compliance?
Financial (Industry) Security Services & Risk Management
In the aftermath of South Africa's recent grey listing, companies are now confronted with the imperative to address eight identified strategic deficiencies, while simultaneously reducing their financial crime risk through anti-money laundering compliance processes.
Read more...
---
Client satisfaction boosted by 85% at Thungela Mine
Thorburn Security Solutions News Security Services & Risk Management Mining (Industry)
Thorburn Security, a division of Tsebo Solutions Group, has announced its recent collaboration with Kwa-Zulu Natal security company, Ithuba Protection Services, as part of its Enterprise Supplier Development (ESD) initiatives across Africa.
Read more...
---
Migrating to the cloud? Beware the many hurdles
IT infrastructure Security Services & Risk Management
While there are undoubtedly many benefits, there are also numerous hurdles to cloud adoption. Some of the biggest challenges revolve around managing cloud spend, understanding the cost components of cloud infrastructure, and how those costs can scale.
Read more...
---
Key strategies for businesses in the face of cyber threats
Cyber Security Security Services & Risk Management
Businesses face severe financial and reputational consequences due to data breaches and daily website hacks, and not all organisations are adequately prepared to combat these escalating threats.
Read more...
---
Protecting South African systems through XDR cybersecurity
Cyber Security Security Services & Risk Management
Carlo Bolzonello, Country Lead for Trellix South Africa, discusses how the country can protect its valuable digital assets through the artificial intelligence-enabled Extended Detection and Response (XDR) cybersecurity approach.
Read more...
---
[Sponsored] Protecting Against Ransomware Attacks: Lessons from Recent POPIA Fine
Cyber Security Security Services & Risk Management
According to Sophos' most recent ransomware report, an alarming 78% of the South African organisations that Sophos surveyed experienced ransomware attacks in the past year.
Read more...
---
Kaspersky launches Professional Services Packages for SMBs
News Cyber Security Security Services & Risk Management
Kaspersky has announced the launch of a range of Professional Services Packages for SMBs, offering tailored support products that help customers get the most out of their cybersecurity resources.
Read more...
---
AI-driven drones unleash new opportunities and risks
IT infrastructure Security Services & Risk Management
As AI-driven technologies continue to evolve, the incorporation of AI in drone capabilities has become a significant point of interest for many drone operators.
Read more...
---
Six cybersecurity mistakes to avoid
Cyber Security Security Services & Risk Management
Safeguarding sensitive data and maintaining robust cybersecurity practices has become paramount for businesses of all sizes, with the global costs of cybercrime expected to reach US$13 trillion within the next five years.
Read more...
---
Has your business planned for the worst?
Editor's Choice Cyber Security Security Services & Risk Management
Incident response is a specialised part of security, like a hospital's intensive care unit: IR kicks in when the organisation detects a breach of its systems to stop criminals from doing more damage.
Read more...
---