printer friendly version
State-of-the-art integrated security technology backed internationally and locally
May 2000
News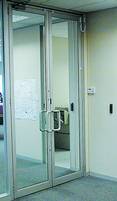 Chubb Electronic Security, South Africa's only multinational security service provider, offers its clients a complete turnkey operation for any security problem.
Backed by UK-based Williams, a leading force in the international security industry, Chubb can offer its clients international products which have been specifically tailored to suit local conditions - bringing together all the key elements that facilitate security management in one singular platform.
Seamless integration
In particular the Monitor state-of-the-art AFX 128-16 range which is supplied and backed by Chubb in southern Africa, offers customers seamless integration of various security elements such as fire, intruder detection and access control in one flexible package.
Described as the first in the new family of advanced integrated systems, available from Chubb, the AFX 128-16 is the 'building block' of all AFX systems.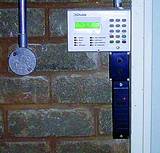 Not only does the system offer fully integrated access control with intrusion and reporting functionality but it also provides a cost-effective solution to mid-range, standalone and integrated intrusion and access control applications.
The system features a patented SNAPP protocol system that enables additional features to be added by way of application modules (PODs).
Should the immediate security needs and budget constraints call for intrusion protection only, full access control can be added at a later stage, while preserving the existing user database and client investment.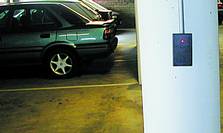 Other components which can be added to the system as the need arises, include;
* Fire supervision, additional sensors, hardwired or wireless technology.
* Critical point monitoring.
* Expanded capacity (480 doors/64 000 cardholders).
* Logical/timed anti pass back, access control.
* Event driven automation.
* Central station monitoring.
* Security management, reporting.
* Optional multipanel connections.
* Remote site communication.
* Client/server environment.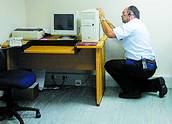 According to Andre Morse, Chubb System's National Sales Manager, the Monitor AFX system is the most comprehensive answer available for any security problem, be it residential or corporate.
"The system offers many advantages including economy and enhanced system reliability through shared use of system hardware and improved performance through access and intrusion control interactivity. The system also simplifies user operations and reduces false alarms by making use of automation and flexibility as found in using only one platform for all technology," he says.
AFX Director
The AFX Director, which provides a secure system configuration for the monitoring system, allows a nondedicated PC to manage, control and set up the various configurations of the system's functions. These include system arming, system status, the configuration of the intrusion and access control features, the management of users, authorities, schedules and holidays, a comprehensive system and activity reporting, introduction of door classes, special handling for condominium applications, the introduction of wandering patient mode and, the introduction of guard tours.
According to Morse, the optional AFX MAP POD which provides a clear, visual identification of the area in which a problem has occurred, is another vital optional extra.
"The MAP POD gives a clear indication where the problem is and this is vital in any life threatening situation or where there is an environmental concern," he says.
The POD identifies and communicates of the critical system events allowing for an immediate and accurate response to the situation.
In short the MAP POD provides for the total supervision of:
* Security - the immediate identification of the unauthorised use of exterior entrances or any other protected area.
* Life safety - it instantly recognises and locates smoke, gas or other potentially hazardous situations.
* Environmental - it gives a warning of the temperature in a specific area and alerts the operator to any other electrical or other building system failures.
Says Morse; "The AFX range is developed and refined to specifically suit South African conditions after having been tried and tested on the international market. As a result it is, technologically speaking, one of the most up-to-date systems available and it has the added advantage of being endorsed and backed by Chubb."
For details, contact Andre Morse of Chubb Electronic Security tel: (011) 683 2500.
Credit(s)
Further reading:
TAPA: The role of an effective treasury function in business risk management
June 2019, Technews Publishing , News
Neil Le Roux, the Founder of Diligent Advisors will speak at the TAPA SA (Transported Asset Protection Association) annual conference on 26 July 2019.
Read more...
---
From the Editor's desk: No really, take it seriously
July 2019, Technews Publishing , News
Cybersecurity is a topic that has been done to death in the media. The blanket coverage has been so great that people, even the few that realised the danger, have started to gloss over the issue, barely ...
Read more...
---
AI to grow in MEA
July 2019 , News
Annual spending on artificial intelligence in the Middle East and Africa to top $530 million by 2022.
Read more...
---
Ingo Mutinelli moves to IDEMIA
July 2019, Technews Publishing, IDEMIA , Editor's Choice, News
IDEMIA, the security and identity management company has announced that Ingo Mutinelli will be taking on the post of regional sales director for the southern Africa region.
Read more...
---
TAPA EMEA appoints Thorsten Neumann as president and CEO
July 2019, TAPA (Transported Asset Protection Association) , News, Asset Management, EAS, RFID
The Transported Asset Protection Association (TAPA) has appointed Thorsten Neumann as its first full-time president & CEO.
Read more...
---
Transom Capital Group Acquires Pelco
July 2019 , News, CCTV, Surveillance & Remote Monitoring
Transom Capital Group (Transom), an operations-focused middle market private equity firm, announced it has acquired Pelco from Schneider Electric.
Read more...
---
Residential Estate Security Conference 2019: Integrating man and machine for effective security and operations
July 2019, Technews Publishing , Editor's Choice, News, Residential Estate (Industry), Conferences & Events
The Residential Estate Security Conference 2019 will delve into how estates and their service providers can better integrate man and machine for more effective security and operations.
Read more...
---
Milestone appoints new VP for research and development
July 2019, Milestone Systems , Editor's Choice, CCTV, Surveillance & Remote Monitoring, News
Milestone Systems has appointed Tom Bjerre as its new VP for research and development. He will oversee planning, development, testing and release of Milestone Systems' video management software.
Read more...
---
Child fingerprint identification solution
July 2019 , News, Access Control & Identity Management
Gavi, NEC, and Simprints to deploy world's first scalable child fingerprint identification solution to boost immunisation in developing countries.
Read more...
---
Johnson Controls launches Technology Contracting in Africa
July 2019, Johnson Controls , Editor's Choice, News, Security Services & Risk Management
To address the growing challenge of planning, integrating and maintaining a multitude of different, highly connected systems, Johnson Controls is launching Technology Contracting in Africa.
Read more...
---