Next-generation application aware firewalls from SonicWALL
November 2011, Cyber Security
LOOPHOLD Security Distribution has introduced two high-performance, application-aware next-generation firewalls for branch offices and small medium enterprises (SMEs) from SonicWALL. The NSA 220 Series and NSA 250M Series deliver an unmatched combination of security, performance and price in this class of next-generation firewalls.
The NSA 220 and NSA 250M Series offer firewall protection with tightly integrated intrusion prevention, comprehensive gateway anti-malware services and granular application intelligence and control. Both appliances are also available as dual-band wireless models.
As well as providing extensive security for branch offices without degrading performance, the new appliances allow administrators to manage the unproductive use of network resources such as social media applications that eat away at precious network bandwidth and company resources if left unchecked. For example, a network administrator can allow the marketing team to reach out to customers via Facebook while restricting social and browser gaming during business hours.
Says Martin Tassev, MD at LOOPHOLD Security Distribution, "Branches and remote sites usually lack in the same stringent security measures that the corporate head office features, creating vulnerabilities for the entire organisation. SonicWALL's latest development ensures that these sites, as well as SME's are afforded the same protection against threats whilst providing the same control to manage bandwidth and the usage of social media."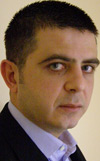 Martin Tassev, MD, LOOPHOLD Security Distribution
The NSA 220 and 250M Series appliances offer advanced application traffic analytics to provide granular insight into application traffic, bandwidth utilisation and security threats for troubleshooting and forensics, both in a real-time view on the firewall and a historic view through syslog, IPFIX and NetFlow exported data. Additionally, the NSA 220 and NSA 250M tightly integrate with SonicWALL's recently announced WAN acceleration appliances, reducing network traffic and latency between remote offices.
Key features
The SonicWALL NSA 220 and 250M Series high-performance next-generation firewalls provide distributed enterprises and branch offices alike with in-depth frontline security, as well as application and user control without compromising on network performance.
The SonicWALL Reassembly-Free Deep Packet Inspection (RFDPI) engine protects against malware such as Trojans and worms, and segments out credit card transaction traffic as mandated by PCI DSS regulations. Unlike other scanning engines, the RFDPI engine is not limited by file size or the amount of concurrent traffic it can scan.
The SonicWALL Application Intelligence, Control and Visualisation enables IT to granularly view and control bandwidth-consuming and potentially dangerous application traffic over the network, even between widely distributed locations.
The SonicWALL Clean Wireless, optionally integrated into dual-band wireless models or via SonicWALL SonicPoint wireless access points, provides powerful and secure 802.11a/b/g/n 3x3 MIMO wireless, and enables scanning for rogue wireless access points in compliance with PCI DSS.
The SonicWALL Clean VPN provides integrated secure remote access via site-to-site IPSec VPN or granular, easy-to-use SSL VPN.
SonicWALL WAN Acceleration, enabled by the SonicWALL WXA Series, increases file transfer speeds between remote branch office sites and drives secure network optimisation.
The integrated modules support (on NSA 250M and NSA 250M-W Series appliances) reduced acquisition and maintenance costs through equipment consolidation, and adds deployment flexibility.
For more information contact Martin Tassev, LOOPHOLD Security Distribution, +27 (0)11 575 0004, info@loophold.com