printer friendly version
Protecting international ports and cargo
November 2011 CCTV, Surveillance & Remote Monitoring, Transport (Industry)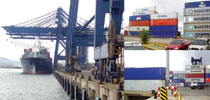 PPC is today one of the most important and successful members of Hutchison Port Holdings. It provides links and strategic access for the transatlantic and transpacific traders to the east and west coast of the Americas.
As such, PPC has very high security concerns regarding protection of its ports and cargo. Working with local integrator Multitek, specialised in system level integration, PPC was able to find the right system to upgrade its video surveillance cameras. Specifically, PPC sought improvement in the following areas: Overall, a high-resolution image quality, low maintenance system able to withstand the weather conditions of an ocean environment and the ability to survey wider areas in greater detail with each individual camera.
After discussions with Multitek and Mobotix, PPC became convinced that Mobotix could provide the system to meet their high performance requirements in terms of high resolution, integrated intelligence, cost efficient recording, analytical software and extremely robust design to better protect their ports, employees, and cargo. There were three main areas of concern: theft and injury prevention as well as protection from acts of terrorism.
Installation
During the initial phase 54 Mobotix IP cameras were installed at PPC, typically at 300 feet (90 m), with two cameras on each crane. The cameras are aimed at entrances and remote perimeter areas where manual surveillance would have been very labour intensive. The multiple configurations with the network cameras, including single or dual lens, wide-angle or telephoto, day or low-light provide the flexibility to deploy the same basic camera type into a wide range of specific viewing requirements with varying lighting conditions. The video footage from the IP cameras is recorded on a server. Live video as well as recorded clips can be viewed on any authorised computer in the port facility.
One of the things that impressed PPC most about Mobotix was the exceptional image quality of the cameras. "We were used to the grainy, blurry images of the original surveillance system," said Michael Hernandez, CIO of PPC. "When we first saw Mobotix camera images, they were so clear it was like watching a DVD. That sort of quality has become an absolute necessity in our industry."
Functionality gained
PPC has particular concerns related to the weather conditions of a tropical coastal environment: salty air, frequent wind-driven rain, intense heat and humidity. Mobotix cameras are built to withstand extreme environmental conditions: from -30 to +60°C. The fibreglass-reinforced and shock-resistant cameras protect the network cable and connections against vandalism as well as severe weather conditions.
The dual lens feature of Mobotix cameras serves PPC's need to cover very large areas. It is essentially like having two high-resolution megapixel cameras for the price of one with the added advantage of being able to see a much wider area. In addition, Mobotix is able to do this with no moving parts.
Higher quality images, along with the ability to see more with one camera have crucial advantages for PPC. It helps lower the risks of theft, vandalism, and injury. The ability to preprogram both video and audio alerts is another aid in this process.
Because Mobotix cameras provide up to 30 times more detail than the average camera, one Mobotix camera can monitor multiple targets and thereby reduce the total number of cameras required. Intelligent, direct storage management reduces the number of digital video recorders needed and the overall cost of storage by a ratio of 10 to 1. For PPC, this means not only a much higher level of safety and security, but the reduction in the number of cameras required combined with reduced storage requirements and the fact that Mobotix systems need no additional software and are licence free also add up to a substantial overall cost savings to PPC.
PPC began the installation with 54 Mobotix cameras. Due to its high level of satisfaction with the cameras, Hutchinson Port Holdings intend to install an additional 400 cameras over the next few months.
For more information contact IAC, +27 (0)12 657 3600, raine@iacontrol.co.za, www.iaconline.co.za
Credit(s)
Further reading:
Drones and cybersecurity?
October 2019 , CCTV, Surveillance & Remote Monitoring
Hacker drones can eavesdrop electronically on conversations, can perform network attacks, or can create fake wireless access points.
Read more...
---
Body-worn cameras transforming security
October 2019 , CCTV, Surveillance & Remote Monitoring, Security Services & Risk Management
Police Service Northern Ireland now has over 7 000 officers using 2 500 cameras covering approximately 173 000 incidents each year.
Read more...
---
Camera Selection Guide 2019
CCTV Handbook 2019 , CCTV, Surveillance & Remote Monitoring
The Camera Selection Guide 2019 includes a range of IP, analogue, thermal and speciality cameras aimed at a broad range of surveillance functions.
Read more...
---
Intelligent analytics and the brains to match
September 2019, Bosch Building Technologies , CCTV, Surveillance & Remote Monitoring, Integrated Solutions
What if the brains behind our security cameras could be trained to improve their cognitive ability to pay attention, learn, and problem-solve according to specific rules and situations?
Read more...
---
AI-powered autonomous Drone-in-a-Box
September 2019 , CCTV, Surveillance & Remote Monitoring, Integrated Solutions
Organisations in the mining, energy and industrial, oil and gas, ports and terminals sectors can optimise security and business operations, whilst reducing risks and operational costs
Read more...
---
Cybersecurity for video surveillance systems
September 2019, Mobotix , Cyber Security, CCTV, Surveillance & Remote Monitoring
Video surveillance systems are increasingly accessible over any IP network, which has led to the rise of potential cyberattack.
Read more...
---
What are the cybersecurity issues in video surveillance?
November 2019, Axis Communications SA , Editor's Choice, CCTV, Surveillance & Remote Monitoring, Cyber Security
he importance of the data captured by surveillance cameras – and what can be done with it – has led to a new breed of cybercriminals, looking for insights to steal and sell.
Read more...
---
The safe city and its need for interoperability
November 2019 , Integrated Solutions, CCTV, Surveillance & Remote Monitoring
Interoperability continues to present one of the greatest challenges, particularly with video management systems, video recording devices and cameras.
Read more...
---
A platform approach to safer and smarter cities
November 2019, Milestone Systems , CCTV, Surveillance & Remote Monitoring
Selecting the right platform to manage the vast data collected from smart and safe cities is critical to the ultimate success of the project.
Read more...
---
Creating safe cities with smart technology
November 2019, Secutel Technologies , CCTV, Surveillance & Remote Monitoring
In a digital age, where resilience and responsiveness are paramount to fighting crime and creating a safer world, CCTV systems are becoming part of every city's infrastructure.
Read more...
---