printer friendly version
IFSEC UK review
July 2011
News

If the IFSEC UK show this year, held in Birmingham, England was anything to go by, the local show, to be held at Gallagher Estate in September will be one not to be missed. Hi-Tech Security Solutions was in the UK for the show and we brought back some news and views for those of you who did not make it.
We ran into a few South Africans at the show, some just visiting while a couple were also showing their wares to the international market. One of the local attendees was Philip Smerkovitz, MD of TeleEye (South Africa). He was there as a visitor as well as an exhibitor.
Smerkovitz says that from an exhibitor's point of view, the show was a great success. "The constant stream of visitors to our stand and the event send positive signs of a post-recession market recovery. What really grabbed my attention was the vast spread of international visitors from all over the globe, amongst them a fair amount of South African customers who visited us. From a visitor's perspective, this is a wonderful opportunity for me to meet with our various overseas supply partners at a single venue and to spend time working hands-on with upcoming products."
He adds that there appears to be a growing trend for leading surveillance manufacturers promoting and supplying closed-system, turnkey IP surveillance solutions. "While there are certain benefits of open system solutions, TeleEye has always been a strong advocator of closed systems as this is a way of ensuring superior performance and ease of deployment than with open systems. One only needs to look at the evolution of the computer industry to see that proprietary systems still lead the way when performance, ease of deployment and centralised support are the key requirements."
Smerkovitz does not only have positive insight into the show. He notes that "product awards still seem to be awarded to the major sponsors, whilst many innovative products from other manufacturers go unmentioned and often provide far greater benefits than the featured products. One needs to visit the show in person to gain a true perspective of the vast amount of brilliantly innovative products out there."
And on the subject of awards, Hi-Tech Security Solutions attended the black-tie Security Industry Awards event which is held annually at IFSEC UK. Organised in association with the British Security Industry Association (BSIA), the awards acknowledge the people, products and technological advancements that have played a large role in the security industry over the past year.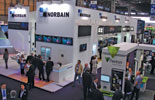 IFSEC Security Industry Awards 2011
Some of the winners of the 2011 awards (we leave out those not active in South Africa) are as follows:
CCTV Camera Equipment of the year: Dallmeier took these honours with its Panomera, an HD camera technology developed specifically for the all-encompassing video surveillance of expansive areas. Enormous widths as well as areas with large distances are displayed in a new resolution quality of up to 51 megapixels in real-time and at high frame rates of up to 30 fps (frames per second).
CCTV System of the Year (excluding cameras and lens): iOmniscient took this award for its Face Recognition in a Crowd Technology. The company is not yet active in South Africa or Africa, but CEO Rustom Kanga told Hi-Tech Security Solutions the company plans to be in on the African expansion soon. iOmniscient provides a suite of video analytics applications that was specially designed for the crowded and complex airport industry. IQ-Airport is based on iOmniscient's IQ product series, powered by patented Non-Motion Detection (NMD) technology and its Nuisance Alarm Minimisation System (NAMS).
NUUO was a finalist in this category with its NVRTitan, previously covered in Hi-Tech Security Solutions. The NVRTitan is a 250 Mbps Linux Recording Server that provides live viewing for IP cameras, supporting more than 32 camera brands and 870 models.
Access Control Product of the Year (including biometrics): Abloy UK won this award with CLIQ Remote, a Web-based security management system that forms part of the CLIQ Protec range. CLIQ Remote is designed for remote sites, enabling the commissioning, programming and full administration of security management centrally often eliminating the need to service locks on site.
Communication Product of the Year: The DualCom WorldSIM won this award for allowing access to multiple cellular networks from a single product.
Integrated Security Product of the Year: Assa Abloy took this award with Aperio. This product enables the wireless integration of mechanical locks into existing access control systems, offering a cost effective and simple security upgrade.

Other surveillance notables
While only a few companies can win the awards, there was no shortage of interesting and innovative technology to view at the show. Vivotek was proudly talking about its next-generation video codec that will soon be in all the company's IP cameras.
Scalable video coding (SVC) is a video standard based on H.264 that allows video data to be divided into multiple layers with different resolutions, picture sizes and frame rates. This feature turns a single video stream into multiple layers by selectively discarding some data to create independent layers. Users with limited resources, such as reduced display resolution, lower processing power or insufficient battery, can use the layer that best suits their capabilities. This flexible allocation of video data can reduce bandwidth usage and storage capacity needs by up to 70%, and also reduce loads on CMS servers and CPUs.
Not to be outdone, Arecont Vision announced its first SurroundVideo 20 megapixel panoramic day/night cameras enclosed in IP66 domes. The company says its new SurroundVideo cameras provide higher-resolution 180° or 360° panoramic views and can replace up to 65 conventional cameras. Arecont was also demonstrating its latest 3, 5 and 10 megapixel compact H.264 Cameras.
Another relatively newcomer to the local market via Inhep Electronics, Brickcom, announced the integration of its PC-based network video recorder BRC-64 software with Scallop's Digital Window D7-180 IP surveillance camera. This integration offers an IP management and recording solution that combines the wireless expertise of Brickcom IP cameras with the 180° undistorted field of view of the Scallop D7 180 surveillance camera. Simultaneously, the company was also talking about the integration of a wide range of its IP cameras with Milestone's XProtect open platform IP video management software. With the Milestone XProtect Device Pack 5.2, users can operate wired and wireless models of Brickcom's Cube, Fixed Box, and Fixed Dome IP cameras with their Milestone XProtect Enterprise, Professional, Essential, Go, and Corporate systems.
Axis Communications was also talking up its seemingly never-ending array of new products, including a panoramic camera that we expect to see in South Africa later this year – perhaps even at IFSEC SA? The company talked-up its Q1602 cameras, based on Axis' Lightfinder technology, which it says makes these devices the market's most light sensitive surveillance cameras.
Lightfinder makes AXIS Q1602 highly sensitive to low light, effectively allowing the camera to 'see' even in dark conditions. Axis says the fixed network camera delivers progressive scan image quality at D1 (720 x 576) resolution, in both indoor and outdoor applications, where light is poor.
Axis also promoted its Q6032 PTZ Dome Network Camera, which has an IP52-rated protection against dust and dripping water. The camera offers a wider picture with an extended D1 resolution of 736x480 pixels in 60 Hz and 736x576 pixels in 50 Hz, enabling an increase of roughly 7700 and 9200 pixels, respectively, over standard D1 resolution, which has a pixel width of only 720 pixels. It also provides 35x optical and 12x digital zoom with autofocus.
And finally, for now, Axis also spoke about its 5-megapixel fixed dome network cameras, with iris control for optimal image clarity and H.264 compression: the indoor AXIS P3367 Network Camera and the outdoor-ready P3367 are both vandal-resistant, suitable for any application that requires video surveillance coverage of a large area or extremely high image detail in a limited area.
Bosch Security Systems was determined not to be left out, and was promoting its new portfolio of high-definition (HD) surveillance systems. The Bosch HD portfolio of products offers a 'total video IP solution' from camera to monitor with software that integrates both HD and standard definition (SD) devices so that all video appliances can be operated using one intuitive interface. Additionally, all Bosch HD cameras conform to the ONVIF standard.
It is impossible to include all the surveillance exhibitors and products in a review; needless to say the competition is fierce in this field and companies that are household names in South Africa, from Avigilon to Hikvision and JVC (now in the Mustek Security Technologies fold) to NVT with its hybrid solutions were there in force. The good news is most will be represented at IFSEC SA in September, either directly or via partners.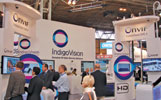 Raising the alarm
Once again, there were many companies in the intrusion and alarms space at the show, too many to cover in this article, so we chose two that are well known in the region.
DSC introduced the WS4920 wireless repeater, the newest addition to the DSC family of wireless products. The WS4920 is an easy-to-install wireless device that extends the range for DSC 1-way wireless devices from the control panel/receiver and compensates for interference sources by improving signal quality.
It is backward compatible with existing security systems, including ALEXOR, PowerSeries and MAXSYS and extends the range of 1-way wireless devices, helping installers avoid costly modifications. Up to four wireless repeaters can be installed on one control panel, with each repeater handling up to 164 DSC 1-way wireless devices.
Bentel Security launched the ABSOLUTA control panel, a more flexible platform that includes a specially designed operating system, the Bentel Operating Security System (BOSS), to enhance user experience. It also features GSM and IP plug-and-play add-ons and is compatible with all Bentel's BGSM series of communicators. Its new Telephonic Voice Guide allows the user to dial into the system, navigate the menu and choose a number of different options, such as arming or disarming of the system.
A standard discussion
While on the Axis stand, we met up with Jonas Andersson, director business development, global sales at Axis as well as chairman of the ONVIF steering committee. ONVIF is the standards body started in 2008 by Axis Communications, Bosch Security Systems and Sony to facilitate the development of a global open standard for the interface of physical IP-based security products.
While not often in the news in South Africa, standards in the surveillance market is becoming more important as more clients globally want to opt for best-of-breed products instead of relying on one supplier. "With nearly 800 conformant products available on the market, representing products from 280 member companies, the ONVIF specification is steadily reaching a critical mass of adoption," Andersson said.
With the release of the ONVIF Core Specification 2.0 to encompass video storage, display devices, video analytics and other areas, ONVIF is getting closer to its goal of providing a global open network interface standard for physical security equipment. The expansion of the scope to include physical access control systems is slated for release in 2011.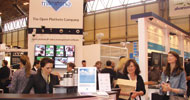 Access innovations
Looking at the access control and identity management presence at IFSEC UK, there was again no shortage of exhibitors, including Morpho with its new Finger VP series that captures finger vein and fingerprint biometric data at the same time (see it in this issue's Biometrics Review).
HID Global showcased its offerings for physical and logical access as well as secure card issuance on the same stand as its parent Assa Abloy. Among the many products on show was HID's iCLASS SIO-Enabled technology platform, which is designed to raise the bar for card-to-reader security while supporting emerging technologies.
The company also had its naviGO 2.9 credential management software on show, which enables the addition of PC logon functionality to cards regardless of the existing physical access control system or IT infrastructure. The Fargo HDP5000 high definition card printer/encoder and advanced generation direct-to-card printers were also on show, along with Asure ID 7, the latest version of its card personalisation software. Local HID users and partners should also be on the lookout for improved training offerings from the company in the near future.
Salto was also there with displays of its products, including the XS4 system, wall readers, glass door locks and locker locks. However, Salto's new Graphical Mapping system SALTO GEO and Aelement RFID designer hotel lock products seemed to attract the most attention.
Local distributorship for L1/bioscrypt
As it happened, while at the exhibition, local company Evolving Management Solutions (EMS) was awarded the distribution rights for L1/bioscrypt. Shiraz Kapadia, COO of L1 Identity Solutions and EMS's Ann Brookes were at the show to finalise the deal.
Brookes says EMS is looking at expanding its product line and the bioscrypt product range is perfect for expansion in the local market. Kapadia says quality is the watchword at L1 and the company has seen good growth of its products in all markets it operates in. Now L1 and EMS will be focusing on extending the brand in Africa. Hi-Tech Security Solutions will cover this deal in more depth in the next issue.
With hundreds of exhibitors at IFSEC UK, a review can never cover the scope of the exhibition and the products on show. Needless to say, attending was a worthwhile exercise for Hi-Tech Security Solutions. If we missed you, please let us know next year so we can make a point of visiting your stand.
The good news is that IFSEC SA is around the corner and it is going to be bigger than ever. Hi-Tech Security Solutions will be covering the show in depth and will have a stand there – stop by and say hello. We start preparations in the next issue with our IFSEC Preview, contact andrew@technews.co.za if you are exhibiting and would like to feature in the preview. Also, if you are visiting Gallagher, feel free to let us know your impressions of the show.
Credit(s)
Further reading:
TAPA: The role of an effective treasury function in business risk management
June 2019, Technews Publishing , News
Neil Le Roux, the Founder of Diligent Advisors will speak at the TAPA SA (Transported Asset Protection Association) annual conference on 26 July 2019.
Read more...
---
From the editor's desk: Of sore feet and new websites
June 2019, Technews Publishing , News
I hope everyone has recovered from the hustle and bustle of Securex. This year was once again an exhausting event and now we're left with following up. For Hi-Tech Security Solutions it was a good show ...
Read more...
---
Does green cost more?
June 2019 , News, Commercial (Industry)
GBCA, ASAQS and UP launch the 2019 edition of Green Building in South Africa: Guide to Costs & Trends.
Read more...
---
Partnership to reduce farm violence and agricultural crime
June 2019, Fidelity ADT Security , News, Security Services & Risk Management, Agriculture (Industry)
Agri SA has partnered with Fidelity ADT, a subsidiary of the Fidelity Services Group, to offer a range of services and products to its members and the rural community.
Read more...
---
Centurion announces new board of directors
June 2019, Centurion Systems , News, Access Control & Identity Management
After more than 30 years at the helm of access automation manufacturer, Centurion, co-founder Pat Dickens stepped down as the company's MD at the end of March, with current sales and marketing director Richard Rohman being named as his successor.
Read more...
---
Kaspersky Lab to open office in Kigali, Rwanda
June 2019, Kaspersky Lab , News, Cyber Security
Kaspersky Lab has announced plans to open a new office in Kigali, Rwanda, to support the rapid growth of its business in East Africa.
Read more...
---
Fully automated cash logistics
June 2019 , News, Security Services & Risk Management
Cash management company, Izicash, announced its adoption of Transtrack, a software solution, supported by a South African company, AllCash, which streamlines the cash logistics process.
Read more...
---
Throwing the book at qualification fraud
June 2019, LexisNexis , News, Security Services & Risk Management
Until now, qualification fraud has not been punishable by law. However, this is set to change with the introduction of the National Qualifications Amendment Bill.
Read more...
---
TAPA 2019 conference to be held in July
June 2019, TAPA (Transported Asset Protection Association) , News
The South African branch of TAPA (Transported Asset Protection Association) will be holding its annual conference at Emperor's Palace, Gauteng on 26 July 2019. The theme of this year's event is 'A Layered ...
Read more...
---
Siemens relaunches fire safety division in SA
June 2019 , News
Siemens Building Technologies has relaunched the company's Fire Protection Systems Portfolio Segment in South Africa, distributing its products nationwide through OTN Systems South Africa.
Read more...
---