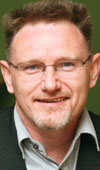 Changing responsibilities
March 2011, Integrated Solutions
Security policies primarily define physical access to areas and assets, and protect the interests of an organisation, its staff, partners and clients. Risk has changed significantly in the past decade, however as the business environment has adapted to new data, technology, communication and work trends, and the priorities of shareholders has shifted to drive a greater focus – and greater responsibility – at board and executive level for managing risk. Happily, security systems like access control and CCTV cameras have also evolved to meet these requirements.
Says Neil Cameron of Johnson Controls South Africa: "Business environments – both corporate and industrial – have changed subtly as technology and its use in business has matured. Systems have become more integrated and there is more information about everything available to more people. Line and executive management's roles and responsibilities with regard to risk and security are thus beginning to overlap. It is an area of transition that needs to be carefully managed. As basic security systems advance, they are providing a safety net of sorts."
Benefits of integration
A good example exists in the mining industry. Here, physical access to potentially dangerous areas is controlled according to the status of staff. For instance, if a miner has worked the maximum allowable overtime or has not completed a health and safety refresher course, he may not be allowed down a shaft or into a particular area. It takes an intelligent access control solution that is integrated into an HR database, the organisation's health and safety regulations, time and attendance, and other records, to identify such an anomaly – then schedule the worker to meet these obligations."
Says Cameron: "In the corporate environment, similar changes are occurring. Co-operation between line managers is essential to define, implement and action security policies. For instance, as ICT systems standardise, it has become easier to integrate data from disparate systems – but also easier to access data. If the status of a staff member changes, particularly if they leave an organisation, access to data often needs to be immediately removed. HR, IT and access control solutions thus need to work in tandem to meet that security requirement – as effortlessly as possible."
Access control solutions are advancing in a number of ways to meet more complex requirements. Built on open platforms they can integrate to lighting and HVAC systems as easily as to HR databases. "They can easily be configured to make complex decisions, better managing the environment and saving utility costs by turning off lights when the last person has left the office, or switching on an air conditioner in time for a meeting in the boardroom; or changing access and exit routes depending on changing environmental conditions – say a fire in the server room," says Cameron.
Open, more modular systems also make it easier for organisations to customise their security solutions. "Organisations today do not want to rely on off-the-shelf solutions – with open systems it is fairly easy to create a unique solution, integrated into legacy systems or proprietary third-party systems as needed."
Changing organisational roles
And with technology advances, it is inevitable that the role of the security guard will change. "CCTV and access control solutions today use intelligent algorithms to identify potentially dangerous situations, like the flow of traffic in the wrong direction, or a bomb-sized package left behind, or a valuable asset being moved at an unscheduled time," says Cameron. "The security officers do not have to spot the anomaly themselves via monitors. Instead, these alerts will be sent to them. Security staff can now monitor dangerous situations out in the field with images and communications of say, a fire, being sent to them on their smartphones or PDAs."
Intelligent decision-making by security systems is assisted by new business trends. "Roles and responsibilities are today better defined as people become more specialised," notes Cameron. "And with less multi-=tasking and more best practices integrated into security policies, it is easier to configure security systems since access time and zone permissions, among others, are assigned to a role rather than the person."
Concludes Cameron: "Risk to the business and its broader stakeholders continues to change and it is this risk that ultimately determines security measures. Richer functionality, ease of configuration, automation, intelligent decision-making, greater integration into back-end systems – all of these characteristics combined in modern security systems, to make security easier to implement. It is co-operation and co-ordination between line functions and at board and executive level to determine how risks may best be mitigated for that particular business (at various levels), that ultimately makes for a successful security system."
For more information contact Johnson Controls, +27 (0)11 921 7141, neil.cameron@jci.com, www.johnsoncontrols.com