printer friendly version
Openness, ease, partners and training
September 2010
Integrated Solutions
Hi-Tech Security Solutions recently sat down with Milestone System's sales director, MEA & ANZ, Peter Biltsted and its regional sales manager for Africa, Islem Cherchali, to discuss the company's approach to the security market and what it sees as critical to the future of surveillance.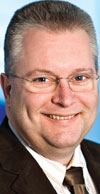 Peter Biltsted
Milestone is an IP company and has been developing open, IP-based video management software for years. It has a direct presence in 14 countries, with distributors and integrators representing it in more than 100. Its constant growth over the years, even posting an 11% growth rate in the 2009 downturn, has validated its position that the future of surveillance and security technology as a whole is IP.
Looking at the world market in mid-2010, Biltsted says growth is back on track in the emerging markets, with the Middle East going through a surveillance boom. One rising business capital in the region will soon have 15 000 high-definition IP cameras installed and it has passed a law requiring all camera operators, private or public to store 180 days of footage and provide the police service with full access to all cameras. India is also a growing surveillance market and even the USA is showing growth.
While Biltsted states that the future of this industry will end up being on an IT infrastructure, he also warns that while open standards offer flexibility and give users many more options, openness requires more expertise from installers. Integrators need to ensure they have the right skills to be able to meet customers' needs. It is no longer simply a matter of running a cable to a camera and deciding on the right viewing angle.
More companies are starting to demand certifications and accreditation from their installers before allowing them onto the premises. And while this is old hat in the IT industry, there are many security installers who simply could not be bothered, and who will find the going tougher as more standards and certifications are required in tenders.
Milestone has now invested in the launch of a company named Connex International, focused exclusively on training partners and integrators to multiple levels of accreditation. This will ensure that end users receive quality advice and technical support instead of struggling with installations that are inefficient.
Open options
As an IP-based company, Milestone has always supported open standards and Cherchali drives home the benefits of openness. The primary benefit of an open management platform is that customers can integrate their preferred cameras into the system and can select new cameras that suit their security and price requirements, mixing different brands. Milestone also supports both PSIA and ONVIF.
Another crucial aspect of Milestone's philosophy is ease of use. It wants to make plug-and-play cameras a reality, allowing integrators to focus on delivering the benefits surveillance offers instead of struggling to connect all their cameras to the management platform. Milestone's hardware wizards provide easy camera additions and configuration, with a template option allowing standard configurations to be automatically loaded across installations.
And surveillance is more than simply transferring video these days. Integration is a buzzword in the industry and with IP-based open systems, it becomes easier to integrate other security functions with surveillance. For example, using video surveillance to remotely operate access control systems and monitor cash points are only two aspects of integration we are seeing today.
New stuff
Through its reseller base, Milestone already offers a flexible licensing deal for customers, allowing them to choose the number of licences they need and by making upgrading to higher-level solutions easier (and cheaper with its licensing insurance option). The company has also released a very competitively priced new entry-level management platform for installations of up to 26 channels, called XProtect Essential.
The entry-level platform supports the same cameras, open standards and ease-of-use features as the enterprise and corporate versions do, but not all the features and functionality. Upgrading to the advanced versions is also simple and does not require re-installation.
Camsecure's technical director, Francois Malan, hosted the meeting with Milestone at the luxurious Saxon Hotel. Camsecure recently installed 150 high-definition IP cameras from Axis at the Saxon and is running the solution on a Milestone platform.
Malan says that customers often look at the price of the higher-end offerings and back away from a management platform like Milestone, not knowing the functionality they receive bundled into the platform. Apart from the ease of use and support for almost 900 cameras, both IP and analogue (through video encoders), Milestone's open platform allows users to integrate any number of additional applications from third-party providers. So whether it is number plate recognition or video analytics, customers can choose a solution that suits their needs and pockets.
He adds that some hardware companies offer a management platform free with their cameras, but advises users to look at the implications of free software. On the one hand, it could lock users into using only one camera brand in future and will not support integrating existing technology into the solution – customers will be forced into a solution the manufacturer prescribes instead of a solution best suited to their needs. On the other hand, free software will not incorporate all the features and functionality of paid systems designed by companies that are only focused on developing a management platform.
Another new feature we will soon see in the company's software is support for Axis cameras with onboard storage. Should the network go down, Milestone will fill in its surveillance gaps from the camera's SD card and vice versa, ensuring uninterrupted surveillance footage.
In a future issue, Hi-Tech Security Solutions will print a case study of the Saxon implementation. Stay tuned.
For more information contact Milestone Systems, +45 (0)88 300 300, cdp@milestonesys.com, www.milestonesys.com
Credit(s)
Further reading:
Intelligent analytics and the brains to match
September 2019, Bosch Building Technologies , CCTV, Surveillance & Remote Monitoring, Integrated Solutions
What if the brains behind our security cameras could be trained to improve their cognitive ability to pay attention, learn, and problem-solve according to specific rules and situations?
Read more...
---
AI-powered autonomous Drone-in-a-Box
September 2019 , CCTV, Surveillance & Remote Monitoring, Integrated Solutions
Organisations in the mining, energy and industrial, oil and gas, ports and terminals sectors can optimise security and business operations, whilst reducing risks and operational costs
Read more...
---
A platform approach to innovation and value
September 2019, Technews Publishing , Editor's Choice, CCTV, Surveillance & Remote Monitoring, Integrated Solutions, IT infrastructure
Moving to the platform model of doing business holds tremendous advantages for end users and smaller developers, but also for the whole technology supply chain.
Read more...
---
Open does not always mean easy integration
September 2019, VERACITECH, Technews Publishing , Editor's Choice, CCTV, Surveillance & Remote Monitoring, Integrated Solutions
Customers who opt for best-of-breed solutions will have to rely on their integrators to develop customised integrated solutions for them.
Read more...
---
Video analytics and AI
September 2019, Axis Communications SA, Dallmeier Electronic Southern Africa , Hikvision South Africa, Technews Publishing, Dahua Technology South Africa , Editor's Choice, CCTV, Surveillance & Remote Monitoring, Integrated Solutions
Artificial intelligence has the potential to deliver real benefits in the world of video analytics and many companies are already delivering customer benefits.
Read more...
---
Cloudy with a chance of AI
September 2019 , Editor's Choice, CCTV, Surveillance & Remote Monitoring, Integrated Solutions
One local company has developed an AI solution that can be added to existing surveillance installations, offering 24-hour intelligence.
Read more...
---
Integration insights
September 2019, Gijima Electronic and Security Systems (GESS), Technews Publishing, neaMetrics , Integrated Solutions
The security industry would be a vastly different place if installers and integrators were not able to make a range of different products work together.
Read more...
---
Video and audio analytics
September 2019, Wisenet CCTV - Hanwha Techwin , CCTV, Surveillance & Remote Monitoring, Integrated Solutions
Viewing many monitors and cameras simultaneously can lead to an increased probability of missing critical situations due to viewing fatigue. Analytics has the answer.
Read more...
---
Enhance video analytics with Augmented Vision
September 2019, IDEMIA , Technews Publishing , CCTV, Surveillance & Remote Monitoring, Integrated Solutions
Augmented Vision is a video analytics application from IDEMIA designed to enhance security in public and private places.
Read more...
---
A tangible return on investment
September 2019, Bidvest Protea Coin, Technews Publishing , CCTV, Surveillance & Remote Monitoring, Integrated Solutions
The key to a successful security solution for any environment is the strategy and processes that define what you need, where, when, how and why.
Read more...
---