printer friendly version
Mobile DVR: full stream ahead
May 2009 CCTV, Surveillance & Remote Monitoring, Transport (Industry)

Surveillance technology, and specifically CCTV (closed circuit television), has come a long way since the days of one-size-fits-all low resolution, black and white imagery, which was delivered by the first commercially-produced cameras and monitors.
Originally designed in 1942 by engineer Walter Bruch to observe rocket launches at Peenemünde in Germany, CCTV as a surveillance tool for law and traffic enforcement started gaining widespread popularity in the '60s and '70s, says Kenny Chiu, marketing manager of Elvey Security Technologies.
"Today, CCTV technology is both highly sophisticated and diverse, using video compression technology to deliver extremely high-quality video streaming in playback and live remote monitoring modes. Who could have imagined 50 years ago that we would progress to the point where two channels of audio can be recorded? Where systems work through local area networks and use Internet connectivity? Connectivity was probably not even a word then, and attributes such as external CD-RW and hard disk back-up ports would have been beyond the grasp of most people."
CCTV has become a critical element of modern-day security, used throughout the world in crime-vulnerable environments such as banks, shopping malls, shops, offices and even national highways, he adds, seamlessly combining security with emergency management and in so doing, helping to reduce crime and provide evidence.
New generation CCTV is available in mobile DVR (digital video recorder) format, which according to Elvey's development and product specialist Francois Smuts, answers the need for realtime digital recording. "Among the industries on which mobile DVR has made its mark is the transport industry where surveillance has to be both mobile and robust," he says. "The best mobile DVR surveillance systems are able to withstand harsh environments and ultra-high impacts, making them ideal for use in a variety of mobile applications. It is a great security and management tool for public transport vehicles, used to great effect in the monitoring of pupil safety on school buses," says Smuts, who lauds its value as a deterrent against fighting, bullying, vandalism and other undesirable or criminal behaviour.
"Likewise, it is going to have a key role to play during the 2010 FIFA World Cup, when vast numbers of guests will be utilising our mass public transport systems. Mobile surveillance on buses and trains will not only discourage bad behaviour but will also allow authorities to apprehend criminals. In addition, driver conduct can be closely monitored and assessed using special software that records and reviews trip times, routes and speed."
Mobile DVR is also suited for use by police officers as protection and an evidence gathering tool owing to its ability to transmit live video feeds back to their stations, he continues. "In so doing, their superiors have the same perspective on potential dangers as they do. This life-line to headquarters can be enhanced by special management software, which allows users to monitor all equipped vehicles at once. In the event of an accident or emergency, backup or emergency services can then be immediately notified and dispatched."
Mining is another industry that is benefiting from the advent of mobile DVR. "The mining environment is particularly vulnerable to crime, which often takes place in secluded spots such as elevators and is therefore difficult to control," Smuts notes. "In the same way, cash-in-transit vehicles are benefiting from mobile security systems able to record incidents and criminal modus operandi. Not only is there the satisfaction of knowing that the recorded footage can be used as evidence against criminals but there is also the protection aspect, whereby the streaming of live video to the central monitoring station allows for the activation of an appropriate response."
Corruption, long a source of great embarrassment to South Africa, stands to be dealt a crippling blow with this technology. Explains Smuts: "The media is constantly exposing corruption, not least of all in the Department of Transport, where the spotlight has fallen on inspectors soliciting cash bribes in return for issuing drivers' licences. Mobile DVR can root them out and in so doing play an important role in safeguarding innocent road users from illegal drivers."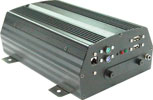 The condition of some of the country's roads, riddled as they are with potholes, would pose a challenge to most mobile DVR systems. However, a few are able to cope with extreme conditions. Mobitec, marketed by Elvey, is one. It is equipped with anti-vibration and shock protection, which Smuts says makes it suitable for accurate and reliable use on the roughest of driving surfaces. Designed for direct deployment in difficult out-of-plant or on-road operating environments, Mobitec also boasts a remote management system (RMS), which allows for accurate trip and driver monitoring as well as the best optimisation of routes.
"Modern-day surveillance technology supports GPRS, Wi-Fi (wireless network), GSM and dial-up Internet connectivity," he says. "It allows for the automatic transfer of data when the vehicle is stationed within the main server area, easily downloading encrypted video files and images through USB (Universal Serial Bus), Wi-Fi and video streaming via cellular network. Just a few years ago, video streaming would not have been possible, owing to slow Internet and download speeds and sparse geographical coverage. However, today's technology has made it possible to enjoy the many benefits of mobile application which include intelligent image streaming to command vehicles and control rooms. Wi-Fi answers the need for reliability in temporary installations while 3G presents a viable alternative platform for live video streaming."
Zane Greeff, technical director for Elvey Security Technologies, believes that Wi-Fi and 3G, which allows for the transmission of video at up to 14 frames per second, have taken video streaming to the next level. "Then there is HSDPA (High-Speed Downlink Packet Access), which Greeff describes as 'a much faster version of 3G'. "HSDPA brings immense benefits to the public safety sector. Wireless solutions mean that CCTV can become mobile at both ends. This makes it possible to bring CCTV applications into areas where it was previously impossible – a major step in our fight against crime.
The reliability and flexibility of this technology make it ideal for use in major events such as the 2010 FIFA World Cup. Its arrival has made it possible for live video to be streamed to PDAs (personal digital assistants). Put six police officers in six different locations with this technology and they can dial into one camera and view the footage, which would be password-protected and secure. This is a huge benefit, not least of all to emergency personnel when faced with incidents."
For more information contact Priyesh Jagjivan, Elvey Security Technologies, +27 (0)11 401 6700, priyesh.jagjivan@elvey.co.za
Credit(s)
Further reading:
AI Box for retail
Retail (Industry) CCTV, Surveillance & Remote Monitoring Products
IDIS AI Box for retail delivers advanced video intelligence, even for smaller stores. The simple add-on gives retailers powerful business insights without the price tag.
Read more...
---
The supervisor role in control rooms
Leaderware Editor's Choice CCTV, Surveillance & Remote Monitoring
The control room supervisor role is not a simple task of making sure that all the staff are present and appear to be performing their duties.
Read more...
---
Secutel's workforce management platform
Secutel Technologies CCTV, Surveillance & Remote Monitoring
In the modern day and age, it is quite challenging managing our own lives let alone managing a team of critical workforce guards responsible for the safety of customers and their assets. However, with ...
Read more...
---
Enhancing building efficiency with Niagara
Elvey Security Technologies Integrated Solutions
Due to its strong focus on building efficiency, healthy buildings and energy management, a mining company made the decision to install a Niagara-based building management system (BMS) into its new corporate offices.
Read more...
---
Cybersecuring surveillance devices
HiTek Security Distributors CCTV, Surveillance & Remote Monitoring
Check Point Software partners with Provision-ISR to embed IoT nanotechnology in Provision-ISR's video surveillance devices for on-device IoT security for video surveillance solutions.
Read more...
---
Edge or server analytics
XtraVision CCTV, Surveillance & Remote Monitoring
Understanding your requirements and the technology's capabilities is paramount in making effective decisions as to whether your surveillance system required edge or server analytics, or a combination of both.
Read more...
---
XVR-I3 series to broaden AI applications
Dahua Technology South Africa CCTV, Surveillance & Remote Monitoring
Dahua recently unveiled an addition to its AI-enabled XVR series by releasing the XVR-I3 models, supporting an array of AI features including full-channel SMD Plus and AI Coding, Perimeter Protection and more.
Read more...
---
Self-learning AI for existing CCTV systems
Iris AI Editor's Choice CCTV, Surveillance & Remote Monitoring News
Snap Guard is a cloud application that integrates into a property owner's live CCTV feed, working with existing hardware and software, adding an additional layer of security.
Read more...
---
Mark Kane and Wayne Schneeberger join Stallion Security
Stallion Security Editor's Choice CCTV, Surveillance & Remote Monitoring Integrated Solutions
Stallion Security has announced that Mark Kane and Wayne Schneeberger have joined its ranks at the same time as the company confirms its acquisition of Myertal Tactical Security's offsite monitoring business.
Read more...
---
The Complete Manual on CCTV Management
Technews Publishing Editor's Choice CCTV, Surveillance & Remote Monitoring Security Services & Risk Management
Sonja de Klerk, retired Brigadier from the SAPS Forensic Science Laboratory has written a book on managing your CCTV systems to optimise the value of it as evidence.
Read more...
---