printer friendly version
State-of-the-art Saxon
May 2009
Integrated Solutions
The exclusive Saxon Boutique Hotel and Spa ­provides VIPs with state-of-the-art hospitality and security, with the utmost discretion and style.
For the last eight years, The Saxon Boutique Hotel and Spa has been voted the world's leading boutique hotel for facilities that meet top-class international standards. It caters to up-market, discerning guests, both regional and international, including many VIPs, corporate dignitaries, high-profile personalities, royalty and important government officials.
The juice bar in the spa, surrounded by Japanese gardens, exhibits artwork of colourful handprints and signatures by some of the most notable guests such as Nelson Mandela and Oprah Winfrey. The visiting luminaries choose the Saxon Hotel for its exclusivity, serene beauty, top service and hospitality.
Accommodation at the Saxon Boutique Hotel and Spa is designed to satisfy the most discerning traveller, with exclusive suites that look out over lush gardens and pools. The utmost privacy is ensured.
The interior designer for the Saxon Boutique Hotel and Spa, Stephen Falk, has lived up to his reputation with stunning décor that is inspiring and relaxing. All of the art pieces and sculpture displayed throughout the hotel are original African artworks: one wall is entirely covered with beautiful, intricate hand-woven baskets. Some of the most remarkable artwork includes original sketches drawn by Dean Simon depicting various celebrity guests who have enjoyed the legendary Saxon hospitality. One of the most notable is the work titled 'Foresight and Hindsight - The Five Faces of Mandela', which traces the progression of former president Nelson Mandela's life from his early youth to elder statesman.
Saxon lobby
The koi fish in the Japanese garden pool are so expensive that they are insured for hundreds of thousands of rands – if they die, they must have an autopsy to ascertain no illness that could be contagious for the others – nor any wrongdoing.
The Saxon was originally converted from the luxurious home of the owner Douw Steyn to a five star Boutique Hotel in the 1990s, with the spa added in 2006. It is currently expanding into more property next door: by April 2010 there will be another 29 suites for a total of 53. The Saxon Hotel has only suites, with the smallest being 85 square metres.
Each suite is equipped with the latest technology in televisions and DVD players, with surround-sound music systems that cater for all tastes and preferences. Fully equipped workstations are complete with multitelephones, faxes and wireless on demand Internet access, which facilitate uninterrupted global business communications for the important guests.
The award-winning accommodations are crowned by the globally acknowledged spa, which is so well equipped that it even has a special Tibetan Sound Therapy room where vibrations from gongs and singing bowls send healing waves through the body. The acclaimed restaurant and wine cellars are also enjoyed by some local guests – on reservation only. Smaller banquets, special affairs or conferences are hosted here, as well. The auditorium screening room can hold about 30 people, who get to sit in extremely plush theatre seats.
Discretion
"Because of the high profile nature of our clientele, it is very important that our security is discreet and non-intrusive, yet there when needed. It is of course non-existent in the guest bedrooms, yet covering the doors and corridors and public areas. It must be that no one feels they are being watched, yet they know they are secure and safe," says George Cohen, MD of the Saxon Boutique Hotel and Spa.
Camsecure implemented Milestone XProtect Professional IP video software with an upgrade to XProtect Enterprise, managing almost 80 network cameras from Axis Communications. The open platform network approach functions as a central management tool, replacing their previous mix of six different analogue CCTV systems around the property.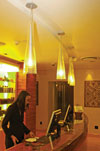 Saxon lobby
"Even when Camsecure was installing the system cables, cameras and upgrades, they have been done in the least obtrusive, low-key, very quiet way. There was no disruption or damage to the building whatsoever. That is a credit to this installation and one of the many reasons for our satisfaction," states Cohen.
"We did a lot of the work in silence; at night when the guests were sleeping," comments Francois Malan, technical director at Camsecure.
The sleek Axis camera designs also ensure the most discreet appearance for the exquisite décor. The secure, safe environment is well controlled. Service levels are heightened to optimal levels for this top-class hotel.
Enhancing service levels
"The Milestone software has certainly allowed us to be fast in response when we needed to. We must be able to get access to the security system very quickly if required, to get the information we require. The surveillance is also a preventative measure," adds Cohen, knowing that the imposing guards at the gates can react faster to any impending matters with alerts from the system. The tranquility and privacy of the important guests inside is not compromised. "On the few occasions where we have had incidents, we were able to prevent them from coming into the hotel property and to give both ourselves and the police a very quick review of what was going on for the best response and resolution.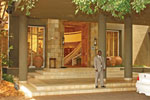 Saxon entrance
"As an hotelier, another advantage of the Milestone surveillance is one that security staff do not necessarily see the benefit of: it allows us to give certain senior personnel access only to the cameras that are relevant for them. For example, the front office manager can be sitting in his office working yet be alerted to the outside arrival of a VIP guest to come down to greet them personally. The video allows other managers to see if the kitchen and restaurants are having any delays and react immediately to improve matters. Basically, it is a management tool for ensuring the best service for our customers," says Cohen.
Video enabling the hotel business in this way is a real value-adding parameter. Senior managers can track employees' progress and monitor the effectiveness of staff interactions with the guests to further ensure the Saxon Hotel's superlative standards of service. Throughout the entire property, underground passageways are used by the staff for the lowest possible interference with guests and a quiet atmosphere.
"This way the guests do not have to see all the movement and workings behind the scenes. We do monitor for optimal management and security," says Shaun Swanepoel, security manager at the Saxon Hotel.
VIP guests with their own security personnel
Many of the high profile guests also have their own security personnel, sometimes outsourced, hiring VIP protection locally. Often these professionals will do pre-visit inspections of the hotel and meet with Swanepoel to review their specific protection requirements.
"We give them an overview of our security. Within the industry, including foreign and police agencies, they know how state-of-the-art our operation is and that it is one of the best available. They are therefore very comfortable with our security measures," asserts Swanepoel. "We run our security preventively and proactively – that is what it is about."
"This is also one of the reasons such high-profile guests want to stay here," adds Malan. "Shaun really turned around the security here when he came on board; hiring the hotel's own internal staff gave them tighter control and significantly lowered the risk of breaches."
The owner of the hotel lives on-site and they have extra security for him. One wing of the hotel has its own entrance for the most sensitive guests, where the security and total privacy of these high-profile people are absolutely guaranteed. Personal butlers are assigned such clientele for the most attentive service to every need.
Easy-to-use solution and top partner support
Cohen notes that even the most sophisticated security system in the world is useless if your personnel cannot make proper use of it.
"In the Camsecure installation process and their after-service, we have had attention and back-up from the whole company, anytime. That is why we are still using the same system from the same partner," testifies Cohen.
"I found the system to be very user-friendly. The technical assistance from Camsecure has ensured that the surveillance works for us very well," adds Swanepoel. "We have over 75 camera points around the property currently, with more planned as part of the upcoming expansions."
"It is important that everything works 24/7. If something does go wrong, it gets fixed right away. Likewise, whenever we discovered any weakness in our security coverage, we were able to upgrade the installation to address it immediately," states Cohen.
Immediate return on investment
Cohen recalls: "Within 24 hours of going live with the system three years ago, we used it to prove that a theft had taken place. We were able to use the Milestone and the software stood up as evidence in court. It has helped us: what you see is what you get."
"The open platform network video approach with Milestone at the core allows the expansions over time to cover new property, but also to use new types of cameras that become available. Taking advantage of the latest technologies keeps the business competitive and on the cutting edge to continue providing the best security and service levels for their important guests," notes Malan.
For details visit www.camsecure.co.za
Credit(s)
Further reading:
Integrated personal security that travels with you
Editor's Choice Integrated Solutions Smart Home Automation
Individuals can take their security with them when travelling with the new Nomad all-in-one integrated security solution that keeps you and your belongings safe.
Read more...
---
How IoT is reshaping the future of security and surveillance
Flickswitch Integrated Solutions
Like any other industry in the age of IoT, the security industry is also looking for new ways to consolidate high-tech security appliances to offer clients more comprehensive solutions.
Read more...
---
A channel focus positions partners for success
Integrated Solutions
By cutting out channel partners now or adopting a hybrid sales strategy, vendors may place themselves in a difficult position later on.
Read more...
---
Enhancing building efficiency with Niagara
Elvey Security Technologies Integrated Solutions
Due to its strong focus on building efficiency, healthy buildings and energy management, a mining company made the decision to install a Niagara-based building management system (BMS) into its new corporate offices.
Read more...
---
Over-the-air updates to enhance IoT and edge security
Integrated Solutions
Variscite, a system-on-module designer and manufacturer, announced it has enhanced security options for IoT and edge devices built with Variscite SoMs with over-the-air software updates on edge devices.
Read more...
---
The edge and AI – a partnership in smarter computing
Integrated Solutions
Organisational decision-makers must ensure that data complexity and data silos are mitigated and the right tools or platforms are in place before deploying AI.
Read more...
---
Mark Kane and Wayne Schneeberger join Stallion Security
Stallion Security Editor's Choice CCTV, Surveillance & Remote Monitoring Integrated Solutions
Stallion Security has announced that Mark Kane and Wayne Schneeberger have joined its ranks at the same time as the company confirms its acquisition of Myertal Tactical Security's offsite monitoring business.
Read more...
---
Touchless school access control
neaMetrics Suprema Editor's Choice Access Control & Identity Management Integrated Solutions Education (Industry) Products
Wolverhampton Grammar School deployed a Suprema access control solution, integrated with Paxton to resolve its legacy access control challenges.
Read more...
---
Wearable devices set to boost mineworker safety
News Integrated Solutions
The Connected Worker solution centres on a connected, track-and-trace wearable device for mineworkers, with a linked data-insights dashboard that gives real-time feedback to health and safety officers.
Read more...
---
The challenge of cloud acceleration
Integrated Solutions
A move to cloud, otherwise referred to as the 'cloud shift', that has triggered a change in the way organisations run, is accelerating across the world.
Read more...
---