printer friendly version
Electric fencing: the poor cousin of the security sector?
August 2008
Perimeter Security, Alarms & Intruder Detection
There are numerous perimeter protection technologies available. These include microphonic cable, microwave, infrared beams, fence-mounted accelerometer sensors and electric fencing. From a security perspective, electric fencing is not the most secure.
Electric fencing offers a physical deterrent. Certain technologies may offer excellent security features, but are very unlikely to be understood by many and, as a result, the incidence of alarms is likely to be high because of attempted infiltration. The use of a physical barrier on its own is of little use because it will eventually be compromised without alerting the site security personnel.
Therefore, electric fencing offers a relatively cheap barrier that offers a physical barrier as well as a good probability of tamper detection. Obviously a combination of technologies will offer superior performance. The electric fencing requirements of a domestic property are very different to those used on an industrial site.
How well is electric fencing technology integrated into security in the industrial sector or does it remain the poor cousin of the available technologies?
Background
The commercial exploitation of electric fencing for security applications started in South Africa in the 1980s. Energisers used for livestock control in agricultural applications were modified with the addition of a voltage monitor, to detect if sheep were being stolen.
During the 1990s, South Africa with its unique challenges, saw a proliferation of different energisers for security applications. Certain South African companies developed sophisticated systems for border protection and others concentrated on residential and industrial protection.
A number of issues became apparent in the industry. Agricultural use of energisers is greater than 90% of the energiser market worldwide. As a result, agricultural products are often still adapted for the security industry.
Unfortunately, like any young industry, unscrupulous individuals and companies saw an opportunity to make easy financial rewards. Standards for installations in the industry are not policed and, although this is being addressed, it will take a number of years before it becomes effective.
General misconceptions concerning the effects of high voltage also did the industry no good. An installer could show a client a reading of close to 10 kilovolts, with a simple low-cost fence voltmeter with questionable accuracy. There are many factors that influence the effectiveness of an electric fence. The suitability of the energiser is only part of the success of an electric fence.
Other factors are also associated with an effective installation. The corrosion and electrical resistance of the wire, the corrosion as a result of dissimilar metal junctions, the effects of ultraviolet radiation on insulators and the amount of electromagnetic interference resulting in possible interference with other systems or services. One of the most important factors is the mechanical integrity of the fence.
The requirements of larger residential properties and industrial sites in the '90s resulted in the development of solutions designed to provide 'discrete' sectors along the fence.
These included a software solution by utilising the differential currents on either end of the fence and using a calibrated look-up table. The other approach was to hardwire different sectors with their own individual high voltage monitors. Both techniques are still used by the industry.
Although demand for electric fencing remained popular in South Africa, Africa and South America it was not a common site in security applications in European countries. The events of 9/11 changed the outlook of governments internationally and the protection of public facilities has become increasingly popular. The safety aspects of these installations and the security provided have been under increased scrutiny.
Safety
The possibility of an individual touching more than one electrified fence simultaneously should be avoided. Likewise the use of high-power energisers designed for agricultural applications, with possibly a lot of damp vegetation touching the fence and considerable earth loop impedance, is not appropriate for a well-maintained security installation with proper earthing and little or no vegetation touching the fence.
The trend in the upper end of the security industry is to use multiple energisers that are synchronised in terms of firing and energy outputs. These enable individual monitoring of fence sectors, control of fence sector voltage independently and less vulnerability if the fence is compromised at a point. It may be desirable to operate a certain sector of the fence, such as a cargo loading bay, in low voltage mode during working hours and switch to high voltage mode after hours.
However, the costs of having a multiple energiser system are considerably higher than a single energiser solution. Mains reticulation to multiple energisers as well as the communication backbone between energisers also adds to costs.
The advice would be to use an installer who understands both the legal and technical aspects of the installation to provide an appropriate, integrated solution.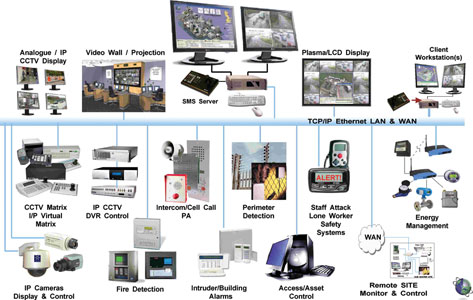 Integration
In European countries the cost of labour is considerable and is used as sparingly as possible. The operator of an industrial site would not only monitor the perimeter protection, but also the CCTV system, access control system, alarm panels, site energy management and whatever other systems are installed.
In the South African context, the use of CCTV is becoming a lot more prevalent and the use of fibre-optic cable is almost a necessity in the Highveld due to the high incidence of lightning.
If the site planning is done effectively, the additional cost of adding fibres to an optical cable is small, and the resultant communication backbone can support the need of all the different systems being integrated.
Therefore, not only is it desirable to have the different systems integrated onto a single computer and single software package but also to use common hardware requirements such as mains for cameras, energisers and lighting on the perimeter.
In evaluating any prospective electric fencing equipment, the question needs to be asked – is the equipment being adapted for a security application or has the equipment evolved according to the needs of the industry? The difference between adapted and evolved products can easily be ascertained. The hard-wiring of relays, separate enclosures and power supplies for networking components, and very limited information available from the energiser and almost non-existent control over energiser functionality indicates an adapted solution.
Adapted solutions tend to be labour-intensive and there is divided responsibility among equipment suppliers. An evolved solution will be a lot neater, rely on digital communications and provide a lot more information and control to and from the energisers. There will also be inherent checks for loss of communication and proper synchronisation of the energisers.
Example: one energiser product was adapted by an installer, without any consultation with the manufacturer, to try and offer a security system around a prison. The modification resulted in input signals being attached directly to the microprocessor without any protection. This resulted in latch-up of the microprocessor and a failed energiser and security. A recipe for disaster and a site that could never have operated properly.
With the appropriate integration of the electric fence into the overall system the electric fence becomes a key component and can no longer be considered a poor relation in the system.
Accountability
The accountability of the equipment manufacturers as well as the operator needs to be recorded. What was the sequence of events prior to the alarm and subsequent to the alarm activation? Irrespective of the suitability of the technology used, was the operator performance adequate? Is the software platform reliable and stable?
This has become a very important aspect of any installation. It is often taken for granted that the hardware will work. The costs associated with integration software, reliability, training of personnel may be the deciding factor for any system, including perimeter security.
Example: one European country decided that it wanted to use electrified fencing around its prisons. The criteria to decide on which brand of energiser to use was not based on the manufacturer but rather on the brand that could be integrated with the software integration package they had used for a number of years and trusted. The modular software suite integrates with a host of third-party manufacturers control equipment for local and remote site monitoring and control. Both existing and new technology can be integrated together to act as one seamless system including security, fire, CCTV, perimeter, access, intruder, intercom, building alarms, cell call, staff safety and other emerging technologies.
Conclusion
Modern day electric fencing offers a cost-effective solution that is gaining popularity as one of the means of perimeter protection.
The quality of installation and the choice of appropriate electric fencing equipment can provide a modern solution that is not a poor cousin in the industry.
Done correctly, with emphasis on the accountability of the system and operator, a wide range of different technologies may be integrated to provide total site management.
Graphic images courtesy of Cortech.
For more information contact Ray Wilsenach, Nemtek, +27 (0)11 462 9296, ray@nemtek.co.za.
Credit(s)
Further reading:
Hikvision alarms improve protection
Residential Estate Security Handbook 2020, Hikvision South Africa , Perimeter Security, Alarms & Intruder Detection
Hikvision has created a broad portfolio of innovative alarm solutions that are sophisticated, automated, and always fit for purpose.
Read more...
---
Thermal cameras with artificial intelligence
Residential Estate Security Handbook 2020, Dahua Technology South Africa , Perimeter Security, Alarms & Intruder Detection
Dahua Technology showcased solutions that are important to residential estates, namely perimeter protection.
Read more...
---
Securing estate perimeters
Residential Estate Security Handbook 2020, Nemtek Electric Fencing Products , Perimeter Security, Alarms & Intruder Detection
Nemtek has a range of products designed to secure the perimeters of estates, however its display at the conference focused on its Network Energizer and its Dual-Action Tension Sensor.
Read more...
---
Take estate security seriously
Residential Estate Security Handbook 2020 , Perimeter Security, Alarms & Intruder Detection
While the growth in residential estates continues, crime syndicates continue to target lifestyle estates, more often than not using inside information to gain access.
Read more...
---
Catching the intruder vibes
Residential Estate Security Handbook 2020 , Perimeter Security, Alarms & Intruder Detection
While a fence or wall of some sort is still the foundation for a perimeter solution, a simple barrier is not a sufficient defence against the continual criminal onslaught against estates.
Read more...
---
Perimeter security decisions
Residential Estate Security Handbook 2020 , Perimeter Security, Alarms & Intruder Detection
There are many options when it comes to perimeter security; Stafix offers some advice to guide estates through the decision-making process.
Read more...
---
Improved perimeter security with IoT
Residential Estate Security Handbook 2020, Vox Telecom , Perimeter Security, Alarms & Intruder Detection
Vox has introduced an Internet of Things (IoT) solution that helps better protect perimeters by providing notifications when boundary fences have been cut or tampered with.
Read more...
---
Vehicle and driver identification
Residential Estate Security Handbook 2020, Protoclea Advanced Image Engineering , Products, CCTV, Surveillance & Remote Monitoring, Perimeter Security, Alarms & Intruder Detection
Detecta features vehicle identification (make and model), automated number plate recognition (ANPR), vehicle colour recognition, driver identification, high speed and free flow detection.
Read more...
---
Wide-area surveillance with early detection
Residential Estate Security Handbook 2020, Protoclea Advanced Image Engineering , Products, CCTV, Surveillance & Remote Monitoring, Perimeter Security, Alarms & Intruder Detection
Being aware of a threat beforehand allows landowners to implement the necessary steps and alert security personnel, and thereby prevent threats from reaching the property.
Read more...
---
Scalable perimeter protection
Residential Estate Security Handbook 2020 , Perimeter Security, Alarms & Intruder Detection
Senstar perimeter solutions are used at high-value and critical infrastructure sites all over the world.
Read more...
---