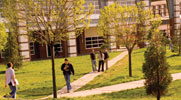 Campus security demands controlled flexibility
August 2008, Integrated Solutions
Effective education campus security requires flexibility within strict command and control capabilities.
Perhaps the most difficult problem to be overcome when considering security systems for tertiary education campuses is the striking of a balance that permits the achievement of effective security without draconian control of access to the campus and its facilities for staff, students and bona fide visitors.
In such an environment access control systems have to accommodate a variety of traffic types - people on foot, bicycles, motor cycles and in vehicles. Parking for vehicles on campuses can be limited and apart from staff who may have reserved parking, is usually available on a first come, first served basis. A SINON access/egress system with ANPR (automatic number plate recognition) technology can play a major role in speeding up the entry and exit of vehicles from the campus.
SINON also enables the parking areas to be better managed by ensuring that vehicles enter through the correct gates. It also counts the number of vehicles enabling gate security to know when parking is full, while at the same time ensuring that maximum use is made of available parking.
Residences may be located on campus or off campus and if the latter is the case, security control becomes more complicated, requiring a security system that can be networked over a wide area. South Africa, like most democratic countries, has many university students that may be politically active and hold diverse views so that alignments with political events, boycotts, demonstrations and protests may occur that have security implications.
What is required is an integrated, networked security solution for complete command and control of all campus security requirements, bringing together all of the available security sensors and resources to clearly present information that fully supports proactive management of security systems, breaches and incidents.
The ARGUS command and control system devised by Protoclea uses local technology designed to meet local conditions and needs. It will allow security personnel to monitor people movement and crowd gathering and it can be configured to monitor specified areas after hours.
Also designed to offer effective disaster management, the ARGUS enables security personnel to monitor and manage from a central point, incidents such as bomb threats, a fire in a residence or an explosion in a laboratory.
The importance of being able to integrate all visual surveillance and detection sensors into a central user management command and control platform cannot be overestimated as the technology provides the means with which potential or actual incidents or occurrences can be proactively controlled and managed.
As the ARGUS is a fully network-centric surveillance system on a command and control platform that integrates security across the enterprise, it presents accurate, timely and high quality visual information to operators, enabling them to activate a series of set procedures to deal with just about any situation.
The system is modular, so it can be engineered to suit most requirements. It can integrate SINON parking, access and egress, video surveillance systems covering designated areas of the campus, fire alarms and sprinkler systems, emergency exits and student emergency assembly points. In developing the ARGUS system the goal was to provide security personnel and management with a solution that offers command and control of all of the integrated systems from a single screen, on a platform that accommodates DVRs, access control, perimeter alarm systems, fire alarm systems, sprinklers, fire doors, emergency exits and other items related to security and safety.
The goal of such system integration is to enable security operators and campus management to identify security and safety threats in realtime as well as to provide them with the means to quickly analyse any situation and implement and co-ordinate a reaction plan through the network. Modern integrated systems can accommodate large numbers of cameras and offer high quality visuals over a wide area. Operators can zoom into any specific area where there is an incident or abnormal activity. While one operator is monitoring an incident, other operators are able to scan and zoom into other areas allowing all information to be quickly co-ordinated and conveyed to the right people - police, emergency response services, paramedics and so on.
Large multiscreens present multiple views of an incident and the surrounding area, improving reaction capability. Terrain and layout views indicate camera positions, where reactive forces are located and the position and status of fire doors, exits, elevators, staircases and other key points essential to the best reaction plan.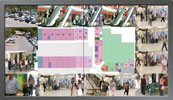 Today's surveillance control rooms can therefore be far more effective using a command and control platform and networked systems that allow realtime co-ordination of all the elements involved. Technology has also moved into automation of image sensors which can be used in integrated surveillance. Integrated systems can have sophisticated motion detection, image stabilisation, smoke detection, object tracking, automatic number plate recognition (ANPR), facial recognition and behavioural recognition software that detects unusual human behaviour.
For more information contact Dr Bennie Coetzer, Protoclea Advanced Image Engineering, +27 (0)11 465 4312, www.protoclea.com