Command and control a critical element in security systems for casino complexes
July 2008, Integrated Solutions
Casino complexes worldwide have similar requirements for their overall security, focused predominantly on surveillance and to a much lesser degree on access control measures and physical security (guards).
Casinos generally, and certainly in the South African context, require three different kinds of surveillance at the outset. The first covers the `public domain' such as the bars, restaurants, shops, children's entertainment areas and other facilities. The second is focused upon the gambling areas including the slot-machine areas, the open salons offering roulette and other table games, and the salon privé. Thirdly, parking and vehicle security is important for both patrons and casino management.
Bringing all three of these security elements together in a single Argus command and control environment allows complete integration of all of the data obtained as well as two-way communication with external agencies and services and offers immense benefits.
Public areas
People in the public areas need to feel safe without the security being overwhelming or too visible, probably involving some uniformed security personnel and others in plainclothes. Security is expensive, mainly because of the people employment costs, so one of the objectives is to make use of technology that will reduce the overall requirement for the human elements and be more cost effective.
The objective is to detect, identify and wherever possible prevent the execution of a crime, disturbance, fire or other emergency, and if it does occur, react to it, prevent it or minimise the impact and ultimately identify and prosecute the persons responsible.
Preventive detection involves the identification of known criminals or troublemakers on entry to the complex and this would involve the use of video analytic technologies such as automatic number plate recognition (ANPR) and facial recognition (FR).
This is an area in which casinos can co-operate by building up a strong database and sharing information with each other. ANPR can also detect stolen vehicles at entry points, provided casinos agree to work with the police and obtain online access to the stolen vehicle database.
New video analytic technologies are able to monitor people behaviour, detecting and alerting operators to anything unusual such as running, lying down, aggressive movements, crowd gathering/dispersing and entry into prohibited areas. Broken windows, forced doors, jammed lifts, initiation of panic alarms, fire or smoke can also be detected.
Casino floor security
In the gambling areas, floor security is primarily directed at the monitoring of patrons and staff with the objective of identifying cheats or scams and successful prosecution of the offenders. Apart from the requirement for high definition camera systems, the monitoring staff need special knowledge and training in order to be able to detect scammers or cheats.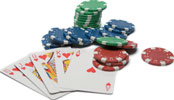 In future it may be possible for cameras to detect even sleight of hand cheating. Mostly, however, scams are detected through the close surveillance of tables where excessive amounts are being lost or incidents are taking place that are out of sync with the normal pattern. Here the capability to store and present quality images over a period of time becomes important. This would indicate that the role of mega-pixel technology would become more important.
The technology must allow for the detection of fast, fine movements, requiring high-resolution cameras that are perfectly positioned. This helps to resolve table disputes as recorded images are available for close review. Intelligent video technology and analytics combined with high resolution, high-speed cameras and wide lenses, can reveal tampering with the roulette ball, card delivery or suspect counting processes for cash or chips.
Essential requirements are well-trained floor observers and high quality, well positioned cameras.
Vehicle control and theft prevention
This is an area of great concern to casinos and modern ANPR systems can provide many benefits including customer relationship building and management (CRM), an area that is critical to most businesses.
Properly implemented and managed, the ANPR parking security system ensures the security of patrons' vehicles but with integration into the Argus command and control system, it can provide casino management with strategic business information.
On the parking security side and with police co-operation, facial recognition (FR) and ANPR technology can be used to keep criminals out by red flagging number plates of stolen cars and recording facial images of known criminals or banned persons for comparison on entry.
Public relations
As casinos are fundamentally driven by customers and in particular repeat customers, it is of huge value to create in these clients a feeling of well-being. The security system can in fact support this to some extent by offering 'client friendly' messages and treatment.
For example, the number plates of VIP visitors can be flagged in the system to alert staff to their imminent arrival and to activate a personalised LED greeting message to the VIP on entry to the parking. It can also provide a monthly printout of vehicle registration numbers that have visited the casino 10 or more times that month, providing accurate information for ongoing CRM activities.
The database information gathered by the security system could also be used to evaluate trends, identify repeat customers and even offer management information to evaluate customer class, for example by vehicle type.
Today's technology aims to not only improve the capability of casinos to combat crime, theft and scams in the protection of their business, but also offers the capability to safeguard patrons, effectively manage public areas and incidents as well as assist with customer relationship management.
Dr Bennie Coetzer is the managing director of Protoclea Advanced Image Engineering.