printer friendly version
Watching your back: countering industrial espionage the intelligent way
October 2002
News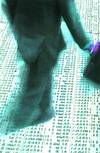 To many companies security badges, sign-in sheets, video cameras and other physical surveillance methods create a wall of protection against information theft. However, with most penetrations and information loss coming from within an organisation, these measures alone cannot adequately protect a company.
"Most penetrations and compromises are perpetrated by the target's own employees, by electronic or cyber intrusion, surveillance or photography," said Howard Griffiths, managing director of Griffiths & Associates. "In addition, significant amounts of company strategy are often given away in company websites, publicity material and at trade fairs, all unwittingly," he said.
"The official FBI statistics in the US are that at any one given period in time, that bureau has nearly 1000 open investigations into extremely serious cases of economic espionage of trade secret thefts," Griffiths said. "The only way to counteract activity on this scale is for companies to implement both reactive and preventative counter intelligence programs."
These programs should include employee training, site surveys, inspections and investigations. The company should also develop and maintain files on alleged, reported, and actual attempts at penetration. "Every company must have a counter intelligence manual outlining procedures for the protection of sensitive information, including how to handle incidents that occur," said Griffiths. These manuals should then be made available to personnel within responsible offices so that any incident can be dealt with promptly and consistently.
Overall strategy
The first step in developing such an overall strategy must be the conducting of a vulnerability assessment. The following checklist of important issues is an example of the type of information to be collected in this assessment:
* Employee names, titles, and position, for employees in sensitive positions.
* Responsibilities and types of access to sensitive data.
* Identification of those with whom each employee is authorised to share sensitive information.
* Audit trails and records kept relative to individuals who have been given access to proprietary data.
* Activities where employers could be approached by intelligence gatherers, such as seminars and workshops. Employees should be asked to describe any contacts initiated by other persons seeking any type of corporate data.
* Any gratuities offered or received from providing any type of corporate data. Employees should be asked to identify all types of corporate data being elicited and what responses were given and any ensuing conversation with the person asking for the information.
"The information gathered from this checklist and the general assessment will indicate strengths and weaknesses in the company's protective posture," said Griffiths. It will help security personnel determine which of the company's operations might be likely targets of business intelligence efforts and, just as importantly, allow the company to determine which counter intelligence strategies to put into place."
For more information contact Howard Griffiths, Griffiths & Associates, 011 786 8556, howard@griffithsonline.co.za
Further reading:
First Distribution to distribute InteleX Vision
Issue 9 2020 , News
First Distribution has signed an agreement with InteleX Vision that will see it distribute the iSentry video surveillance analytics suite of software in Africa.
Read more...
---
Nice digital evidence management solutions
Issue 9 2020 , News
NICE named a leader in the inaugural IDC 'MarketScape: Worldwide Digital Evidence Management Solutions for Law Enforcement 2020 Vendor Assessment'.
Read more...
---
From the editor's desk: Business efficiencies at the door
Access & Identity Management Handbook 2021, Technews Publishing , News
The COVID-19 virus and its seemingly endless variations has been termed 'The Great Reset' because of the changes in the way businesses have to operate. The virus has also been a reset for the access control ...
Read more...
---
Coping with COVID-19
Issue 9 2020 , News
Memoori has analysed the impact of COVID-19 on physical security market and the potential performance of the physical security business to 2025.
Read more...
---
Impro expands integration with facial readers
Issue 9 2020, Impro Technologies , News
Impro Technologies has announced that Hikvision's Pro and Ultra facial readers are now integrated with its Access Portal software.
Read more...
---
Altron Arrow secures distribution agreement with Centrify
Issue 9 2020 , News
Altron Arrow has secured a distribution agreement with cybersecurity specialist Centrify, covering its entire portfolio of identity-centric Privileged Access Management solutions.
Read more...
---
Dahua upgrades its open application platform
Issue 9 2020 , News
Dahua has upgraded its open application platform by launching the Application Marketplace on its new Dahua Hardware Open Platform (DHOP) website.
Read more...
---
First Distribution to distribute Impro in Africa
Issue 9 2020, Impro Technologies , News
Impro Technologies is one of the latest products to be distributed by First Distribution's Digital Security and IoT division.
Read more...
---
CCTV surveillance skills and body language training
Issue 9 2020, Leaderware , News, Training & Education
Omega Training Academy in conjunction with Dr Craig Donald are holding a CCTV Surveillance Skills and Body Language training course for company sponsored delegates.
Read more...
---
Keeping AI accurate
Issue 9 2020 , News
Fujitsu strengthens cybersecurity with AI technology to protect against deception attacks.
Read more...
---