The reality show that could save lives
June 2006, Perimeter Security, Alarms & Intruder Detection
In 2005, a large number of residents on golf estates fell victim to a series of break-ins believed to be organised by a crime syndicate. These up-market developments, traditionally believed to be safe havens, were the targets of criminal activity as offenders saw these estates as the homes of higher income earners and an opportunity to `make a killing'. Subsequent to the incident, security concerns are now rife in these estates.
As a safety measure many of these developments are linked to control rooms and provide residents with armed-response. But with an increasing number of properties being built within the estate, often the security company concerned will need to repeatedly upgrade its infrastructure and resources to meet the ever-increasing monitoring demands.
Homeowners of these estates need a total security solution, one that is integrated with surveillance capabilities while blending beautifully within the ambience of its environment and décor. On the other hand monitoring companies need to provide a solution to customers that meet these demands and more significantly one that eliminates the cost implications of repeated upgrades.
The RSI-1000, a new generation of intruder detection technology combined with video verification allowing high-performance video over standard phone lines with the convenience of secure wireless, offers a solution.
The downfall of security systems is often false alarms. The new RSI-1000 Security System features a tiny video camera that gives a true picture of exactly what is going on in any alert.
Completely wireless
Every device of the RSI-1000 Security System is battery powered with a minimum operational life of four years. This includes the exterior siren/strobe, keypad, central panel and all the sensors. "There is no longer a need or reason to string power to the panel or some rooftop siren. The system monitors all equipment and devices and provides notification for low battery life," says Dave Waywell, Elvey's commercial director.
The central panel is simply connected to the telephone. Because there is no connection to the mains and nothing to plug in, RSI eliminates equipment problems due to lightning and electrical storms.
Synchronised
The RSI solution integrates an advanced digital infrared motion detector with a sophisticated digital video camera and infrared illuminators. When armed, the motion sensor detects any movement. This activates the camera, which takes 200K of video (approximately 10 seconds, dynamically compressed at the camera). It then transmits this video file to the panel using an encrypted radio link.
The infrared detector uses advanced digital analysis to eliminate false triggers. It is available in a pet immune version that ignores the movement of objects under 40 lbs.
Embedded within each videofied motion detector is a miniature camera that is the most effective weapon ever developed against false alarms. "When an instant motion is detected, the wide-angled camera shoots 10 seconds of video and goes out to the central monitoring station's computer monitor," says Francois Smuts, Elvey's CCTV product manager. "The central station sees the exact nature of the alert and reacts accordingly and the operator can click on any camera for a realtime image."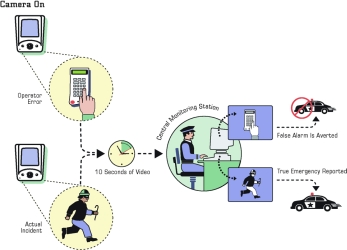 Developed in France, the video camera itself is a technological wonder. The first advantage is its petite size. "Customers are comfortable with it because unlike large turret cameras, it is not intrusive," says Waywell. Up to 24 cameras per system to ensure complete video coverage, the camera records 200 Kbytes, which is approximately a 10-second video sequence. Its high resolution provides remarkable clarity, day or night and it is wireless so you can just tape the motion detector to the wall."
Military-level bi-directional encrypted RF
The system offers military-level 128 bit AES encryption with jam detection while encryption key changes every second to eliminate hacking, intercept and eavesdropping providing secure and uncompromised signal transmission. The radio range is extremely good with individual packet error correction to ensure good transmission through difficult infrastructure.
Privacy is paramount
Customers can rest easy because the camera cannot be activated unless the passive infrared motion detector triggers it. Infrared cannot trigger it, unless the system is armed. And only when the system is armed, can there be video, so privacy is strictly maintained.
Monitoring integration
The system is compatible with MAS, SIMS, and other monitoring software. Instant access to video, complete configuration and log file of all events is readily available with just a few clicks in the system software at the monitoring side. This improved monitoring operator encourages productivity as events can be analysed and rapidly closed.