printer friendly version
Access control for Paarl Girls' High
Issue 2 2020
Education (Industry)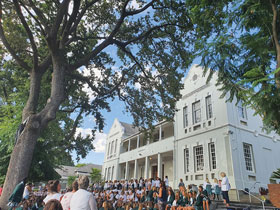 Paarl Girls' High School, established in 1876, is a public combined school with 800 registered learners, including Grade R pupils. This unique school is older than 100 years and is therefore classified as an historic building. The school's hostel is located on the school's grounds and offers boarding to 176 female learners.
At Paarl Girls' High, the safety of learners and staff is of utmost importance. A fundamental component of the school's security approach happens long before anyone has stepped inside the school's premises.
Access control forms part of securing the perimeter of the school's property, including each point of entry. Effective access control policies ensure that students, staff and visitors will know exactly where to enter, what to do once they get inside, and how to exit.
The challenge staff faced at the school and hostel was to provide total and efficient access control to the school's boarders. They were faced with challenges at the hostel's entry gate and inside the hostel, to keep unwanted visitors out.
Secutel Technologies is the exclusive distributor for Matrix COSEC access control solutions in South Africa. The company offered a comprehensive solution to Paarl Girls' High, providing access to the hostel boarders and staff by using their fingerprints. At the two main entrances to the hostel, the fingerprint biometric door and gate controllers were installed to monitor access. This allows entry to registered boarders and staff only.
Matrix COSEC VEGA FAX readers with the COSEC CENTRA software were installed to perform the functions related to system administration, like enrolling learners and maintaining general reports on staff and learners' entry and exit history. In addition, all the access control installations complied with the school's strict historic buildings' standards.
Credit(s)
Further reading:
Facial recognition from live cameras
Secutel Technologies Government and Parastatal (Industry)
The need for accurate and live facial recognition is an important consideration for safe and smart city surveillance systems. Secutel Technologies and NEC XON now offer a comprehensive 98%-plus accurate facial solution to market.
Read more...
---
Cloud for security and operational optimisation
Secutel Technologies Retail (Industry) CCTV, Surveillance & Remote Monitoring Integrated Solutions
With the abundance of services available to retailers, SMART Security Solutions asked Andre Vermeulen, GM at Secutel Technologies about what the company's SecuVue cloud services can do for this market.
Read more...
---
An unbiased witness always present
Technews Publishing Betatrac Telematic Solutions doculam Forbatt SA Secutel Technologies CCTV, Surveillance & Remote Monitoring Integrated Solutions Products
Smart Security Solutions ask a number of body-worn camera providers for their take on the market and what features and functionality their latest solutions include.
Read more...
---
SecuTraq F2 Bodycam
Secutel Technologies CCTV, Surveillance & Remote Monitoring Products
Secutel has announced its latest body-worn camera with multiple cameras and a range of additional functionality, such as Push-to-Talk, GPS location tracking, 3G/4G and Wi-Fi connectivity as well as constant remote monitoring from the control room.
Read more...
---
Sustainability School opens for enrolment
Education (Industry) News Security Services & Risk Management
Three-part programme, first developed for Schneider Electric employees, is now available for free for companies worldwide. Attendees learn how to future-proof their businesses and accelerate their decarbonisation journeys.
Read more...
---
Unlock seamless security with integrated products
Secutel Technologies Integrated Solutions Products
By combining SecuVue and Secutraq, Secutel has created a system that enables users to configure analytics, facial recognition, pose detection, and XFS among other security triggers modern service providers require.
Read more...
---
Impro modernises access control at University of Stellenbosch
Impro Technologies Editor's Choice Access Control & Identity Management Education (Industry) Products
The University of Stellenbosch has been using Impro access control technologies for many years to control access to its various buildings and facilities. It recently decided to upgrade its access technologies and Impro equipment was, again, selected.
Read more...
---
The future is keyless
Secutel Technologies Access Control & Identity Management Products
Keyless entry, virtual keys, and mobile lock control are revolutionising the security industry. Secutel's NoKey is an enterprise-grade cloud-based access control system that eliminates the need for access control cards, fingerprint readers, tags, or keys.
Read more...
---
Integrating existing technology and AI
Secutel Technologies Financial (Industry) Access Control & Identity Management Products
Financial institutions require strict security processes governing staff and visitors (including unwanted visitors), from the perimeter, right into their campuses and buildings; however, replacing all existing security systems with new technology is not always viable.
Read more...
---
Technology is key to securing physical and cybersecurity
Education (Industry) Security Services & Risk Management
The interpretation of security in educational institutions depends on whom you are talking to and whether their focus is on the physical security of the institution, its assets and its people, or its information and communication technology perspective.
Read more...
---