printer friendly version
Hundreds of millions to reskill
Issue 1 2020
Editor's Choice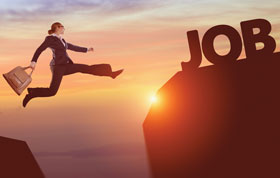 By 2022 alone, 75 million jobs will probably be displaced across 20 major economies, while 133 million new ones will spring up in industries that are only just gaining traction. At the same time, it's estimated that nearly two-thirds of children who started school in 2016 will go on to have jobs that don't yet exist.
So how can we adequately prepare tomorrow's workforce at the same time as retraining the hundreds of millions of people whose work is evolving? Here are four ways that business leaders can start addressing the digital skills gap.
1. Embrace lifelong learning
While it's easy to think of digital skills as ones taught in the ICT suite at school or college, technological literacy in the broadest sense is what matters. To make sure our workforces are truly equipped for the jobs of tomorrow, we need a wide-ranging development of these skills, among customers, parents, teachers and older people, as well students and new graduates.
As technology remoulds our everyday, it also unlocks new ways to impart these skills. For example, BT's Skills for Tomorrow platform offers free online or face-to-face courses to everyone from small-business owners to teachers and parents.
And it's not just digital skills that need to be fostered. Study after study shows that while technology will alter many roles directly, it's also set to have indirect effects. As demand for mathematics, computing and data analysis grows, so too will the need for human attributes like creativity, critical thinking, persuasion and negotiation.
2. Start early
Employers that understand this wholesale change in skill requirements are ahead of the pack. Nurturing staff for the long-term and equipping young people with the tools they need to progress becomes more important in a working environment that's in flux. That means we need strong cultures that promote mentoring and the development of so-called soft skills.
With most roles and jobs likely to become less defined and more fluid, continuous retraining and upskilling can make sure staff are ready to take advantage of new opportunities as they arise. There's also a place for reverse-mentoring, with recent graduates able to help and support senior executives as they make sense of the forces reshaping their businesses.
Training on the job could become more important than traditional routes. Companies including Apple, Google and IBM are among many shifting away from requiring college degrees for employment. At BT, you can get your degree while working as a cybersecurity apprentice, gaining real business experience, while also learning about security, identity, vulnerability and risks in the digital age.
3. Foster inclusivity
Programmes like these can help bridge another of the digital divides: the gender gap. Fewer women than men work directly in ICT roles in almost every country in the world. And a European Commission report found women to be less interested in digital-sector higher education, jobs or entrepreneurship.
We all need to take responsibility for challenging these stereotypes, promoting education and advocating for female entrepreneurs so this gap closes rather than widens as the Fourth Industrial Revolution takes hold. Here, relatively small initiatives can make a big difference. Code First: Girls offers free four-month-long coding programmes to women of any age, and gives them a job interview once they've completed the course.
This is just one example of how the technology sector is already working to address the issue. There are many other initiatives, all with the aim of encouraging women's employment in digital and making sure the revolution takes all members of society along with it.
4. Join forces with multiple stakeholders
And while each of these schemes has its individual merit, there's a growing recognition that bridging the skills gap can't be done via thousands of different company and government initiatives. Public and private partners are waking up to the idea that working together will generate far more sustainable and scalable solutions.
Some partnerships are already in place. Future.now is a new coalition of leading companies, including BT and Lloyd's Banking Group, as well as civil society groups working in collaboration with government to boost the UK's digital skills initiative. It seeks to bridge the divide between the plethora of digital courses on offer and the lack of people taking them up – whether that's because they don't know where to start, lack motivation, or are confused by the range of options.
Elsewhere more than 20 multinational companies, including Facebook, Microsoft, Nestlé, BT and Vodafone, have joined up as founding members of the Global Alliance for YOUth, which prepares people for the professional world.
While these initiatives must be fostered and applauded, we need to go further and integrate more. That's because we're at the tip of the skills-gap iceberg and the mismatch may be far more wide-ranging than we think. Within 20 years, 90% of all jobs will require some digital skills. New needs are emerging all the time, not just in obvious spheres like cybersecurity and big data, but also in areas like ethics, regulation and privacy.
In its new Davos Manifesto, the World Economic Forum emphasises how companies, governments and civil society need to come together, harnessing their core competencies in collaboration to improve the state of the world.
Now is a great moment to take stock of where we are and call for an end to isolation and working in silos. Executives at every level, and in every industry, must seize this moment to cement their legacy and ask: how can my organisation do more? And who can we join forces with to best equip our citizens for the workplace of tomorrow?
The Davos Manifesto 2020 can be found at www.securitysa.com/*davos (redirects to https://www.weforum.org/agenda/2019/12/davos-manifesto-2020-the-universal-purpose-of-a-company-in-the-fourth-industrial-revolution/).
Further reading:
South Africans play a role in becoming scam victims
Editor's Choice Risk Management & Resilience
The South African fraud landscape is becoming increasingly risky as fraudsters and scammers look to target individuals with highly sophisticated scams, in an environment where it is becoming increasingly difficult for lawmakers and authorities to bring these criminals to justice.
Read more...
---
Service orientation and attention to detail
Technews Publishing Editor's Choice Risk Management & Resilience
Lianne Mc Hendry evolved from working for an accounting firm to an accomplished all-rounder familiar with the manufacturing, distribution, and system integration aspects of the security industry value chain.
Read more...
---
Are you leaving money on the table?
Editor's Choice Security Services & Risk Management
How many customers have you helped since starting your business? Where does most of your new business come from? If the answer is not from your database's existing customers, you might have a problem.
Read more...
---
Wireless fire tech offers unexpected benefits for load shedding
Technoswitch Fire Detection & Suppression Editor's Choice
For the long-suffering residents of South Africa, the policy of load shedding to help manage demand from the country's ageing and poorly maintained electrical generation and distribution system, is a major inconvenience, and it can be fatal to fire alarm systems.
Read more...
---
Consolidated cybersecurity management
Technews Publishing Editor's Choice Information Security Infrastructure
SMART Security Solutions spoke to Gareth Redelinghuys, Country Managing Director, African Cluster at Trend Micro, to find out what makes Trend stand out from the crowd and also its latest market offerings.
Read more...
---
ADI to close SA operation
ADI Global Distribution Editor's Choice
In a move that will shock the local security industry, ADI Global recently sent an email to its customers notifying them that it will cease its business operations in South Africa.
Read more...
---
Bosch Building Technologies to focus on SI business
Bosch Building Technologies Editor's Choice
Bosch Building Technologies, which includes the security division, aims to "consolidate its capabilities to achieve a globally leading position in the systems integration market", a move that will include selling most of its product business.
Read more...
---
Securing road transport across Africa
Technews Publishing Editor's Choice Asset Management Transport (Industry) Logistics (Industry) Risk Management & Resilience
SMART Security Solutions spoke to Filipe de Almeida, the Portugal & Spain Regional TAPA EMEA Lead, and Massimo Carelle, the TAPA EMEA Africa Region Lead, about securing transport and logistics in hostile environments.
Read more...
---
Cisco collaborates with DCDT for Digital Acceleration Program in SA
Editor's Choice News & Events IoT & Automation
Cisco signed a Memorandum of Understanding (MoU) with South Africa's Department of Communications and Digital Technology (DCDT) to help further develop and strengthen the country's digital economy through digital skills and talent development.
Read more...
---
IMF/World Economic Outlook Update, October 2023
Editor's Choice
The IMF sees global growth slowing this year, Pierre-Olivier Gourinchas, Head of the Fund's Research Department, said ahead of the launch of the World Economic Outlook (WEO) on Tuesday, 10 October.
Read more...
---