printer friendly version
Leaders in risk and security: You have to know it to manage it
Issue 1 2020
Security Services & Risk Management
Nash Lutchman started his working career as a schoolteacher before joining the South African Police Service in 1987 as a Constable. Over the next 12 years he climbed the ranks, making the rank of Brigadier 12 years later in April 1999.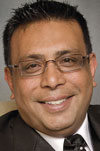 Nash Lutchman, Senior Vice President and Head of Protection Services, Sibanye-Stillwater.
His police experience included crime intelligence and investigations, but the largest part of his service was in the Management Services Division, where he focused on strategy, optimisation and efficiency. Nash says this role exposed him to the entire organisation, including its operational units, which allowed him to have a broader understanding of how the SAPS worked as a whole. This was a good foundation that assisted him when joining the private security world.
A tipping point in his career came in 2004 when the De Beers Group offered Nash a position as the security manager on a mine in Kimberley. The opportunity to expand his scope of experience and the opportunity to make a difference in a smaller organisation helped him to take the plunge and join the private sector.
While some people thought his move was a step down, Nash explains that the loss of rank and prestige did not bother him as he has always been focused on adding value in law enforcement and making a difference. The De Beers offer provided him with a new opportunity to do just that, while also doing something different. In any case, he says private security on a mine is similar to the full operations of the Police as it entails most forms of policing, such as crime prevention, investigations, crowd-control, commercial crime and more.
Due to his drive to add value, it only took seven months for De Beers to redeploy Nash to the position of Group Investigation & Intelligence Manager for the company's South African operations, based in Johannesburg. He was later deployed as a regional manager for the Northern Region of De Beers' operations. Then, in 2006, he was appointed as the head of security for De Beers' South African operations. One of the benefits of working for De Beers was that the company was ahead of its time in recognising that security was critical to the business and the company's executives were prepared to make the necessary investments in the security of their people, assets and operations.
A new challenge
In 2008 a new challenge presented itself when Nash was approached to take over the lead at Gold Fields Protection Services (GFPS), the security subsidiary of the listed Gold Fields mining group. From the start, he was told that GFPS was facing significant issues with respect to crime, from the production facilities, through to illegal mining and the growing risks from syndicate operations – a challenge he could not resist.
Nash then moved to GFPS where he spent a year with the incumbent head of security, Pine Pienaar, before replacing him in 2009. This change in position saw Nash move from a senior management position into an executive position at an independently run security company where he was also expected to consult and provide oversight on the security function at the Group's international operations.
In 2012, Gold Fields went through an unbundling process, which saw the formation of Sibanye Gold; GFPS was part of the new group with Nash as the head of security. In 2014, Nash was promoted to his current position of Senior VP and Head of Protection Services. A role where he brings security to the executive board, demonstrating how seriously the group takes its security processes.
Since 2013 Sibanye Gold expanded both in South Africa and internationally, developing into Sibanye-Stillwater, an international precious metals mining company with a diverse portfolio of platinum group metal (PGM) operations in the United States and southern Africa as well as gold operations and projects in South Africa, and copper, gold and PGM exploration properties in North and South America.
It is the world's largest primary producer of platinum and rhodium, the second largest producer of palladium and a top tier gold producer, ranking third globally on a gold and gold equivalent basis. It is also a significant producer of other PGM and associated minerals such as chrome. The company also recycles and processes spent PGM catalytic converter materials.
As before, the new position provided for more personal growth for Nash as he faced new challenges, which he says he has enjoyed tremendously.
Changes in private security
While Nash has a successful career in the private security industry, he has faced many challenges over the years. Initially he found that crime syndicates were far ahead of mine security as the general view of security leaders was that mines would place guards at their posts and perhaps have a few CCTV cameras, and that was it. Guards were post-bound and waited for assistance if they noticed anything happening.
He had to overcome the static nature of security and introduce disciplines such as crime trend and pattern analyses, intelligence and profiling. He gives an example of a guard at the gate checking that everyone has the correct access credentials, but not thinking about asking why a person is carrying a large bag into the mine. He is also adamant that particularly in mining security, a security technology strategy that goes beyond CCTV and alarms, needs to be developed and delivered. Additionally, CCTV is merely one of the tools of the trade today. Security operations can choose from other technologies such as drones, radar and laser technologies to cover large areas, often with better results than CCTV systems.
It took Nash some time to develop a comprehensive security function in which people were part of the process and not just assigned to their post. Today's security personnel are better trained and more aware of what is happening around them. The result is a security function that can do more with its people, focusing on high-risk areas instead of the same boring routines every day.
Nash has also focused on making the security team, including the guards, part of the process, connecting them with the strategy and decision makers. He says the success of your security function depends on how much the people on the ground know and understand the goals and tactics of their team. Bringing the guarding team closer to management makes them feel part of the team and has a positive impact on how they approach their job.
Similarly, Nash has also worked to educate senior people on what the security team does and how they do it, building respect for the guards. In the past, members of senior management would often insult guards in the execution of their duties (such as searching a car leaving the property).
It has taken a while, but the effort is worth it as management came to understand how important the team is to everyone's safety and security.
Budget blues
Money is always a challenge for all security operations. Equipment costs keep on increasing, as do salaries, but the budget allocated to security keeps being squeezed. While some may despair at this lack of funding, Nash says it is an unpleasant fact of life and he approaches it as motivation to look for innovative ways to do the job with a less money.
When the bad budget news arrives, he gets together with his team, examines the risks the company is facing and work out ways to deliver a quality service with less. He does note, however, that if the same levels of assurance can't be guaranteed on a lower budget, the client needs to be told and the issue resolved with them.
Lack of assistance
An ongoing challenge Nash faces is the lack of assistance from the police and government in general. Although the mine security team has its own intelligence operations and can pinpoint hotspots or warn of criminal activities, it remains a challenge to get the police to do their job.
There is also a lack of specialist detectives to investigate precious metal and diamond related crimes, a problem that has been around for years, which allows the crime syndicates to thrive. Similar issues occur when someone is charged and taken to court and the prosecutors may not fully understand what the person has actually done and end up prosecuting on less serious charges.
Nash has partially overcome this by developing good relationships with his counterparts in the police and the prosecuting authorities. This does assist in resolving some issues, but the problems still remain and it doesn't help that the police and prosecutors are woefully under resourced.
A career in security?
When asked for his advice on how young people can develop a career in security for themselves, Nash says his career in private security did not start with an entry-level position. He held a high rank in the police and moved to a fairly senior position, Security Manager, in the private security world. He says many security leaders today have a similar story in that they started elsewhere, mainly in the police, military or correctional services before moving into private security.
And while some may say this route is no longer necessary in a world of advanced technology, Nash believes it provides a solid grounding for future leaders. There are people who do not have this experience, but most of the senior security operators today have some experience in public sector security. He suggests about seven years in the police service, which should allow a person to reach the rank of Warrant Officer. This will provide the individual with a feel for the job as well as training and experience that will give them an edge in their roles in private security. This will also allow them to transition into a role in the private security industry that is above entry level.
He adds that qualifications such as a diploma in Police Administration or a degree or diploma in Security and Risk Management are also worth pursuing. Forensic investigations and auditing are also fields where there are opportunities in the security field. He encourages all staff in the security function at Sibanye-Stillwater to further their education so that they can move up the corporate ladder over the course of their career.
Young people will also need to have a thick skin, as they will find the perception of private security is quite poor in general, and some members of the police seem to look down on private security staff. Additionally, he says security personnel also need to have the right temperament to deal with crime and criminals. The criminal onslaught is not going away and security people need to be tough enough to handle the worst situations.
Final thoughts
Nash adds that it is critical for every security operator, no matter what level they are at, to understand the business they are safeguarding. The generic disciplines in a security function, such as prevention, detection, investigation, apprehension, recovery and so on are common to all situations and can be applied anywhere. However, one needs to ensure that your entire operation is tailored to the environment. The service you implement for protecting a mall is very different from what you would do on a mine, for example.
In his career in private security, Nash has grown as a person and as a professional, and learned from people he has worked with along the way. He knew he needed to understand what his job entailed and made sure he did what was necessary to understand the environment he was securing. This included time spent underground as well as visiting processing plants and other areas of the mines. In his words: "You can't manage security from your desk. You have to know it to manage it."
Credit(s)
Further reading:
Tech developments lead hologram growth in 2024
News & Events Security Services & Risk Management
Micro-lenses, micro-mirrors and plasmonics are among the rapidly-emerging optical devices that have evolved on the back of holographic and diffractive technologies, and are seen as part of the natural evolution of optical science by R&D teams.
Read more...
---
Service orientation and attention to detail
Technews Publishing Editor's Choice Risk Management & Resilience
Lianne Mc Hendry evolved from working for an accounting firm to an accomplished all-rounder familiar with the manufacturing, distribution, and system integration aspects of the security industry value chain.
Read more...
---
Are you leaving money on the table?
Editor's Choice Security Services & Risk Management
How many customers have you helped since starting your business? Where does most of your new business come from? If the answer is not from your database's existing customers, you might have a problem.
Read more...
---
Consolidated cybersecurity management
Technews Publishing Editor's Choice Information Security Infrastructure
SMART Security Solutions spoke to Gareth Redelinghuys, Country Managing Director, African Cluster at Trend Micro, to find out what makes Trend stand out from the crowd and also its latest market offerings.
Read more...
---
From the editor's desk: Convergence is real
Technews Publishing News & Events
      SMART Security Solutions has been talking about convergence for a long time; in other words, the intersection and even integration between the physical and information security worlds. Before writing ...
Read more...
---
Securing road transport across Africa
Technews Publishing Editor's Choice Asset Management Transport (Industry) Logistics (Industry) Risk Management & Resilience
SMART Security Solutions spoke to Filipe de Almeida, the Portugal & Spain Regional TAPA EMEA Lead, and Massimo Carelle, the TAPA EMEA Africa Region Lead, about securing transport and logistics in hostile environments.
Read more...
---
The business value of ChatGPT
Security Services & Risk Management Risk Management & Resilience
Transparency, policy and integrity. It is critical for organisations to have a line of sight into processes and procedures that clearly define employee use cases when it comes to ChatGPT, says Lizaan Lewis, Head of the Legal Department at Altron Systems Integration.
Read more...
---
BMS for smaller businesses
Security Services & Risk Management Products & Solutions Risk Management & Resilience
Small businesses can also benefit from tailored energy management solutions just like large corporations. Effective energy management is essential for more sustainable and efficient operations.
Read more...
---
Kidnapping for ransom
News & Events Security Services & Risk Management Risk Management & Resilience
There has been an 8,6% increase in reported kidnapping cases in South Africa compared to last year, with 3 854 cases reported between April and June this year, leaving ordinary South Africans increasingly vulnerable.
Read more...
---
Free South Africa Market Report webinar from TAPA EMEA
Technews Publishing Editor's Choice News & Events Transport (Industry) Training & Education Logistics (Industry)
October 2023 offers TAPA EMEA members and non-members opportunities to increase their knowledge of cargo crime and supply chain security risks in three countries in Europe, the Middle East & Africa region, where supply chains are most targeted by both organised crime groups and other offenders.
Read more...
---