printer friendly version
Security workforce compliance tool
September 2019 Security Services & Risk Management, Mining (Industry)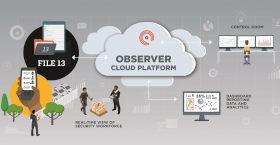 The private security industry employs more than 500 000 registered security officers across South Africa. To maintain service excellence at all levels across such a massive workforce is impossible without the help of information systems and technology.
Traditional management tools like baton technology, which has been around for the last 20 years, is increasingly being replaced with modern technology such as smart devices offering more accurate location tracking and real-time data capturing abilities.
Focusing only on security officers on ground level is no longer a sufficient approach. Companies need to be able to collect reliable real-time data to ensure overall compliance of their workforce, address potential issues with clients and monitor the performance of security guards and their assigned responsibilities.
Over the past two decades, Bloodhound has developed systems and products that follow this bigger-picture approach. As a result, its client base has measurable data that ultimately leads to a more secure environment and increased client satisfaction.
Security personnel now have the tools available to easily record and respond to incidents and request backup or emergency services when required. In addition, monitoring is done in real time which ensures proactive feedback across all business layers and its operations, including security officers, the assets they protect, their supervisors as well as client relations. It enables companies and security providers to have a holistic approach to security workforce and operations management.
Bloodhound's solution
At the heart of Bloodhound's mobile workforce solution is the Observer cloud platform. Observer can be described as the 'glue' that holds all the various components of Bloodhound's solution together. Some of its characteristics include:
• The ability to manage all field devices and applications.
• Sophisticated real-time control room monitoring.
• A user-friendly administration interface.
• Live dashboards.
• Automated reporting.
Accurate, reliable, real-time data is a fundamental requirement for any security service provider to manage their security workforce effectively. The value of Observer lies in its flexibility to on-board the unique business rules and operational requirements of each security service provider. This ultimately enables the platform to monitor all field activities intelligently with the aim of bringing any non-compliant activity to the attention of all relevant parties. The only effective way to manage a large workforce is to report and escalate on exceptions.
Bloodhound has a specialised approach to new-generation workforce management solutions that delivers an end-to-end solution and a dedicated 24/7 support service. Bloodhound's FILE13 allows you to manage your entire workforce compliance level with key features such as outdoor geolocations and indoor beacon tracking, detailed scheduling and advanced, interactive checklists, real-time exception escalations, incident logging and live dashboards, and the Observer administration platform.
What makes Bloodhound different?
There are several options to consider when choosing the right management solution for your security operations: flexibility, accuracy, functionality, and the ability to record empirical data are but a few.
Bloodhound offers various field-based workforce applications: AndRover Patrol, unlike the traditional baton type solutions, provides ample room for continuous innovation. AndRover outranks the baton in terms of its flexible user interface that enables the officer to do much more than just patrolling, as it also acts as an investigative tool in the field, returning rich data for analysis.
"With this smart device option, you are not being boxed into a corner and you are not limited in terms of hardware," says Bernard Slabbert, CEO of Bloodhound Technologies. "Moreover, our clients can select a device best suited to their needs and their budget, as AndRover is designed to run on any modern Android handset."
The most prevalent problems associated with the security workforce industry are security officers arriving late for their shift, falling asleep during their shift, not completing their duties properly, or simply being unsure of their duties. Bloodhound's offering streamlines security patrol management and allows the customer to create customised patrol routes and advanced scheduling. The system is flexible and allows added functionalities and applications such as a visitor management system, Push-to-Talk (PTT) communication options, and so forth.
FILE13, Bloodhound's compliance management Android app, is a fully automated, paperless, end-to-end management tool that ensures peace of mind for many of its security clients by providing value-added benefits such as:
• Improved customer experience.
• Increased productivity, efficiency, and profitability.
• Better quality of service.
• Total transparency with remote, real-time visibility.
• Business intelligence at your fingertips.
• Cost benefits by optimising your security workforce.
Many solutions on the market today claim to be complete solutions yet offer only limited functionality or measure only ground-level data. Slabbert points out: "Most of our 'competitors' focus only on managing the security workforce on the ground, but fail to engage other crucial aspects such as supervision and mid-level compliance. Bloodhound's File 13 compliance application is designed to ensure that all the important, yet often neglected tasks by supervisors and managers do not end up at the bottom of the pile and are completed correctly and timeously."
FILE13 is furthermore specifically designed to ensure that critical inspections, audits, and other field activities take place at the correct location and at the correct time, and so does away with all those laborious clipboards and manual checklists that are difficult to analyse and provide little to no proactive value to your business.
Ultimately, says Slabbert, "our security products are rooted in providing answers to four core questions:
1. How can you be sure your security officers are in the right areas, performing their required tasks, at the correct time?
2. How do you know your security workforce is optimally deployed to deliver the best possible service?
3. What is the best tool to measure and report on your security workforce's overall service delivery?
4. How do you ensure your security operations systems are working most effectively to deliver the best financial return on your investment?"
Bloodhound's FILE13 compliance manager has been successfully implemented by various clients to ensure quality of service at all levels of their organisation. Performance-based reporting and live dashboards provide its client's executive team with valuable business insights in order to manage their security manpower more effectively and ensure efficiency at all levels.
Smart technology is arguably one of the emerging trends to monitor and manage security workforces. It has a substantial impact on employee safety, accountability, communication, efficiency and, ultimately, client retention and satisfaction.
Further reading:
Rack-mounted, three-phase online UPS
Security Services & Risk Management IT infrastructure Products
The new Eaton 93PX 15-20 kVA UPS combines high efficiency with a compact footprint, lower TCO, and improved cybersecurity to provide stable power for critical IT, industrial, manufacturing, and medical applications.
Read more...
---
South Africa's solar boom against load shedding
Security Services & Risk Management
South Africa has installed more rooftop and onsite solar contracted to private consumers in the last year and a half than under government programmes in the last ten years.
Read more...
---
Five reasons why your board should push cybersecurity 'boundaries'
Security Services & Risk Management IT infrastructure
From a technological perspective, micro-segmentation of your IT security environment can be viewed as a way to identify, isolate and curtail the reach of any threat – even once it is in your network.
Read more...
---
Key timelines to ensure compliance
Security Services & Risk Management
Regulations to the Occupational Health and Safety Act that apply to major hazard installations require that certain actions be taken to manage health and safety risks – some with timelines for compliance that must be monitored.
Read more...
---
Best practice tips for strengthening data privacy system
Security Services & Risk Management Cyber Security
International cybercriminals are increasingly targeting South African organizations, making data privacy more difficult to maintain. A standardization expert offers insight to help combat this threat.
Read more...
---
Is AI the game-changer for streamlining anti-money laundering compliance?
Financial (Industry) Security Services & Risk Management
In the aftermath of South Africa's recent grey listing, companies are now confronted with the imperative to address eight identified strategic deficiencies, while simultaneously reducing their financial crime risk through anti-money laundering compliance processes.
Read more...
---
Five ways to reduce your cyber insurance premiums
Security Services & Risk Management News
With the global costs of cybercrime expected to soar to $13 trillion within the next five years, cyber insurance is booming as organisations try to mitigate the risk of financial losses.
Read more...
---
Client satisfaction boosted by 85% at Thungela Mine
Thorburn Security Solutions News Security Services & Risk Management Mining (Industry)
Thorburn Security, a division of Tsebo Solutions Group, has announced its recent collaboration with Kwa-Zulu Natal security company, Ithuba Protection Services, as part of its Enterprise Supplier Development (ESD) initiatives across Africa.
Read more...
---
Migrating to the cloud? Beware the many hurdles
IT infrastructure Security Services & Risk Management
While there are undoubtedly many benefits, there are also numerous hurdles to cloud adoption. Some of the biggest challenges revolve around managing cloud spend, understanding the cost components of cloud infrastructure, and how those costs can scale.
Read more...
---
Key strategies for businesses in the face of cyber threats
Cyber Security Security Services & Risk Management
Businesses face severe financial and reputational consequences due to data breaches and daily website hacks, and not all organisations are adequately prepared to combat these escalating threats.
Read more...
---