printer friendly version
Janu-worry or Twenty-Plenty?
Issue 1 2020
Editor's Choice
When Hi-Tech Security Solutions magazine approached me to comment on the subject of mitigating risk when the budget is limited, I was intimidated. Until I realised with a grin that women in the security industry are in fact uniquely positioned to tackle this topic.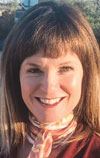 Lesley-Anne Kleyn.
You see, most of us love clothes and we want to wear quality without breaking the budget. This means that season after season, the requisite clothing-closet purge will be undertaken. Spouses, pets and children run for cover as item after item is thrown onto the bed as we root into our clothing cupboards (and theirs). Empty coat hangers fly. Shoes are tossed over-shoulder with a satisfying thud. There are entire videos dedicated to this process on YouTube and we google them all with great enthusiasm. It's a process of organised chaos. My Rottweiler has learned to avoid these sessions as skilfully as he avoids the sound of the hosepipe turning on for his weekly bath.
Light humour aside, the idea here is sound:
a.) Make the most of what you've got.
b.) Invest in one or two quality basics for the long haul.
c.) Round off the look with a few inexpensive seasonal accessories.
I might take that summer dress which I've been wearing with sandals, add a denim jacket and heels, and it will take me through autumn. When I add a few investment pieces to my wardrobe this winter, these are probably going to be a great blazer and a good pair of winter boots, in basic colours which will go with everything that I already own. And my budget buys will probably be cheerful winter scarves in the season's hues. With just a little planning, I will be set for the season.
What does this have to do with risk, safety and security? Well, perhaps more than what one might think. If the available security spend right now is somewhere between limited and non-existent, here are just a few suggestions, keeping the three industry pillars of manpower, technology and processes in mind.
Making the most of what is already in place:
Manpower: A manpower team is only ever going to be as good as the service provider looking after it. So if you have not been entirely happy, and have given the provider every opportunity, consider a change. There are some really good guarding providers in the industry and most will ethically take over the officers already deployed to your property, as long as the current team passes that new provider's rigorous selection process.
Technology: Redeploying existing, ageing CCTV cameras is often overlooked when properties are preparing to upgrade. Consider a thorough CCTV audit before budgeting for an upgrade. The cost of the audit represents approximately 0,5% of what the upgrade will cost, yet represents a saving of up to 30% of the total upgrade bill in the long run.
The quality investment
Manpower: The addition of a contract manager/supervisor to an existing guarding team simply cannot be overstated. This important person, working Monday to Friday 08h00 to 17h00, will add value which outweighs the additional monthly cost by miles. Make sure that the person is the right fit and negotiate that the impact of this new role is measurable over a trial period of, say, 90 days. Most providers will be willing to carry the risk.
Technology: Using the right technology in the right critical area cannot be overstated. For example, when I see PTZ cameras promising to mimic what thermal analytics can do on a perimeter, I cringe. This is not to say that a PTZ on a perimeter might not indeed be appropriate in certain instances. But thermal/analytics and PTZs have very specific and very different job descriptions. A PTZ cannot provide an impenetrable perimeter, it's just that simple. So investigate first, to invest wisely.
The season piece
Manpower and technology through processes: Processes! Processes! Processes! It is the intelligent combination of manpower and technology coming together into a cohesive whole through processes, which adds the value that your security spend may be lacking.
Consider a thorough analysis of the processes in place and then do it all again every six months. Analyses can be time-consuming, but represent relatively little financial cost.
A good consultant will spend many days on your site delving into the processes in place – something which your provider may not have the time to do – and will suggest areas which could benefit from a little tweaking and tightening up. Some will even do so at no charge, as a value-add to other invoiceable services.
PS: The exercise does not have to ruffle feathers. It can in fact be an exercise in tact and most providers on site will welcome the help.
Kleyn Consulting is an independent risk, safety and security consultancy with experience in a range of verticals. Based in the Western Cape Winelands, Lesley-Anne travels across South Africa. Feel free to contact her on +27 64 410 8563 or les@kleynconsulting.co.za
Further reading:
South Africans play a role in becoming scam victims
Editor's Choice Risk Management & Resilience
The South African fraud landscape is becoming increasingly risky as fraudsters and scammers look to target individuals with highly sophisticated scams, in an environment where it is becoming increasingly difficult for lawmakers and authorities to bring these criminals to justice.
Read more...
---
Service orientation and attention to detail
Technews Publishing Editor's Choice Risk Management & Resilience
Lianne Mc Hendry evolved from working for an accounting firm to an accomplished all-rounder familiar with the manufacturing, distribution, and system integration aspects of the security industry value chain.
Read more...
---
Are you leaving money on the table?
Editor's Choice Security Services & Risk Management
How many customers have you helped since starting your business? Where does most of your new business come from? If the answer is not from your database's existing customers, you might have a problem.
Read more...
---
Wireless fire tech offers unexpected benefits for load shedding
Technoswitch Fire Detection & Suppression Editor's Choice
For the long-suffering residents of South Africa, the policy of load shedding to help manage demand from the country's ageing and poorly maintained electrical generation and distribution system, is a major inconvenience, and it can be fatal to fire alarm systems.
Read more...
---
Consolidated cybersecurity management
Technews Publishing Editor's Choice Information Security Infrastructure
SMART Security Solutions spoke to Gareth Redelinghuys, Country Managing Director, African Cluster at Trend Micro, to find out what makes Trend stand out from the crowd and also its latest market offerings.
Read more...
---
ADI to close SA operation
ADI Global Distribution Editor's Choice
In a move that will shock the local security industry, ADI Global recently sent an email to its customers notifying them that it will cease its business operations in South Africa.
Read more...
---
Bosch Building Technologies to focus on SI business
Bosch Building Technologies Editor's Choice
Bosch Building Technologies, which includes the security division, aims to "consolidate its capabilities to achieve a globally leading position in the systems integration market", a move that will include selling most of its product business.
Read more...
---
Securing road transport across Africa
Technews Publishing Editor's Choice Asset Management Transport (Industry) Logistics (Industry) Risk Management & Resilience
SMART Security Solutions spoke to Filipe de Almeida, the Portugal & Spain Regional TAPA EMEA Lead, and Massimo Carelle, the TAPA EMEA Africa Region Lead, about securing transport and logistics in hostile environments.
Read more...
---
Cisco collaborates with DCDT for Digital Acceleration Program in SA
Editor's Choice News & Events IoT & Automation
Cisco signed a Memorandum of Understanding (MoU) with South Africa's Department of Communications and Digital Technology (DCDT) to help further develop and strengthen the country's digital economy through digital skills and talent development.
Read more...
---
IMF/World Economic Outlook Update, October 2023
Editor's Choice
The IMF sees global growth slowing this year, Pierre-Olivier Gourinchas, Head of the Fund's Research Department, said ahead of the launch of the World Economic Outlook (WEO) on Tuesday, 10 October.
Read more...
---