printer friendly version
Nothing holds Eudricht back
Issue 1 2020
Security Services & Risk Management
In this personality profile, Eudricht Kotze talks of his journey overcoming adversity in the security industry.
My journey of becoming the young professional I am today started in 2013 after I had an unforeseen vehicle accident mid-2012. I came with a civil engineering background right into the heart of security and life safety, working for Rosso Technology, based on site at Woolworths HQ in Cape Town alongside two other technicians. I had always had a huge passion for working with my hands, people and pushing the limits to better myself.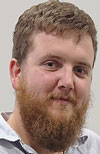 Eudricht Kotze.
After my first year of on-site work I was moved up to key accounts manager, looking after 400+ Woolworths stores nationwide and all three branches of Rosso. My role was to guide my teams to ensure every store is up to standard with their life safety equipment (fire detection).
I felt a sense of growth in me and in 2015 joined the distribution sector. I was very fortunate to bring to the table my knowledge of leadership and solution selling, but little had I known how much more there is to providing a full 360-degree turnkey solution. I was fortunate enough to be surrounded by the best of what the market had to offer in furthering myself, not just with products, but with solutions.
I very quickly realised that the market had become very product driven, but that no person, place or environment is bound to one or two products. I then restructured myself to not be a product specialist, but rather a solutions architect. This would include a full solution, from the backbone infrastructure right to the very last camera point and life safety requirement.
A well-executed turnkey solution might sound simple, but it is far from it. Listen to the customer's wants and needs, considering what is possible and available. Ultimately you want to provide total cost of ownership which is user friendly, within budget and of a quality that minimises risk, false alarms and downtime.
I had to put my practice to work by starting small. I firstly did some groundwork in Cape Town with a very well-known access control product which allowed for interfacing with multiple CCTV, biometrics and fire detection systems. I also had the chance to provide the same solution up in Namibia, which ranged from retail stores, wildlife estates to the High Court and Parliament.
My latest work had been in and around the Boland, the southern part of Cape Town and the west coast with successful LPR, perimeter thermal, access control systems, with everything accessible on one management platform at the touch of a button.
At the end of 2018 I moved my career to further heights and joined the Sensor Security Systems family, which has allowed me to express myself and my knowledge to its full potential. They have invested in my career and me, and today I am a better version of myself and the only wheelchair bound Level 4 Fire Designer in the distribution sector in SA. I plan to carry on providing the best possible turnkey solution to any and every scenario I come across to ensure user friendliness and cost of ownership.
Credit(s)
Further reading:
Tech developments lead hologram growth in 2024
News & Events Security Services & Risk Management
Micro-lenses, micro-mirrors and plasmonics are among the rapidly-emerging optical devices that have evolved on the back of holographic and diffractive technologies, and are seen as part of the natural evolution of optical science by R&D teams.
Read more...
---
Are you leaving money on the table?
Editor's Choice Security Services & Risk Management
How many customers have you helped since starting your business? Where does most of your new business come from? If the answer is not from your database's existing customers, you might have a problem.
Read more...
---
The business value of ChatGPT
Security Services & Risk Management Risk Management & Resilience
Transparency, policy and integrity. It is critical for organisations to have a line of sight into processes and procedures that clearly define employee use cases when it comes to ChatGPT, says Lizaan Lewis, Head of the Legal Department at Altron Systems Integration.
Read more...
---
BMS for smaller businesses
Security Services & Risk Management Products & Solutions Risk Management & Resilience
Small businesses can also benefit from tailored energy management solutions just like large corporations. Effective energy management is essential for more sustainable and efficient operations.
Read more...
---
Kidnapping for ransom
News & Events Security Services & Risk Management Risk Management & Resilience
There has been an 8,6% increase in reported kidnapping cases in South Africa compared to last year, with 3 854 cases reported between April and June this year, leaving ordinary South Africans increasingly vulnerable.
Read more...
---
The difference between a SOP and a SOP
Residential Estate (Industry) Integrated Solutions Security Services & Risk Management Risk Management & Resilience
SOPs are a touchy issue that need careful attention and automation to ensure they deliver the desired security results. Beyond design and automation, implementation is the ultimate road to success.
Read more...
---
Scoping out potential estates
Alwinco Security Services & Risk Management
When an intruder surveys a residential estate of 200 houses, they see at least 200 cars, 400 cell phones, 400 computers, 200 flat screen TVs, 600 bank cards, and various other items of value.
Read more...
---
Your face is the key
Suprema Editor's Choice Access Control & Identity Management Security Services & Risk Management Risk Management & Resilience
FaceStation 2, Suprema's newest facial authentication terminal, is an access control, time and attendance terminal, featuring a better user experience with Android 5.0 Lollipop and Suprema's latest algorithm, hardware, and software.
Read more...
---
Security without the skin
Alwinco Editor's Choice Security Services & Risk Management Residential Estate (Industry) Risk Management & Resilience
We all know about the layers of security required to form a comprehensive solution, but the layers go deeper than most consider. Andre Mundell dissects security in this article to start the journey into what is under the covers.
Read more...
---
Rack-mounted, three-phase online UPS
Security Services & Risk Management Infrastructure Products & Solutions
The new Eaton 93PX 15-20 kVA UPS combines high efficiency with a compact footprint, lower TCO, and improved cybersecurity to provide stable power for critical IT, industrial, manufacturing, and medical applications.
Read more...
---