printer friendly version
Three expos in one
Issue 1 2020
News & Events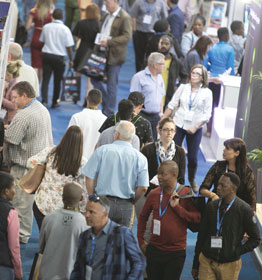 Three shows under one roof: this was the successful experience of over 10 000 visitors to Gallagher Convention Centre in May 2019. They were there to experience the co-located trade shows that spanned three different, yet related working areas – Securex South Africa, A-OSH EXPO and Facilities Management Expo.
Now, says Sven Smit, event director at Specialised Exhibitions, a part of the Montgomery Group, the combined 2020 event promises to provide even more across this triple offering, under the banner 2020 Vision.
Smit clarifies, "At the 2019 show, Securex South Africa and A-OSH EXPO had already run alongside one another throughout the nine-year history of A-OSH EXPO. Specialised Exhibitions acquired Facilities Management Expo, which brings together all aspects of facilities management into one central place, in late 2018. The combination of the three shows together now gives a 360° view of the safety, security and built environments, helping to showcase tomorrow's solutions for today."
"Securex South Africa, now in its 27th year, showcases a highly respected security offering, as regards both physical security issues around the guarding of premises and people, as well as a strong cybersecurity element," explains Smit. "It is the most established show of the three and has proven its longevity, being a well-respected African security and fire trade expo.
"At the same time, we are celebrating A-OSH expo's first complete decade during June 2020. Turning 10 years old is a milestone achievement for any trade expo, and we at Specialised Exhibitions have experienced phenomenal growth and interest in this expo area. Since the show's inception, we have seen, year by year, a keen and growing awareness of the importance of health and safety issues in the workplace, from both the employer's as well as the employee's perspective."
Turning to the third expo of the trio, Smit continues, "This is the second year that Specialised Exhibitions has been involved in hosting Facilities Management Expo. We are very pleased to be able to once again co-locate this show with the other two, and thereby allow visitors to experience this triple offering, in which the content offered via the seminar theatres, and the products and solutions offered by the exhibitors, together create a smooth transition between different aspects of the safety, security and built environments spectrum."
Smit says the value of expos lies in the tremendous ease of communication that face-to-face marketing and presentations can bring, for both exhibitors and delegates alike, explaining: "As an exhibitor, it is an incredibly effective way to engage face-to-face with your target market and your potential audience, while as a visitor, it is an excellent opportunity to compare different sector options, educate yourself quickly and efficiently on the latest trends, and engage with industry experts and your peers."
2019 visitors also noted the inherent sense and convenience of having the three shows situated all together under one roof, with one visitor commenting, "I visited Securex as well as the Facilities Management Expo, which is nice to have as an additional show – I feel that it gives a continuation of your safety and building management, and it is nice to see the dots connected."
Another attendee added, "We were specifically interested in Securex, but we have also found really good information through the A-OSH and Facilities Management expos as well. It has definitely been a holistic experience for us to have access to all three shows; it's been very educational."
The three shows are expected to feature more than 300 exhibitors and bring approximately 10 000 visitors through the doors across all three show-days, including around 300 international visitors from some 20 countries. The top African countries represented have historically included Botswana, Zimbabwe, Mozambique, Mauritius and Namibia.
"We feel that being able to showcase this holistic view facilitated by the three expos all together is a tremendous value-add, and we are truly excited about our 2020 Vision across all three shows next year," concludes Smit.
Further reading:
Pentagon appointed as Milestone distributor
Elvey Security Technologies News & Events Surveillance
Milestone Systems appointed Pentagon Distribution (an Elvey Group company within the Hudaco Group of Companies) as a distributor. XProtect's open architecture means no lock-in and the ability to customise the connected video solution that will accomplish the job.
Read more...
---
From the editor's desk: A sad but exciting goodbye
Technews Publishing News & Events
      Welcome to the final monthly issue of SMART Security Solutions. This is the last issue of the year and the last monthly issue we will print. We are witnessing digitisation across all industries, and ...
Read more...
---
Regal celebrates successful golf day
Regal Distributors SA News & Events
Regal Distributors held its first official Regal Golf Day on 18 October at the Glendower Golf Course in Johannesburg. SMART Security Solutions was there on a hot summer's day to meet many players and sponsors around the course.
Read more...
---
Gallagher Security releases Command Centre v9
Gallagher News & Events Access Control & Identity Management Integrated Solutions
Richer features, greater integrations, with the release of Gallagher Security's Command Centre v9 security site management software designed to integrate seamlessly with various systems and hardware.
Read more...
---
Regal launches direct-to-branch WhatsApp communication
Regal Distributors SA News & Events
With a quick scan of a QR code and a few taps on your phone, installers, integrators, technicians or even end-users can chat directly with the team at their preferred Regal branch via WhatsApp
Read more...
---
FM Expo highlights industry trends and challenges
Securex South Africa News & Events Facilities & Building Management
Keeping tabs on what is happening within the building/facilities management arena can be frustrating, however, a quick way to find out what current trends, challenges, and solutions are available can be found at the Facilities Management Expo.
Read more...
---
South Africa shows a 1200% increase in deepfake fraud
News & Events Risk Management & Resilience
Sumsub released its third annual Identity Fraud Report of the year, analysing identity fraud across industries and regions based on millions of verification checks across 28 industries and over 2 million fraud cases.
Read more...
---
Projections for 2024's Advanced Threats Landscape
News & Events Information Security
Kaspersky Global Research and Analysis Team (GReAT) experts offer insights and projections for 2024 in the Kaspersky Security Bulletin, with a focus on the evolution of Advanced Persistent Threats (APT).
Read more...
---
Helping South African university students and staff to stay safe
News & Events
Buzzer is a free mobile app that allows users to quickly and easily report incidents of crime, violence, or harassment to campus security and other relevant authorities.
Read more...
---
Tech developments lead hologram growth in 2024
News & Events Security Services & Risk Management
Micro-lenses, micro-mirrors and plasmonics are among the rapidly-emerging optical devices that have evolved on the back of holographic and diffractive technologies, and are seen as part of the natural evolution of optical science by R&D teams.
Read more...
---