printer friendly version
Does your control room add value?
May 2019 Editor's Choice, CCTV, Surveillance & Remote Monitoring, Integrated Solutions, IT infrastructure, Commercial (Industry)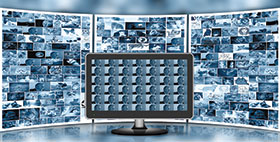 Control rooms are part of our lives in many ways. Even people who subscribe to a security company at their homes deal with control rooms where someone dis-patches a car and/or calls the police in an emergency. Then there are control rooms in government security operations as well as commercial – shopping malls, mines, residential estates, and industrial complexes all have control rooms, to name a few. Some control rooms are dedicated to the security function, while others include additional tasks.
Today's control rooms rely on technology and people working efficiently together to deliver a solution, but with the advances in artificial intelligence (AI) we will see technology taking on more of the regular tasks, leaving people to handle more complex processes that involve other people. Or, in some cases we may see AI taking operator jobs where the people aren't able to add significant value to operations. Fortunately, the technology is expensive, so operators will still be employed for a while.
When it comes to the role of control rooms as an entity, however, we have seen some organisations opting to build control rooms onsite and staff them with their own people, while others have opted for remote control rooms. Some remote ventures still include the organisation's own staff, while others are sold as a service and operators serve multiple clients. Depending on who you speak to, each has its pros and cons.
So how does a company know what control room solution is right for its requirements? MJ Oosthuizen, national sales operations manager, G4S Secure Solutions (SA), says the starting point is knowing what you need.
"You need to start out deciding what the aim of your control room is and what deliverables you expect from it," Oosthuizen explains. "Only then can you make effective decisions as to what the control room will actually look like.
"Will your control room be used to do virtual guard tours and remove manpower from the site? Is it there to make sure there is no collusion among security and other staff? Are you only going to be using it after hours to control access to a facility? Will you be focused on 'black screen' monitoring where operators only respond to alerts the system provides? The list of options is almost endless."
It's also necessary to take the culture of the organisation into account. Some companies may want their site to look welcoming and friendly and therefore want an offsite control room that allows their staff and guests to move about freely without a feeling that Big Brother is watching.
And of course, you need to determine what threats and risks the control room will have to deal with. Oosthuizen says the control room technology, the operators and their external support will need to work in unison to deal with threats. You can't expect a guard with a radio and a baton to confront armed criminals.
Once you know what you want, you can then start looking at how to put it all together.
Technology to make it happen
Oosthuizen provides the following as some (there are many) of the technical questions you will have to answer in developing the control room:
• Communications: How is the control room going to remain connected to all the equipment in the field? A fibre optic connection is ideal, but what about failover communications such as 3G or 4G, or even ADSL? How will alarms be sent to the control room?
Your control room communications infrastructure is critical. No communications could mean the entire operation is ineffectual.
• Will you be using intelligent technology to assist in identifying and reacting to, or preferably proactively identifying problems? Do you have the network to handle high resolution camera feeds if you are going to be streaming?
• Will you be standardising on video verification only after an alert is raised? What about the 'before and after' footage.
• Can operators proactively link to cameras and make sure the ground staff are doing what they are supposed to do, or do virtual patrols of the site? Are your cameras able to pan and tilt to provide insight into all parts of the site.
• Depending on the above, you will also have to decide what computers and monitors operators will use. In addition, you may also need to install a video wall to keep tabs on specific areas 24x7. You will also need to decide what interface the operators will use, what management platform gives you the best bang for your buck?
Resilience is critical
Spending all that money on technology would be a poor decision if you aren't planning on making sure it can work all the time, even when Eskom and other services aren't. Oosthuizen says you need to include backup services for your communications infrastructure, electricity as well as security – as a starting point. "It's no use having three layers of resilience for everything in the control room but you only have one router to connect to your fibre line."
Choosing the right systems integrator also forms part of this section. Oosthuizen explains that if your control room is to perform at optimal capacity all the time, you need an integrator that can ensure all the technology is integrated efficiently and delivers the services required. In addition, a service-level agreement (SLA) is important to ensure that when something goes wrong, in the control room or on the site, you know who to call and have a guaranteed repair time. You don't want to have a camera down because different service providers are arguing about who is responsible for what tasks.
In this vein, he says if you are making use of an offsite monitoring service, you can't use it as an add-on. One company needs to be responsible for everything to ensure the solution works.
Operators need to focus
Finally, the people question must be addressed. You need a good working environment in which people can focus on the job at hand, and you also need to ensure training is ongoing to avoid complacency and to ensure that the operating procedures on the site are adhered to. You also need enough operators so that the control room is not unduly stressed when one is sick or takes a break. Rest periods and the ability to clear their minds is also crucial.
Selecting people as operators is also not a simple task. Oosthuizen says you can't take just anyone and put them in a control room. Operators need to do more than stare at a screen, they have to adapt to situations and communicate with people. And naturally, you must make sure they don't have a criminal record or a bad credit record that can make them easy prey for syndicates.
Some people call the control room the nerve centre of a security installation. When one considers the importance of the jobs done by the control room, this is not a misnomer. Designing and setting up your nerve centre is a job that requires forethought and experience; when done correctly the result will add value to the organisation and improve the safety and security of all.
For more information contact G4S Secure Solutions, +27 10 001 4500, [email protected], www.g4s.co.za
Modern monitoring
Charnel Hattingh from Fidelity ADT says that traditional monitoring is becoming obsolete. The traditional model was inefficient when managing false alarms and created frustration around responses to incidents.
The South African environment requires citizens to invest and pay for their own safe-keeping and peace of mind. What's key is finding a solution that satisfies all the outcomes while still being affordable. Successful solutions consist of a number of components including:
• Hardware at site
• Communication medium
• Hardware offsite
• Software / monitoring platform
• Monitoring staff
• Response component
It is important for customers to balance the costs vs the value perceived from these systems and to ensure that the system meets all the requirements of their insurance provider and offers the best value.
Technology has advanced and become outcomes based. When contracting a remote monitoring service, services should include video analytics, object classification, behavioural analytics and licence plate recognition. All these services will contribute to minimising unwanted video and assist the operators on actionable events. The operator also needs to be able to pull live stream on demand as well as the ability to make a back-up of footage required for evidence or incident reports.
Local is difficult
Customers need to be aware that unique challenges exist in the South African environment. We have to deal with unreliable networks and electricity. The simple solution is to have back-up power available. You need to make sure that you have enough back-up for the amount of equipment that is required to run as well as the time period you aim for. An extra layer of power back-up will also ensure added redundancy to the equipment if the first layer fails.
Despite the environmental challenges, there are companies providing cutting-edge remote monitoring and control room services. Customers should shop around to see what services are offered before making a choice.
For more information, contact Fidelity Security Group, +27 11 697 7271, [email protected], www.fidelitysecurity.co.za
Getting comfy
When it comes to setting up a control room, making sure your environment is conducive to the long working hours, intense concentration and the stress operators will be exposed to is as important to the optimal functioning of the control room as technology and operating procedures you have in place.
Angelique Roos from Progroup Exhibitions and Interiors offers the following critical issues that organisations must consider when designing and planning a control room.
1. Space: Consideration should be made to the room size, layout of the room, amount of operators and the functional requirements. Placement of the equipment requires looking into the total available space as well as the right line of sight. The flow of information as well as communication of the operators must not be hindered
2. Ergonomics: Proper ergonomic design ensures operator comfort and minimises the risk of operator error due to fatigue. Control room design should allow for the operators to change position throughout the day and should be flexible, for example, using adjustable monitor mounts and chairs. Correct console height allows for comfortable knee height and leg room.
With ergonomics, consideration should also be given to the environment of the control room which relates to the acoustics of the control room, HVAC systems as well as correct lighting.
3. Accessibility: Consideration should be made to people that will need access to the control room, such as IT or maintenance staff. Ensuring they have easy access to the equipment as well as cables will ensure a quicker turnaround time and minimise down time.
4. Experienced supplier: Use experienced suppliers with references. With years of experience, a supplier can guide the client through the process. They will ask the right questions to ensure that all technical aspects are met. With inexperienced suppliers, small things might be forgotten and may cause issues when implementing the control room.
For more information contact Progroup, +27 11 493 1545, [email protected], www.progroup.co.za
Credit(s)
Further reading:
South Africa adopts ISO standard to guide use of social media in emergencies
Editor's Choice
The South African Bureau of Standards (SABS), through its technical committee, has adopted the ISO 22329 standard that provides guidance on the use of social media during an emergency or crisis.
Read more...
---
Free and open-source tool for detecting stalkerware
Editor's Choice
Kaspersky has unveiled a new hub dedicated to TinyCheck, a unique, innovative tool designed to detect stalkerware on mobile devices.
Read more...
---
Duxbury awarded Axis SA Distributor of the Year
Duxbury Networking News CCTV, Surveillance & Remote Monitoring
Axis Communications held its Annual Partner Awards on 1 July 2022 to celebrate and acknowledge the efforts of Axis' partners by awarding them for key projects and achievements throughout the year.
Read more...
---
Look before you leap into a back-up power solution
Editor's Choice Security Services & Risk Management
Before you rush into purchasing a back-up power solution, you need to take a considered and long-term view of how to get yourself as close to grid independence as possible.
Read more...
---
Cyber resilience is more than security
Industrial (Industry) Cyber Security IT infrastructure
Kate Mollett, regional director at Commvault Africa advises companies to guard against cyberattacks in the shipping and logistics sector using an effective recovery strategy.
Read more...
---
Optimised people, processes and technology
Industrial (Industry) Integrated Solutions
When embarking on an industrial digitisation project, it's important to consider how people, processes and technology will work together and complement the other.
Read more...
---
All-mobile people management solution with facial recognition
Editor's Choice Integrated Solutions Security Services & Risk Management Products
The new mobile Incident Desk People Management platform with facial recognition combines identification data on suppliers, staff, sub-contractors and even people on watch lists, for less than the cost of traditional service management tools.
Read more...
---
Passion, drive and hard work
Technews Publishing Editor's Choice CCTV, Surveillance & Remote Monitoring Security Services & Risk Management
Colleen Glaeser is a leader in the security market, having made her mark in the male-dominated security industry through determination and hard work, along with a vision of making the world a safer place.
Read more...
---
Are you your insider threat?
Technews Publishing Editor's Choice Security Services & Risk Management Commercial (Industry)
Insider threats are a critical aspect of risk management today, but what happens when it is the owner of the company acting fraudulently and making sure none of his staff can catch him?
Read more...
---
Cybersecure surveillance cameras
HiTek Security Distributors News CCTV, Surveillance & Remote Monitoring Cyber Security
Provision-ISR builds customer trust and opens up new opportunities with Check Point Quantum IoT Protect Firmware built into Provision-ISR cameras.
Read more...
---