printer friendly version
More than locking the door
April 2019 Entertainment and Hospitality (Industry), Access Control & Identity Management, Asset Management, EAS, RFID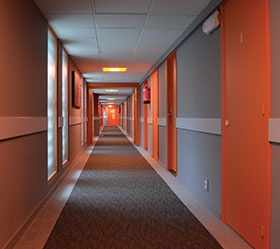 It wasn't that long ago that a hotel in Austria had its guests locked out of their room as a result of a ransomware attack. In the excitement of the time, some reports said that some guests were actually locked inside their rooms, but that proved to be a bit of fake news from over-excited reporters.
The facts are that the hotel in question was hit by ransomware and had to pay (an estimated $1800) to unencrypt their systems before they could resume issuing electronic keys to guests. While not quite as sensational as being locked in your luxury hotel room, this attack still highlights the danger of our connected IoT world, which includes electronic locks.
Ransomware attacks have decreased in the past year, but the danger of electronic locks is still something that exists in many people's minds. It must be noted, however, that not all electronic locks are always connected to a network. Many operate as stand-alone devices and would not be subject to cyber-attacks, although the key-encoders could be hit if ­connected to the network.
In this article, we will ignore the cybersecurity question, as we are focusing on electronic locks for the hotel and entertainment industry. In addition, cybersecurity protection would require an integrated effort from the IT and physical security departments to cover the network and all attached devices, so it is not something specific to electronic locks. Your locks are as at risk as your access control ­readers, surveillance cameras and any ­connected sensors.
What we are focusing on is the latest electronic locking systems aimed at hotels and holiday homes of various types, where ease of access is required, but making sure only the right people have easy access is even more important. We asked SALTO Systems and ZKTeco for their input as to what the latest electronic locks are from these brands.
The latest available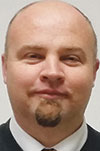 Hendrik Combrinck.
ZKTeco has a range of electronic locks aimed at the hotel market and has more recently been focusing on the design and installation aspects of the hotel locks. "We focused all our efforts to make the locks thinner and more appealing to the eye and to make them easier to install," says Hendrik Combrinck, MD of ZKTeco SA. "The Mifare card technology which allows the hotel to write the valid time of the card to certain locks has been the staple of the industry and we have seen that this is still the preferred method of operations in 99% of hotel installations."
From ZKTeco's perspective, Combrinck says the company has seen a surge in electronic hotel lock sales in the whole of Africa for the last two years, "hence the fact we now have more than seven different models the hotels can choose from where we previously only had three offerings."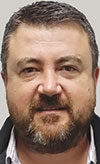 Wouter du Toit.
Wouter du Toit, regional director of SALTO Systems says the latest advancement in data-on-card technology is SALTO's SVN Flex technology. "By adding a wire free lock to the property that works on our latest Bluenet Bluetooth Gateway and node network, you are able to change users access rights on their cards without having to check back with management or the front desk. This system also allows for live data feedback on the state of the door, such as transactions and battery status. Gone are the days where the hotel operator needs to walk to the lock to retrieve staff and guest data manually."
He adds that while it's not a new technology, using your mobile phone as a key is growing in popularity and this uses the same Bluetooth chip set. This technology delivers greater benefits to the guest as access can be granted and cancelled immediately, and guests can even bypass check-in as the phone has already been pre-approved for their stay.
"Replacing cards on a daily basis is a massive cost, but also time consuming to re-key. Mobile access allows front desk personnel to give more focused attention to their guests. All our properties in SA and Africa are fitted with our latest mobile chipset and are therefore future-proof, as some clients will still prefer the conventional card process while they build a strategy around smartphones. However, at any stage they can activate the JustIn mobile feature from SALTO.
"We also offer companies integration to this technology through an API where they can control our locks with their application that they use for other functions. This also assists guests in that they do not have to use multiple applications on their phones."
Electronic lock benefits
There are many benefits to using electronic locks, whether card-based or more advanced to cater for smartphones. Combrinck explains that for hotels it is all about securing their guests and their belongings, as well as securing the hotel's assets. It also gives the guests a sense of security to know that they can treat their room as a secure 'home away from home'.
An added benefit of electronic locks is auditability. Du Toit says 'old type' electronic locks use magnetic strip cards that leaves a record of who entered when, but with mobile phones and smart vehicle keys, these cards can be wiped by being in close proximity to these devices and they will stop working, creating frustration for guests as they must go back to the front desk to have it re-keyed.
"With RFID cards and mobile technology as the new key, this problem is solved and allows for more flexibility. Both RFID and mobile applications can be used for more than just opening the door, and this allows companies to implement other features on the card and phone application, e.g. cashless vending, meeting room bookings, advertising and many more depending on the hotel's offering."

For guests, having the peace of mind that their hotel room is safe is a key factor. Guests can ask the hotel operator to check who entered their room on a specific date in the event of an incident, where it is not possible using a mechanical key. When using a mobile phone to access the room you can get extended stay or re-rooming to another room by just calling the front desk instead of walking down to reception.
However, while mobile access is getting more popular in European and US markets, Combrinck says that locally the hotels like to keep with what they know. "We believe the card systems are here to stay for at least the next 10 years in developing countries."
As for using the cloud to manage locks, Du Toit says SALTO offers solutions that are cloud- and server-based that can be managed as a service through the Internet. It is for this reason that mobile solutions with NFC and Bluetooth are so popular. For example, when management companies manage multiple rooms across multiple properties, it is always a struggle to get a key to the guest as these companies don't always have a fixed reception.
"Now they can do it from the comfort of any location, so long as they have access to the Internet. These types of solutions are also growing in popularity, not just in hotels, but guest houses, rental apartments, self-catering units and more. Now you can be anywhere with a cloud-based solution and give mobile access to the guest room."
More than a lock
Electronic systems can also integrate with other systems and services, simplifying the management of your hotel. Du Toit notes that most card systems will interface with PoS (point of sale) systems based on the UID of the card, but you can also use Smart RFID cards like Mifare to drive activities at the property. This could include paying for a meal, buying a cold drink at a vending machine, doing your laundry, using the gym, booking a meeting room. All of this can be done cashless and securely. "The options with smartcards are endless."
Combrinck notes that with ZKTeco's integrated systems, clients can use their room cards to also access the live access control system of the hotel, which includes the boom access in the parking areas, access to the fitness centres and also swiping for meals and other services like business centres inside the hotel.
It's clear that electronic locks provide enormous benefits for hotels and their guests, although the extent to which new technologies are being rolled out depends on the hotel's budget and how much interaction they want their staff to have with guests. While a DIY check-in and stay are tempting, some people still do enjoy the personal interaction of dealing with efficient hotel staff. In the end, it depends on the hotels and how far they want to integrate technology, and the different models they choose for customer interaction. It's fair to say that technology can allow a guest to interact only with their smartphone and never even see a member of staff, but then how are people who love to complain going to feel about that?
For more information contact:
ZKTeco (SA), +27 12 259 1047, sales@zkteco.co.za, www.zkteco.co.za
SALTO Systems, +27 87 701 5858, info.za@saltosystems.com, www.saltosystems.com
Credit(s)
Further reading:
Securing perimeters of secure locations
November 2019, Axis Communications SA, Modular Communications, Hikvision South Africa, Nemtek Electric Fencing Products, Technews Publishing, Stafix , Government and Parastatal (Industry), Perimeter Security, Alarms & Intruder Detection, Integrated Solutions
Hi-Tech Security Solutions asked a number of companies offering perimeter security solutions for their insights into protecting the boundaries of national key points.
Read more...
---
2020 Residential Estate Security Conference in KZN
October 2019, Technews Publishing , News, Residential Estate (Industry)
Meeting the residential security challenges in 2020 and beyond: Hi-Tech Security Solutions will host the Residential Estate Security Conference 2020 in Durban on 12 March 2020.
Read more...
---
From the editor's desk: What a year it has been!
November 2019, Technews Publishing , News
We've made it to the last issue of 2019. This year has been a tough one for the local security industry with almost everyone feeling the effects of the poor economy that shows no signs of recovery. Naturally ...
Read more...
---
Events
November 2019, Technews Publishing , Calendar of Events
Sicurezza Fiera Milano, Italy 13 – 15 November 2019 Sicurezza 2019 is ready to continue its international development, which has turned it into a major European event for the security & fire industry. ...
Read more...
---
2020 Residential Estate Security Conference in KZN
November 2019, Technews Publishing , Editor's Choice
Meeting the residential security challenges in 2020 and beyond: Hi-Tech Security Solutions will host the Residential Estate Security Conference 2020 in Durban on 12 March 2020.
Read more...
---
A brighter future
November 2019, NEC XON, Technews Publishing , Editor's Choice
NEC XON hosted its annual summit in October 2019 at Sun City under the banner of 'Orchestrating a Brighter World'.
Read more...
---
Progress, not perfection
November 2019, ZKTeco , News
ZKTeco South Africa is celebrating its 10-year anniversary of operations in South Africa, starting in a garage in Hartbeespoort. And the company says it has only just begun.
Read more...
---
Surveillance augmented by technology and people
November 2019, Technews Publishing , CCTV, Surveillance & Remote Monitoring, Conferences & Events
iLegal 2019 examined how the surveillance industry is being enhanced through the intelligent integration of the latest technology and the best people have to offer.
Read more...
---
SALTO XS4 One
November 2019, Salto Systems Africa , Products
With its stainless-steel construction and Mifare-DESFire and BLE (Bluetooth Low Energy) technologies, the XS4 works with conventional smartcards and/or via SALTO's JustIN Mobile app.
Read more...
---
Smart Inspection Unit developed by Roteck
November 2019, Technews Publishing , Security Services & Risk Management
Roteck has announced a portable personnel and bag scanning unit that can easily be transported, set up and used in almost any location.
Read more...
---