printer friendly version
ASIS Security Technology Concepts day
April 2019 Editor's Choice, Security Services & Risk Management
ASIS International's South African Chapter held its first Security Technology Concepts day in late February in which it invited the security industry to learn more about security technology. Not only did the event include presentations and demonstrations from sponsors, but ASIS challenged the sponsors to show their products at work in a live enactment of a security breach.
This event, held at the Serengeti Estate Conference Centre, focused on perimeter security and using the estate as a venue allowed the association to create a real-life perimeter breach, which certain sponsors would have to react to. A response team was on standby to react to the instructions from the sponsors in order to find and apprehend the would-be intruders.
There were a number of sponsors participating in the event, both the live test and with table-top displays. These included:
• Active Track,
• Axis Communications,
• De-fence,
• Hikvision,
• iMat,
• Security Radar, and
• Secutel.
The event was launched by a keynote from Christopher Solomon, senior regional VP for ASIS Southern and Eastern Africa. Solomon spoke on how ASIS was changing its structure to be better able to serve its 35 000 members worldwide. In future, the regions into which ASIS divides the world will be reduced to six from the current 12. There are about 34 committees and research groups that focus on different aspects of security – physical security, IT, aviation etc. – and are involved in defining the security standards ASIS publishes.
Solomon said networking is critical to ASIS and all security industry participants in order to ensure people are aware of what is happening in the world and how others are dealing with the challenges. In addition, education is key to effective security operations and ASIS offers a number of courses. More information about ASIS certifications can be found at www.asisonline.org/certification/asis-board-certifications2, and cover the following certifications:
• Certified Protection Professional (CPP),
• Professional Certified Investigator (PCI),
• Physical Security Professional (PSP), and the
• Associate Protection Professional (APP).
These courses are all based on the various standards ASIS publishes, which are highly regarded. Members are provided access to these standards at no cost.
Solomon also had good news for African security professionals interested in becoming an ASIS member. Along with the realignment of the association's global regions, the membership fee will also be adjusted according to the region. Local membership has been reduced from the previous US$ 195 to US$ 100 per annum. (Non-members present at the event were also offered a special deal in which their membership fees would be refunded in full if they signed up before the end of March 2019.)
In keeping up with the changing world, ASIS will also be paying more attention to digital transformation and how that impacts the security industry. No part of the security operation can function in isolation to others any more. The term Enterprise Security Risk Management (ESRM) was highlighted as a way to describe the overall focus of the security function to facilitate risk management in organisations.
Enterprise Security Risk Management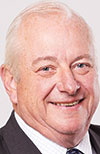 Dave Dodge.
Dave Dodge, chairman of the South African Chapter of ASIS followed Solomon, providing some deeper insights into ESRM. Dodge likened ESRM to the ISO standards as they provide security practitioners with a strategic security programme management approach to securing all risks in their companies.
He said that security must be involved in a company's operations, adding value and not slotting into the 'grudge purchase' mentality and hiding in its basement office. The security management team must know what is happening in the company as well as the security implications of it all. Your security scope of work includes physical and cybersecurity, loss prevention, travel security, business continuity, threat and crisis management, and more. What's more, security is also becoming more involved in corporate governance and transparency matters.
It's a complex job, and ASIS believes the changes it is making to its structure as well as its education and standards will better equip security professionals to add value to their companies in a measurable manner.
Integration is up to the user
Later in the day an additional presentation from ASIS was delivered by Joseph McIntyre, regional VP of the association. The topic under discussion was integration, or how users can tell their vendors or system integrators what they need instead of being sold to.
McIntyre said the security risk assessment is a crucial tool to inform users about what they need and what they should require from their service providers. He added that there is no solution that fits everybody's requirements; hence there will be a need for integration to cover the five Ds – deter, detect, delay, disrupt and defeat.
To ultimately defeat your adversary, the security operator will need to understand what technology is available and how it can be integrated into their environment. Part of this is understanding the perspective of your adversary and looking at your risks 'through his eyes'.
McIntyre also highlighted a few phases you can expect to see happening in any attack on your perimeter, as well as what could be done to deter, detect, delay, disrupt and defeat the enemy in each phase.
Into the real world
There were various vendor presentations in the morning session before the lunch break and a few after the participating vendors faced the real-world challenge. After lunch, the perimeter challenge was run and the results were both positive and enlightening.
The would-be intruders breached the perimeter at the prescribed time and the vendors were put on the spot to detect them and send the response team to the correct location to apprehend them. Four vendors participated in the challenge and did pretty well considering the circumstances on the day.
The initial concept called for a drone to be used as one of the security tools in the challenge. As fate would have it, Air Traffic Control (ATC) only allowed the drone to be used for a 30 minute window (due to the location of the conference centre near the OR Tambo airport), and in that 30 minute period it rained so the drone could not be used (which gives some insights into the limitations of drone use for security in bad weather).
Each vendor had their table-top display with monitors and an operator managing their cameras, which were placed outside the venue on the day. This alone was sub-optimal as in a normal security assessment the vendors (and/or their customers and integrators) would have had the time to do a full assessment and choose the best locations for their cameras depending on the terrain and what the customer wanted to achieve.
In this scenario, the vendors had to set up their kit quickly and cover a perimeter that was about 500 metres away. These monitors were also connected to the presentation screens around the venue and at irregular intervals, the facilitator (Dave Dodge) asked the technician on site to switch between the different vendors to show how they were performing.
Secutel was able to show how its body-worn cameras and real-time guard-tracking technology was used to take a snapshot of the intruders along with a 10-second video which is cloud-based and was accessed immediately at the 'control room', which was merely the technical set-up at the event. Naturally the wearer of the body-worn cameras was on site and could raise the alarm by pressing a panic button on their device. In a real-life situation, the control room operator would get a view of the situation, speak to the guard if possible and then initiate the relevant procedures.
Security Radar was able to cover an area of 2.5 km with its radar system (the system used can cover up to 5 km), highlighting anything that moved in the area under cover. The technology proved versatile and was able to spot movement quickly. It could also classify what was moving with a high degree of accuracy. Possibly the best feature of a radar system like this is that it spots all movement in the area under observation so multiple intruders can be tracked at the same time. There were cameras linked to the radar that could automatically pan and focus on the detected objects, but the distances involved made it difficult to get a clear image of the action.
Axis Communications made use of thermal and visual cameras, including one dual sensor device with both thermal and visual lenses. After some searching, the thermals caught the intruders at about 400 metres from the conference centre and the response team was dispatched. Once the location was known, the visual cameras could zoom in to view the 'apprehension' of the intruders.
Hikvision had a similar setup comprising thermal and visual cameras. Again, it was the thermal cameras that caught the action at first, with the visual cameras providing positive identification and clarity once zoomed into the scene.
While it would have been ideal for the vendors to identify an intrusion at the fence (or preferably, before the fence), given the short timeframe in which their systems could be set up and tested, and an environment that made hiding quite easy for the intruders, the culprits were caught at about 100 metres from the fence line.
The challenge was deemed a success, although with a full risk assessment and time to plan the rollout of cameras and other security systems, it could have been far more successful. As one attendee noted, in a real- world setting there would have been more cameras, strategically placed (not where there was space outside the conference centre), and each camera would probably cover less distance.
De-Fence was also on site and after the conference's final presentation, attendees were invited to go and view the company's fencing products and a challenge was issued to cut through the fence given various tools.
The vendor presentations
Artificial intelligence supports security
Gerhard Furter from Active Cloud started the vendor presentations with a slideshow and live demonstration of how artificial intelligence (AI) can be used to support the security operation. Furter explained that AI augments systems it is attached to by doing things faster and more accurately than humans; it also doesn't lose anything and it never forgets.
Today's AI can monitor and analyse thousands of signals from almost anywhere in real time, or near real time, interrogating sources previously unavailable to the security market (and others). Furter then showed some examples of AI in action.
In one example, AI was used to monitor social media streams (which are public so anyone can monitor them) as an early warning system and threat analysis mechanism. A local university ran a proof of concept project recently and was able to pre-empt a planned disruption because of the information gathered.
Another example Furter provided was an 'emotionality' determinant. Using surveillance cameras in a specific location, the AI is able to gauge the 'mood' of the people in that environment. By analysing their facial expressions as they go about their business,
the general mood can be determined. This could be used for something as simple as gauging the mood of employees in a company through to assisting in crowd management.
In a retail environment, he said it could be used to measure how people react to their environment or the adverts they are exposed to.
This can and is being expanded to behavioural analytics in which the behaviour of people is analysed by the AI, providing insight into whether they could be a risk or even how employees should deal with them in a retail setting, for example. Furter says that posture analysis is not very accurate at the moment, but if you combine posture and facial analysis, people can be analysed with an accuracy of over 90%.
Beyond physical security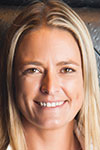 Vanessa Tyne.
Vanessa Tyne and Justin Ludik from Axis Communications delivered the next presentation focused on securing your critical infrastructure from a single system. To accomplish this will require the integration of various technologies as well as the latest AI and video analytics to provide a complete solution. The ability to integrate other technologies from various brands is critical to a complete security solution in order to make it scalable and future proof.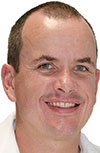 Justin Ludik.
Since the conference was focused on perimeter security, Axis then provided some insights into what an integrated perimeter solution that was meant to detect, deter, identify and track could be.
The first layer would be the perimeter, or fence line. The security in this layer can be enhanced by thermal cameras equipped with analytics to detect intrusions in any lighting conditions, and differentiate between people, vehicles and animals. The second layer is covers internal areas, in case someone gets past the thermal fence. PTZ and static cameras can be used in this layer to track people as they move, and can be supplemented with radar coverage to tell cameras where to focus. The third layer is the core of the environment must be protected with access and identity management systems.
In addition to the visual technologies, Axis also recommends using audio as an additional weapon in the security arsenal. This could include traditional sirens to sound a warning, or audio technology built into cameras or installed as stand-alone systems to allow control room operators to hear and communicate anywhere on the site.
The benefits of thermal surveillance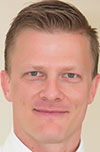 Shaun Savage.
Shaun Savage from Hikvision followed with a presentation on how thermal surveillance technologies are protecting perimeters and are enhanced when used in conjunction with video analytics, AI and facial recognition. Savage started by saying that visible light as well as infrared cameras are very useful in perimeter protection, but need to be set up properly to deliver real value 24x7.
Thermal cameras, on the other hand, operate with the same efficiency no matter the lighting conditions, and today's cameras offer a range of options, from high contrast images, larger detection fields, up to 50 frames per second (fps) and can handle most weather conditions. Thermals are not unbeatable as they can't see through glass, for example, but they deliver more than traditional surveillance cameras can.
With the analytics available on thermals today, these cameras can be set up to differentiate between humans and animals or cars, and PTZ systems can track people as they move about. Hikvision also offers the ability to detect with thermal cameras and then zoom in with visual systems to identify the threat. Hikvision's thermals have built-in analytics while the company's Deep Learning NVRs can take images from other cameras and apply analytics to those images.
Hikvision also offers facial recognition analytics that can identify 30 faces per second using visual cameras. These systems can be used to identify people and track them as they move through an area.
Security via radar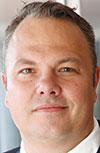 Kelly McLintock.
Kelly McLintock represented Security Radar for the next presentation, which dealt with using radar technology as a perimeter defence. McLintock explained the various types of radar technology available to the market at the moment and the pros and cons of each. Security Radar sells S-band radar systems, which offer benefits in terms of the distance under observation as well as the ability to 'see' through foliage and fences.
He added that radar systems are quick to set up, are not power hungry (there are mobile solutions available running off batteries or solar power), and can integrate with a variety of management platforms. Once set up, users can identify an object, which will be classified as a person, animal, vehicle etc., and automatically skew cameras to the intrusion. Some radar systems can also identify drones within their line of sight, identify them and automatically start drone defences – if there are any in place.
The option is also available for users to not only detect and disable drones, but also to determine their point of origin.
More on drones
David Bain from iMat manufacturing, a custom manufacturer of drones followed McLintock with some insights into the types of drones and their capabilities. For example, fixed wing drones can stay in the air for seven to ten hours and carry an 8 kg payload – which can be used, among other tasks, to disrupt riots with teargas or pepper spray, or drop fire extinguishing agents on a remote fire, for example. These drones will need larger spaces to take off and land.
Multi-rotor drones, on the other hand, have much shorter flight times and distances they can cover, but require little space for take-off and landing. Vertical take-off and landing drones can be either of the previous types and also carry a payload of around 7 kg.
Bain also touched on the laws regarding drone use in South Africa, noting the country has some of the most comprehensive laws regarding the use of this technology, while further up into Africa there are fewer restrictions.
Real-time body-worn cameras
Secutel's Pheladi Zwambila gave a short presentation on Secutel's body-worn technology. The system includes a rugged body-worn device which a guard would wear (with an 18-hour battery life), equipped with a camera, photograph button and a panic button. Guards can press the panic button and have an image and short video of their situation sent to the control room in real time, allowing operators to assess their situation and respond accordingly. The device also send the guard's GPS coordinates to the control room and includes an ability to geo-fence movements and alert to deviations to patrolling practice.
The device also includes an earpiece to allow the guards to communicate through the device to the control room. In case of an emergency the control room can also instruct the device to switch on its microphone to let them listen to an event as it takes place, as well as send an image to the operator.
The control room in question can be a traditional control room with desktop computers, or it can be on a supervisor's smartphone or iPad – or a combination of all of these to ensure all the responsible people have access to the information they need to fulfil their security function.
Tracking guards electronically
Active Track gave a short overview of the company's product, a rugged device with a 24-hour battery life that incorporates voice communications, an accelerometer and GPS. It also includes a passive RFID reader so that it can ensure that guards check in at various points on their patrols.
Should the device be dropped or shaken vigorously (or if the guard falls down), a panic alarm will be triggered in the control room and operators can dial into the device to listen to what is happening. (The same technology can be used to keep in touch with the guards via voice communications when required.)
ActiveView is the control room software that keeps track of all the signals from the Active Track devices. It can be used to determine where a guard is at any time, to generate reports on patrols, or to raise the alarm if a guard missed a check-in point. Using the system allows both security companies as well as their customers to gain insight into exactly what their guards are doing during their patrols, where they go and it enables an almost instantaneous response to emergencies.
Cutting fencing costs
John Dixon from De-Fence ended the vendors' presentations for the day with a brief insight into De-Fence and the products it produces. The company offers a range of fencing options (including a range of coastal products) that cater to high security requirements as well as medium security installations. It also caters for lower-cost options for areas where budgets are tight. De-Fence also manufactures gates to order.
The fences from the company are easy to install as they are manufactured as modular fence parts, meaning there is no welding or drilling required on site. As noted, attendees were invited to test the strength of De-Fence's products after the conference closed.
Summary
At the conclusion of the event, the feedback from the attendees, sponsors and organisers was that it was a great success with a good balance of theory and the practical application of it. Particular praise went to the sponsors who demonstrated both the applications, and some limitations, of their technologies with detailed explanations from their knowledgeable and highly skilled staff. From an ASIS perspective, the day also demonstrated the need for the highest levels of security assessments and planning, highlighted by Joseph McIntyre in his presentation and the need for an integrated approach to the use of security technologies.
Looking ahead
Dave Dodge was back to end the day's proceedings with a look at a few products that are not yet available publicly. This included an autonomous patrol robot equipped with cameras and 2-way communication capabilities. The patrol bot can also receive instructions from a control room to perform certain commands, and there is also the option to add more sensors – such as smoke detectors. Using Lidar (light detection and ranging), the bot can be sent to automatically patrol an area, such as a perimeter, with a control room operator able to intervene if anything untoward occurs. This is a guard with high definition vision and hearing that doesn't need to sleep, although its batteries do need to recharge.
Other products included a credit card-sized beacon within a swipe card, which can be used to track staff or visitors while onsite, and a small (coin sized) locator beacon that can incorporate five different sensors – such as an accelerometer, GPS, temperature and other sensors. Similarly, a watch beacon will be available soon with a panic button and GPS location built in.
ASIS plans to hold further events throughout the year, each focusing on a different aspect of security. Dodge said each event would include demonstrations of various technologies being put through their paces in a real-world situation, not simulations recorded in ideal conditions. This will provide attendees with useful insights into their applicability in their environments.
The next event, provisionally scheduled for mid-June, is intended to focus upon the use of artificial intelligence (AI) and the Internet of Things (IoT).
For more information contact Dave Dodge, [email protected], or go to www.asissa.co.za
For more information on future events and ASIS International membership, contact Dave Dodge, [email protected], or go to ASIS International at www.asisonline.org
Credit(s)