printer friendly version
Two-way radio is alive and well
March 2019
Security Services & Risk Management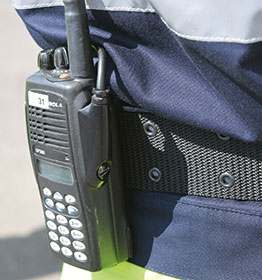 A general perception in the market is that the two-way radio is obsolete. This is far from the truth – radio has actually, like a butterfly, morphed into a force to be reckoned with. The major manufacturers are starting to move away from the older analogue technology, which had limited functions and range when compared to digital technology.
Digital technology is designed for group communications from the ground up. It is easy to divide your organisation into different groups and to be able to decide who communicates with whom, when and where. Individual calling is also still available and easy to facilitate.
As standard, radio receivers are more sensitive to data signals, and digital signals are data signals. This already gives digital an advantage by providing much better and clearer audio. As there is no analogue audio, which is prone to fading, the regenerated audio signal can be kept at a constant audio level up to the last moment.
Digital audio is very clear and easily understandable, which is vital in emergency situations where audio quality is imperative. The latest digital radio technology has settings that allow natural voice or analogue voice capability. Due to the high-level microprocessor capabilities used, digital radio comes with many functions and features that were not possible in the analogue technology without advanced boards or add-on units.

Digital two-way radios, such as this model made by Kenwood, provide a host of benefits over analogue technology.
The main protocols used are DMR (Digital Mobile Radio) dPMR (digital Private Mobile Radio) and NXDN (Kenwood and Icom format). DMR is a TDMA (time division multiple access) protocol. This gives you two time slots in one RF channel and is very dependent on accurate synchronisation. dPMR and NXDN use FDMA (frequency division multiple access) protocol. dPMR is a very narrowband protocol (6,25 kHz) whereas NXDN is a narrow (12,5 kHz) and very narrow band (6,25 kHz) protocol. dPMR and NXDN are not dependent on very accurate synchronisation between slots, and instead rely on the signal synchronisation of the incoming signal.
It was also found that very narrowband signals are less susceptible to interference and higher-quality signals are received. With very narrow channels you can split your 12,5 kHz channel into two side-by-side channels and split it into two repeater sites, extending your coverage. Due to the very narrowband nature of the signals, there is no co-channel interference.
Enhanced features offered by digital radio
Some of the enhanced features of digital radio are as follows:
Emergency button. When the user is in trouble, they can press a button and the identification is sent out and when activated, the GPS position is transmitted and can be monitored. The emergency feature also has a transmit/receive cycle that can be set for a predetermined period and the times it will cycle. This activates the microphone and a control station can listen in and assess the situation.
Lone worker. As the name suggests, this is for people working alone in dangerous situations where no immediate assistance is available. The radio is programmed to alert the user at predetermined periods. Should the user not react and press the button to indicate that all is well, the radio raises an alarm. Their identification and GPS location will then be sent to assist in finding them. There is even a beacon facility with an audio alarm that can assist rescuers to find the user.
Man down. Man down monitors one of three angles when a user is bent over and warns them to straighten up. Should the user not straighten up, the radio assumes the user has fallen over and is incapacitated, and raises the alarm. Again, user identification and GPS location are sent and the audio beacon can help to locate the user.
Stationary and motion. If you monitor yourself, you will discover that you are never completely still – you always move ever so slightly. The radio can detect this and will then see the user as alive. Should the user ever become completely still, the radio will then determine there is something seriously wrong and raise the alarm. Conversely, if the user runs to flee from danger and shakes the radio hard, the radio will detect this and will assume the user doesn't have time to press the emergency button, and will send an emergency alarm automatically.
Additional functionality and benefits
In the case of misuse it is possible to remotely 'stun' the radio (temporarily make it unavailable). The radio can be remotely 'unstunned' to return it to normal use when required. Should the radio be stolen, it can be 'killed' which would clean the programmed memory and return it to factory default.
The radio can also be remotely monitored. You can discreetly (with permission) switch on the radio's transmitter and microphone and eavesdrop on what the user is saying. This is a useful feature if you suspect misuse, or in the case of a user not answering the radio and you need to check if they are in a tight situation. It is also a useful feature to monitor a stolen radio before killing it.
There is a status message (two-digit messages) function that does not use a lot of airtime, as well as short data messages that are the same as SMSes. Radios with keypads allow the user to set up a message of 110 to 160 characters, and send this to another radio. On radios with displays, you can read messages and displays identities of radios in your organisation every time they transmit. It is possible to set up caller lists from which you can do individual or group calls. The radios can be part of only one user group or up to as many as the group identification list permits.
A very powerful benefit is the fact that organisations do not need to throw away their analogue radios when migrating to digital, as the digital radios have a mode where the radio will automatically respond to either an analogue or digital signal and can respond in the received call's format. This makes it painless to move from analogue to digital. The digital radios also come with all the analogue formats built in, so are completely compatible. Some of the manufacturers can even connect an MPT trunking system into their own digital trunking system.
With digital it is also very easy to have multiple high-sites connected through IP technology and with conventional digital RF links. The digital protocol makes it easy to have radios and networks perform auto selection of the strongest channels, and for the user not to worry when and where to change channel and frequency. In DMR, simulcast is made much simpler, where voting systems are technically easier and much more affordable.
Digital radio communication is ideal for the security and manufacturing industries, as well as for farming and rural security. Intrinsically safe radios are also available for industries such as mining. A key advantage of two-way radio is that users own the frequency and are not dependent on a third party. An annual licence fee is payable, but then the rest of the calls are free. Licence-free radios are also available for on-site communications.
High-frequency radios are cheaper to operate than a satellite phone and the improved technology makes radios much more reliable and easier to operate than previously. It is possible to track operators worldwide for only the cost of your annual licence fee. Two-way radio makes good economic sense.
For more information contact Global Communications, +27 12 621 0400, info@globalcomms.co.za, www.globalcomms.co.za
Credit(s)
Further reading:
PCI DSS can be your PoPIA security blueprint
Issue 6 2020, Galix Group , Security Services & Risk Management
Some of the requirements of PCI DSS can also be used to comply with PoPIA, South Africa's data privacy law.
Read more...
---
Monopoly: AI edition
Issue 6 2020 , Security Services & Risk Management
Due to the inherent nature of artificial intelligence (AI), AI-powered industries naturally tend towards monopolisation.
Read more...
---
eVisa solutions for Botswana
Issue 6 2020 , Security Services & Risk Management
Travelers to Botswana will soon be able to complete visa applications online and ease their entry into the country.
Read more...
---
Digital evidence handling in the cloud
Issue 5 2020 , Security Services & Risk Management
Investigate Xpress is a free, cloud-based digital evidence management solution designed to make police forces more efficient and productive.
Read more...
---
The evolution of security in residential estates
Residential Estate Security Handbook 2020 , Editor's Choice, Integrated Solutions, Security Services & Risk Management
Two large estates discuss their security processes and the ever-expanding scope of responsibilities they need to fulfil.
Read more...
---
Bang for your security buck(s)
Residential Estate Security Handbook 2020, Alwinco , Editor's Choice, Security Services & Risk Management
Hi-Tech Security Solutions asks how estates can maintain a good security posture in the time of the ever-shrinking budget.
Read more...
---
More efficient guarding through the effective use of technology
Residential Estate Security Handbook 2020, Technews Publishing, OnGuard, Stallion Security, Active Track , Security Services & Risk Management
Technology in its many forms can be used to optimise the efficiency and performance of on-site guarding.
Read more...
---
Range of grid-independent power systems
Residential Estate Security Handbook 2020, Specialised Battery Systems , Products, Security Services & Risk Management
SBS Solar has a range of solutions to provide power, save on costs and above all provide peace of mind.
Read more...
---
More than just compliance
Issue 5 2020, IACT-Africa , Security Services & Risk Management
SA is one year away from the Protection of Personal Information Act (POPIA) D-Day.
Read more...
---
Taking the guesswork out of tracking guards
Residential Estate Security Handbook 2020, Secutel Technologies , Security Services & Risk Management
The SecuTraq MP5 is an all-in-one body-worn camera to assist in keeping track of guards on site in real time.
Read more...
---