printer friendly version
Where guards and technology meet
March 2019
Security Services & Risk Management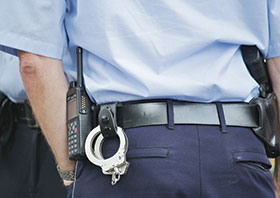 Ask anybody what the weakest link in their security operation is, and they will invariably point to the human aspect. Many of the smart technologies coming to market aim to eliminate or at least manage the human element, but in South Africa in particular, manned guards are still ubiquitous. According to a Wikipedia article on the subject, the country has around 450 000 registered, active private security guards and more than three times as many who are qualified but inactive.
The low cost of employing low-skilled workers in SA, combined with the country's high crime rate, naturally makes manned guards a more attractive option than might otherwise be the case, and providing employment to so many people also has socioeconomic benefits. We asked two companies working in the manned guarding sector for their insights into the space where guards and technology meet.
Technology enhances guarding capabilities

Malcolm Stephens.
According to Malcolm Stephens, group executive for new business development at Fidelity Security Group, there are many reasons why clients still require security officers. "Most importantly," he says, "clients want the visibility that the officers provide, as well as the fact that they would resist if there was a perpetrator. Officers also give our clients a sense of humanity. When the public enters or visits the property, a well-dressed and mannered officer can make the difference for that visitor.
"We need to bear in mind that technology is not infallible. Just like humans, it may not respond or could fail. We believe a combined approach, including officers along with state-of-the art technology, is best as it proves stronger and more reliable. Our officers are trained to utilise technology to the best of their ability. Not only are they seen as a deterrent for potential perpetrators, they are able to take it further and be proactive in the situation with the use of technology. This will hopefully assist in preventing an incident prior to it taking place."

Ian Downie.
In the view of Ian Downie, sales and marketing director at Xone Integrated Security, driving customer outcomes to mitigate their risks typically requires a combination of manpower, technology and process. "Someone needs to run the technology and drive processes," he points out. "As such, on complex sites, one will be able to reduce the security staff complement, but seldom can one do away with it entirely.
"Technology is a key enabler for staff on the ground. This is typically driven from a control room environment, whether it be on- or off-site. Examples are real-time guard tracking, body-worn camera systems, incident management systems, geo-spatial orientation devices, smart cellphone/tablet, vehicle tracking devices, artificial intelligence, video analytics, robotics and drones."

Training requirements
Training of guards is a vitally important piece of the overall picture, not only because it equips them to perform their primary security function more effectively, but because in many cases a security guard is the first person visitors will interact with when entering a premises, and therefore serve a public relations (PR) function to some extent.
As Downie puts it: "Security officers need to be trained in order to perform their job function appropriately. In many instances this includes a significant PR function. It is crucial the security officers are very well trained on what is required of them. In conflict situations with staff or guests the personality profile of the individual, role playing and continuous retraining are vital to fulfil the core facets of what is required. There are significant aspects of training which vary dramatically depending on the function of their position. As a minimum, this training needs to be SASSETA (Safety and Security Sector Education and Training Authority) accredited, but should be tailor-made to suit the specific set of duties."
Along with the minimum PSIRA standards, Fidelity relies on The Fidelity Institute of Excellence Training Academy, which was pioneered in South Africa, for training. According to Stephens, the company has played a key role in professionalising this sector by developing the first learnership programme for security officers with SASSETA (NQF Level 3). The company developed its own comprehensive firearm training programmes to ensure competency in a wide range of contexts.
"Recognised as market leaders, the nationwide network of accredited Learning and Development Centres provide practical, job-orientated training and consultancy services to all levels of personnel within the Fidelity Security Group," Stephens expands. "The learning and development solutions are also available to selected clients who have internal training needs to up-skill existing staff; these includes private companies, parastatal and government entities."
Adding value
Solid service delivery, which mitigates or reduces risk, can add significant value, according to Downie. Other facets that add value include appraisal and contribution towards productivity and health and safety, the potential for a ROI (return on investment) through effective risk/loss reduction or prevention, in addition to effective reporting and the development of a roadmap.
"The creation of an environment where management by exception and benchmarking are achieved can benefit the customer significantly," he continues. "These are all driven by correctly utilising the control room operators and security officers. They also need to be part of a monitored process that allows for accurate checks and continuous improvement according to a set of standards and SLA (service level agreement) criteria."
In conclusion, Stephens points out that security officers become part of the staff complement at any site, and they add value as they assist in not only their own duties as a security officer, but in terms of imagery and the brand of Fidelity's clients. "When an officer greets you at the gate or passes you on her/his patrol, you should get a sense of pride and security. Our officers are also well trained in the use of the technology we provide, such as scanners or CCTV, which adds value in terms of securing assets," he says.
For more information contact:
Fidelity Security Group, +27 11 763 9000, media@fidelitysecurity.co.za, www.fidelitysecurity.co.za
Xone Integrated Security, 0861 656 565, ian@xone.co.za, www.xone.co.za
Credit(s)
Further reading:
Meeting compliance obligations
Issue 7 2020 , Security Services & Risk Management
Helping businesses in SA understand and meet their compliance obligations to local regulations.
Read more...
---
Business continuity through a COVID-19 lens
Issue 7 2020, ContinuitySA , Security Services & Risk Management
COVID-19 has brought business continuity under scrutiny, with the opportunity to enhance resilience into the future.
Read more...
---
Fidelity partners with Auto & General Insurance
Issue 7 2020, Fidelity Security Group , News
Fidelity Services Group in partnership with Auto & General Insurance has launched Fidelity InSure, a comprehensive vehicle, home, and building insurance offering.
Read more...
---
Industrialisation or imperialism?
Issue 7 2020 , Security Services & Risk Management
4IR has to be a matter of national agenda; national economic and political sovereignty and national security - necessitating commensurate prioritisation.
Read more...
---
Password vulnerabilities in South Africa
Issue 7 2020, Kaspersky , Security Services & Risk Management
Research from Kaspersky has shown that people are putting their online safety at risk by making bad password decisions and simple password mistakes that may have far-reaching consequences.
Read more...
---
The greatest crime-fighting weapon is predictably
Issue 7 2020 , Security Services & Risk Management
Predictability fuelled by artificial intelligence (AI) and big data has the ability to reduce violent crimes by 25% by 2023 according to Aura.
Read more...
---
PCI DSS can be your PoPIA security blueprint
Issue 6 2020, Galix Group , Security Services & Risk Management
Some of the requirements of PCI DSS can also be used to comply with PoPIA, South Africa's data privacy law.
Read more...
---
Three cash-in-transit heists in half an hour
Issue 6 2020, Fidelity Security Group , News
Over the past six weeks the cash-in-transit industry has experienced a spike in the number of heists across the country.
Read more...
---
Monopoly: AI edition
Issue 6 2020 , Security Services & Risk Management
Due to the inherent nature of artificial intelligence (AI), AI-powered industries naturally tend towards monopolisation.
Read more...
---
eVisa solutions for Botswana
Issue 6 2020 , Security Services & Risk Management
Travelers to Botswana will soon be able to complete visa applications online and ease their entry into the country.
Read more...
---