printer friendly version
Ideal operating temperature?
March 2019 Editor's Choice, CCTV, Surveillance & Remote Monitoring
Walk into any CCTV control room in South Africa, whether in the middle of a heat wave or mid-winter, and you will probably see a number of operators wearing jackets, some huddled over slightly in an attempt to get warm. The reason is typically that the air conditioner in the control room has been set to a particularly low temperature, or that the air conditioner has been positioned in the room issuing cold air directly onto the operator positions.
Sometimes, the exception to this I've found are control rooms where the air conditioner has been deliberately switched off and the temperature is climbing to the high 20s or even entering the 30s.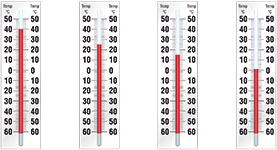 With air cooling systems going back hundreds of years, and the advent of electrical air conditioners starting in 1902 with its invention by Willis Carrier, how can it be that we are still having problems with one of the most prevalent technologies in the world. We find air conditioning in the buildings we work, live and transit through, in cars and other vehicles, and in trains, planes and hotel rooms. As I write this, I'm in a hotel room with the air conditioner directly venting cold air onto my bed while it is 32 degrees outside. I've been in overheated training rooms while the temperature outside is below 12 degrees. Why is it so difficult to find a happy medium?
When dealing with air conditioning, and even air flow, we are faced with a range of contrasts. This includes people having different tolerances and preferences on temperature, and contrasts between the uneasy alliance of people against the welfare of electronic equipment which favours lower temperatures for stability and longer operating life. Even at home, my wife favours an open window in all weather conditions, while I resist the invasion of mosquitos in summer and freezing drafts in winter by wanting it closed as much as possible.
Throw a bunch of six or more people into a control room and the variety of demands is likely to get even more extreme. The literature recommends temperatures from 20 to 26 degrees for control room environments. Practically, however, these kinds of differences are experienced very differently by people. Some see 20 degrees as freezing, while others see 26 as sweltering. Personally, my comfort zone is about 24-25 degrees but others would see this as uncomfortably warm. Settings of 18 degrees are common in some control rooms and even hotels, and electronic equipment prefers operating in even lower conditions.
As is the case with any technology, the method of implementation is critical. As importantly as the actual temperature, the direct flow of a draft of cold air is likely to cause reactions by people. It also sets up the prime conditions for getting colds and flu with the prolonged exposure to drafts. Yet looking at air conditioning units, they are often placed in control rooms where the air is directed straight at operators.
In self-defence operators either bundle up, or switch off the system. There is some limited control with air direction being controlled by the conditioner air vents allowing fixed directions or distribution. Unfortunately, this is often inadequate, or these features are broken and never fixed.

Central air distribution conditioners are even worse, often positioned centrally to rooms and having little way of regulating air flow direction. Non-functional control panels are also common to some of these, making the problem even worse. Either features or the entire panel seems to fail on a regular basis, or the settings don't seem to reflect the actual temperature of the air coming out of the unit.
The interfaces on control panels for a technology so integrated into our lives and daily use is also sometimes incredibly poor. My experiences in a Japanese hotel room and translated instructions was a once-off failure, but even using panels in English environments can be questionable in terms of getting desired outcomes.
Some practical recommendations are to avoid positioning air conditioners where they blow directly onto personnel in the control rooms. Ensure they are maintained and repaired when features fail. Avoid having people and equipment needing the same air conditioning unit and environment. I generally recommend a temperature of 23 to 24 degrees although this is my personal recommendation and not based on any scientific evidence. Even 23 degrees will be seen as cool by some staff so speak to people and try and get a consensus.
I've recommended drop down panels to change air flow in some cases to avoid excessive drafts. Make sure that systems are not switched off entirely as fresh air flow and avoiding higher temperatures ensures healthy air conditions and prevents fatigue and sleepiness. Use windows and fresh air if you can access it. Be aware that the movement of the sun can create direct heating effects on people in some positions where there are windows, and can also change the dynamics of heat within the control room.
Have a backup plan if the air conditioning goes off. If you use a centralised distribution system, ensure you have local controls to determine control room temperatures and air flow. Ultimately though, hope for a better design by suppliers of this technology that is so key to the welfare of all of us, and our equipment.
Credit(s)
Further reading:
2020 Residential Estate Security Conference in KZN
October 2019, Technews Publishing , News, Residential Estate (Industry)
Meeting the residential security challenges in 2020 and beyond: Hi-Tech Security Solutions will host the Residential Estate Security Conference 2020 in Durban on 12 March 2020.
Read more...
---
Cybersecurity for video surveillance systems
September 2019 , Cyber Security, CCTV, Surveillance & Remote Monitoring
Video surveillance systems are increasingly accessible over any IP network, which has led to the rise of potential cyberattack.
Read more...
---
From the editor's desk: More things change
CCTV Handbook 2019, Technews Publishing , News
Welcome to the CCTV Handbook 2019. This year's handbook breaks a long tradition of publishing the handbook in the first half of the year by releasing it along with the October issue of Hi-Tech Security ...
Read more...
---
A platform approach to innovation and value
CCTV Handbook 2019, Technews Publishing , Editor's Choice, CCTV, Surveillance & Remote Monitoring, Integrated Solutions, IT infrastructure
Moving to the platform model of doing business holds tremendous advantages for end users and smaller developers, but also for the whole technology supply chain.
Read more...
---
Open does not always mean easy integration
CCTV Handbook 2019, VERACITECH, Technews Publishing , Editor's Choice, CCTV, Surveillance & Remote Monitoring, Integrated Solutions
Customers who opt for best-of-breed solutions will have to rely on their integrators to develop customised integrated solutions for them.
Read more...
---
The impact of AI on the surveillance industry
CCTV Handbook 2019, G4S South Africa, Hikvision South Africa, Myertal Tactical Security, Technews Publishing , Editor's Choice, CCTV, Surveillance & Remote Monitoring
What the impact of AI will be on companies, the services and solutions they supply, as well as on the jobs people do.
Read more...
---
Video analytics and AI
CCTV Handbook 2019, Axis Communications SA, Dallmeier Electronic Southern Africa , Hikvision South Africa, Technews Publishing, Dahua Technology South Africa , Editor's Choice, CCTV, Surveillance & Remote Monitoring, Integrated Solutions
Artificial intelligence has the potential to deliver real benefits in the world of video analytics and many companies are already delivering customer benefits.
Read more...
---
Cloudy with a chance of AI
CCTV Handbook 2019 , Editor's Choice, CCTV, Surveillance & Remote Monitoring, Integrated Solutions
One local company has developed an AI solution that can be added to existing surveillance installations, offering 24-hour intelligence.
Read more...
---
Integration insights
CCTV Handbook 2019, Gijima Electronic and Security Systems (GESS), Technews Publishing, neaMetrics , Integrated Solutions
The security industry would be a vastly different place if installers and integrators were not able to make a range of different products work together.
Read more...
---
Taking analogue to HD
CCTV Handbook 2019, Dahua Technology South Africa, Technews Publishing, Hikvision South Africa , CCTV, Surveillance & Remote Monitoring
Hi-Tech Security Solutions spoke to two companies that are driving the two primary analogue HD technologies.
Read more...
---