Optimal selection of CCTV operators
November 2018, This Week's Editor's Pick, CCTV, Surveillance & Remote Monitoring, Security Services & Risk Management
The effectiveness of CCTV surveillance control rooms are influenced by a variety of factors. Technology is often seen as the primary factor in success, yet I've seen new control rooms with the most fancy and up-to-date technology being seen as failures.
The most essential requirement for effective surveillance is the person who is the operator and the strategy they adopt. The capacity of the person selected in any job will determine the success of that person in the position, no matter what kind of environment it is. I've heard it mentioned that CCTV is as simple as watching TV, including by a senior police officer in the UK who should have known better. Similarly, the placement of contract guards into CCTV positions when they have received no training and don't know what to look for is also common. Those involved in operations where detection is critical will know that the operator is the most essential part in CCTV service delivery.
One needs to recognise that control rooms involving surveillance personnel also vary in purpose and functions. This means there isn't necessarily a standard profile for CCTV operators. Those, for example, in emergency centres may need greater communication skills, those faced with more horrific scenes may need greater emotional resistance, those responsible for detection people will need higher facial recognition skills, and those doing review auditing of casino tables or cashier practices may need quick detection and movement recognition skills.
Research involving super recognisers show there may be differences between tasks involving facial matching, detection in crowds, and more general face recognition. So each operation may need to consider some of the unique qualities they are looking for in addition to the standard operator requirements.
Approaches to operator selection
Selection may also take one of two, or even a combination of approaches. These are generally referred to as a hurdle-based process where applicants have to satisfy a minimum criterion before processing to the next stage, or a compensatory approach where a range of factors are taken into account before final decisions are made.
Hurdle approaches are typically based on a key performance requirement that is necessary for the applicant to be able to perform effectively. Typically, a combination of these is used. For example, initial screening is done on a hurdle basis to shortlist personnel who are then given more comprehensive consideration on a range of criteria. There are without doubt CCTV personnel operating in control rooms with very limited capacity to see what is happening on screens as no consideration has been given to their assessment and selection. I've been in situations where control room operators had difficulty seeing even simple events on screen, and this has been confirmed in research on CCTV on our side and by other researchers. So what are the critical factors that one needs to bear in mind when selecting personnel?
One of the defining criteria for operators, in my experience, is they need to want to catch people. This may reflect a value system or sense of morality, competitiveness, a sense of justice, or just giving people their own sense of accomplishment. No matter what drives it, this commitment to catching the 'bad guy' is critical.
The sense of having a job and needing to go to work is simply not enough to deliver the effort and commitment. In some cases, operators do not emphasise catching people because they feel bad for the person if they are caught and have to face punitive action, feel it is too much trouble, or are possibly even scared of the consequences.
We find that often the 80/20 rule applies in surveillance, with about 80% of the incidents being detected by 20% of personnel. I can often see the motivation differences within the training environment as well where people committed to detection have a different philosophy. So one of the first criteria I would want in any operator who would work for me would be to be able to demonstrate a history of detection. Not 'we detected' which often covers up a lack of individual involvement, but 'I detected'.
It doesn't even have to be in a CCTV environment, but any action which shows a social conscience or personal commitment to what is right would be important. Looking at these detections in an interview and asking about how they did it, getting an awareness of what were the signs that led up to it, and seeing what helped the applicant also gives a chance to evaluate the person's skill application besides their commitment.
Visual analysis skills
Observation and visual analysis skills are part of an underlying capacity that all CCTV operators should have. Our research shows that visual analysis skills and vigilance are key factors for success, with people scoring high on assessment tools like SAMAE consistently detecting more and achieving higher weighted performance evaluation measures. People high on visual analysis scores are also likely to maintain their performance more effectively over time across the shift.
Conversely, lower performers on visual analysis consistently get lower levels of on the job detection. For the middle performers, the other selection criterion are important to look at to see in which direction they are likely to trend and to give confidence in the selection decision. These visual analysis skills may have an impact on other areas, although that is something we are still trying to establish with research into super recogniser skills. However, visual analysis skills identify good X-ray screeners in the same way that we have been identifying good CCTV operators.
Previous job experience in CCTV may or may not be a help. Where operators have been in a role where detection is essential and operators were valued and trained, it could have helped with the development of abilities. These, however, can be successfully grown on site with the right potential and the right applicant characteristics.
There is also a concern, particularly with security contractors, that people who are rejected by clients merely get moved to another site resulting in you inheriting other sites' problems. Police and military sometimes show greater discipline and ideally in the case of police, better behaviour detection, but this can't be taken for granted. In training, I've often found people from other occupations outperforming ex-police personnel.
On the systems side, CCTV control rooms are increasingly becoming highly sophisticated technology systems and are leaving some operators behind. For an applicant to the CCTV position, being able to demonstrate a work history where an ongoing exposure to increased demands from technology has been successfully dealt with is a positive career feature.
Behaviour recognition
Occupations which involve behaviour recognition, even where this is not crime related, may be more suitable at times. Work experience in service occupations, including teaching, bartending, restaurant serving, and even sales may give people a good basis to increase their behavioural awareness. If an applicant has been working in an area that they are now doing surveillance in, that person has the advantage of knowing the process, behaviours, and at times the areas that could be compromised more easily.
In casinos, surveillance personnel who have been dealers or cashiers previously can leverage their experience to enhance their viewing effectiveness. Looking at occupations where people have been exposed to shifts also means that applicants know what they are letting themselves in for – something that some people struggle to adjust to once they start working shifts for the first time.
Training received is also a consideration, but the worth of training certificates is sometimes questionable. There is also not much training available as far as CCTV is concerned. For my CCTV Surveillance Skills and Body Language training I have deliberately made it a company-based course rather than public – people who receive certificates have already gone through a selection process to be appointed in the company they work for, have been seen as good enough by the company to get training paid for them, and have completed the course requirements. It just means greater confidence in anybody who has the certificate.
Verification is also important and I do get companies confirming the authenticity of the training certificate – something I think is an integral part of the verification process where one mismatch or failure can often highlight problems in others.
Looking at personality attributes
Personality attributes which we have established in research that assist performance in CCTV environments include characteristics such as conscientiousness, self-discipline, tending to be more introverted, practical and realistic, and slightly cynical about people and their motives. People who are down to earth, aligned with practical concerns, patient, and good at working with systems or things also tend to better in surveillance.
Imaginative, talkative, excessively extroverted and excitable people tend not to be so suited to control room environments. Teamwork is important, but also the ability to take independent decisions and a willingness to make a personal commitment to outcomes is necessary. These kinds of qualities can be measured within an interview situation, but credible personality tests with professionals can provide insight from a more objective point of view.
Educational achievement does not affect observation skills, and I know some operators with conditions such as dyslexia who still have good observations skills. The impact of education or learning difficulties is likely to occur where the writing of reports, developing of profiles, or regular capture of data is required. Language capabilities need to be assessed relative to the job requirements, and this can mean getting applicants to write up a simple report on a piece of video or case study, for example.
Psychometric tests such as those for intelligence, conceptual thinking, and language can also be of benefit, although intelligence is no guarantee of surveillance success. There are probably a lot of academics who would make terrible surveillance personnel. Conceptual thinking and pattern recognition are probably both cognitive test areas that can be used most effectively if people meet the other criterion.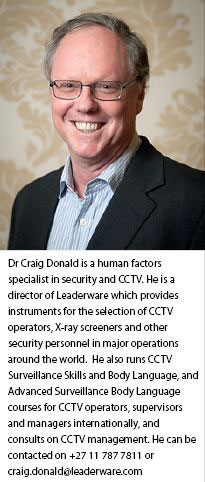 Honesty is key
Syndicate proofing means that one looks at considerations that reduce the likelihood of co-option of applicants by syndicates. Simple things like credit checks or evaluating whether somebody's apparent life style appears out of odds with their financial standing can indicate weaknesses a syndicate could exploit more easily. The type of clothing and brands somebody is wearing, cell phone costs, and display of expensive accessories or jewellery may be aspects to check out relative to income.
Pre-employment polygraphing with possibilities for it on an ongoing basis reduces the change of infiltration. Lifestyle choices may shed some light on people and their focus. Referrals or references from prominent people who would suffer a lot of reputational damage if the applicant is compromised by a syndicate provide some additional confidence. Volunteer, school, or charity work indicating a strong community and moral focus can be important. Religious affiliation less so – one hears of a lot of religious crooks.
Social media also has potential for verifying information given and social networks. Social activities also can give more indications on suitability, for example, what are people's interests, activities that that involve people watching, hobbies such as chess, strategy games, and computer gaming among others.
Selection and placement needs to be considered not just at organisational entry, but also for career planning, promotion and development programmes. Further, while the discussion above provides possible options and solutions, the content needs to be balanced with the legal obligations of the company in terms of selection practice and the applicant's rights. Specific considerations also need to be determined which may influence the requirements for a particular job, or even a particular site. Even with the best person and systems, performance ultimately rests in how personnel are managed and developed to achieve security objectives.