printer friendly version
Multiple cameras, one licence
October 2018 Editor's Choice, CCTV, Surveillance & Remote Monitoring, Integrated Solutions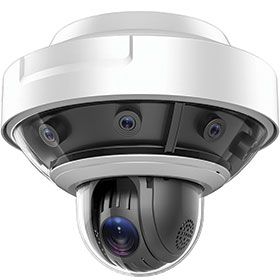 Multi-sensor cameras have been around for a while, but are they being used in the real world, and if so, where? What situations require a multi-sensor de-vice (a surveillance camera with two or more sensors (cameras) that can pro-vide 180-degree or 360-degree coverage)? We already have fisheye cameras that offer up to 360-degree coverage of a location, so why do we need multi-sensors?
Moreover, what benefits are there to using these devices which seem rather complicated – not to mention costly? To obtain some answers, Hi-Tech Security Solutions asked some multi-sensor players about the technology and what they have to offer the market. Our interviewees are:
• Jaco de Wet, country manager, Hanwha Techwin,
• Toby Chao, product marketing manager, Hikvision, and
• Johan Crause, regional manager, sub-Saharan Africa, Arecont Vision Costar.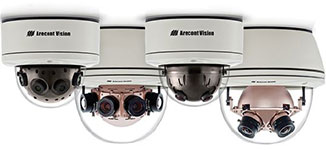 Hi-Tech Security Solutions: Multi-sensor cameras are not exactly new, but what are the benefits of these types of cameras as opposed to single lens or 360-degree lens systems (fisheye cameras)?
Jaco de Wet: Key benefits of multi-sensor cameras include; aesthetics, cost saving and ease of installation. In terms of aesthetics, multi-sensor cameras are designed to be compact and installation is much neater compared to having two, three or four single-lens cameras. Similar aesthetics can be achieved by using a fisheye camera, but fisheyes are limited in terms of resolution and zooming capabilities, and are therefore generally not a comparable replacement.
When looking at cost savings, this is application dependent. When considering the required infrastructure in an outdoor environment, the actual cost of powering one device compared to four could easily offset the cost of the camera, then there is also the required switching and transmission equipment. Another key point is that most leading VMS providers will only require one licence for multi-sensor cameras. This could be a huge cost saving. When using a Wisenet P-series multi-sensor camera with any Wisenet NVR, only one recording channel will be occupied.
When comparing multi-sensor devices to 360-degree fisheye cameras, we find the lenses offered make a huge difference. Wisenet's P-series multi-sensor cameras, for example, have a variety of lens options, from 2.8 mm fixed lens to varifocal motorised lenses, allowing for various requirements. Fisheyes are fixed lens cameras with no optical zoom capability. In areas where the required pixels on target are low and the observation area small, fisheye models could be considered as a feasible option.
Toby Chao: Most 360-degree lens cameras are fisheye cameras and they provide the 'fisheye' (360-degree) view which will have bad distortion. Multi-sensor cameras are one of the solutions to solve this distortion problem. When talking about benefits of multi-sensor cameras, there are quite few benefits. For the image, there is no distortion which can provide a better experience to clients. In addition, by using multi-sensors, the image will be of higher resolution, which can provide clearer views.
Due to the all-in-one design, multi-sensor cameras can provide 360-degree/180-degree/adjustable angle of view, by using one network cable and one IP address. So for installers, they will spend less time to finish the installation and configuration needed to cover the 360-degree view. For end-users, they will pay less for this solution because they only need to buy one network cable and use one IP address.
Johan Crause: Arecont Vision Costar has been at the forefront of multi-sensor technology since 2006. The primary benefit to the user is the fact that multi-sensor cameras have the ability to view a scene with different lens variations. This in turn, assures that the scene is covered adequately without any blind spots.
Importantly, the field of view is dramatically increased. The 360-degree lens system or single-sensor system has the primary draw-back that its field of view is highly dependent on the positioning and size of the area being covered. This is immediately resolved with the multi-sensor.
Hi-Tech Security Solutions: Are multi-sensor cameras selling? If so, in what environments are they generally deployed and for what reasons?
Jaco de Wet: Yes, global sales are increasing. For Hanwha, our most active region for multi-sensor cameras is the US market, which is also driving the line-up expansion and feature requests. Popular application areas include car parks and parking lots, sport stadiums, warehousing and logistics, airports, gaming and casinos and large retail outlets.
Toby Chao: Yes, we are selling multi-lens cameras for different applications and Hikvision has designed different types of multi-lens cameras for different uses. For example, the mini PanoVu cameras that offer 360-degree views with/without PTZ, or 180-degrees with/without PTZ that can be used for ultra-wide scenes, like city surveillance, square surveillance, railway station, bus stations etc.
Johan Crause: Multi-sensor cameras are, in fact, one of Arecont Vision Costar's biggest lines because they are deployed in many city surveillance projects where having a limited number of ports and limited bandwidth are issues.
Notwithstanding, deployments are not limited to these as we also have cameras in and around buildings to curtail the misfortune of having a travelling PTZ not catch an incident due to a predefined tour. These cameras are specifically there to look after multiple areas with one PoE port. They are also deployed in environments where reducing the footprint of CCTV is important due to the sheer size of the deployments.
Hi-Tech Security Solutions: Would fisheye cameras not be a better option than multi-sensors as there is less that can go wrong in these cameras (fewer moving parts etc.)?
Jaco de Wet: Although fisheye cameras cover 360-degrees, the coverage area is limited. A fisheye can achieve the required result, especially for a general overview, in smaller coverage areas. When the fisheye's image is de-warped, the resolution or pixels on target for objects exceeding 10 metres from the camera is very low. The flexibility of lens options and sensor sizing on multi-sensors deals with this constraint, allowing the installer to focus on areas that far exceeds the coverage distance of fisheye cameras.
With the Wisenet multi-sensors, each camera head is setup and managed independently, and overall moving parts within our cameras are limited, but in comparison, a single point of failure could be either negative or positive depending on the application.
Toby Chao: It is true that more parts mean a higher chance for something to go wrong, but Hikvision invests a lot to improve our product quality from development to manufacturing. From my point of view, there is no good or bad for different types of cameras, the choice will be made by clients depending on their requirements and budget. For some applications, fisheye cameras cannot meet their requirements.
Johan Crause: Fisheye cameras' primary drawback is the field of view restriction and they cannot effectively be deployed in larger areas like factories. The next drawback is the dewarping algorithm that needs to be applied to the VMS software to be sure that the image is displayed correctly. Arecont Vision Costar multi sensors use no dewarping software, it is simply four cameras placed in one easy-to-use casing that makes deployment much easier.
Hi-Tech Security Solutions: Is it easy to integrate multi-sensor cameras into management platforms or do you need brand-specific software to manage them?
Jaco de Wet: Our Wisenet SSM 2.1 platform fully integrates every feature of the Wisenet multi-sensor cameras and only one licence is required for these models. Most leading VMS providers also support multi-sensors, and in many cases only require a single recording licence. As a general recommendation, we always ask integrators to confirm the licence requirements of planned or existing VMS platforms before considering multi-sensors, as this could be a great contributor to reduce the total cost of ownership of the surveillance system.
Toby Chao: Actually, there is no special technology or special encoding/decoding in multi-sensor cameras. For Hikvision multi-lens cameras, they are all ONVIF compliant and all support standard Hikvision protocols, which means our multi-lens cameras are compatible with various management platforms on the market.
Johan Crause: I can't speak for other manufactures, but in Arecont Vision Costar's case it is very simple and hassle-free. The most important part is the concern that most clients have that you require four different licences for four cameras. Most major VMS manufacturers, including Milestone, Cathexis, Genetec and Axxonsoft only require one camera licence to drive our multi sensor software. There is one PoE cable that powers the device and you are effectively growing your surveillance network by 300% with one camera. Arecont Vision Costar makes it a point to integrate with many manufacturers in the VMS industry to assure a friendly, easy to use camera interface for successful deployments.
Hi-Tech Security Solutions: What developments and new products can we look forward to in the multi-sensor market?
Jaco de Wet: For the immediate future, our main development drivers are:
1. Low-light performance increase.
2. Inclusion of PTZ modules with multi-sensors.
3. Advanced PTZ hand-over (analytic driven to PTZ preset).
4. Advanced analytics embedded on the camera – object classification and unusual motion.
5. Embedded thermal sensors.
The Wisenet 7 chipset, due for release in Q1 2019, will include advanced AI on multi-sensor cameras. Expected features include crowd monitoring, object classifications, vehicle classification, advanced LPR (licence plate reconditioning), and human behaviour monitoring.
Toby Chao: In the future, we will definitely be looking for AI or deep-learning technology to be developed on our multi-lens cameras.
Johan Crause: Multi-sensor development for Arecont Vision Costar is already in its third generation. We have effectively managed to reduce our streaming with Snapstream, our patented streaming profile. We have also managed to make it easy for the installer to install these without having to manually adjust lenses by motorising all the lenses and including multifocal lenses for focusing on scenes. The result is multi-sensor deployments are done as quickly as single-sensor dome or bullet deployments. The remote focus function is simply done from a laptop anywhere on the network.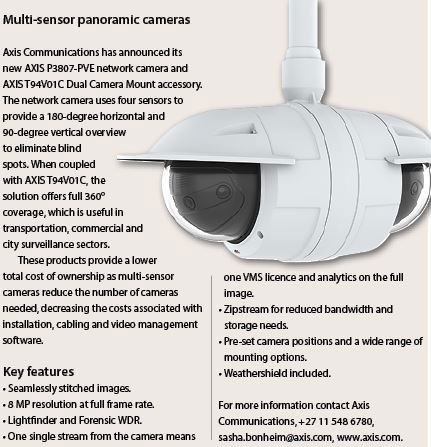 For more information, contact
Arecont Vision Costar, +27 82 553 9338, jcrause@arecontvision.com, www.arecontvision.com
Hanwha Techwin, Jaco de Wet, +27 79 843 4051, jaco@stcctv.co.za
Hikvision South Africa, Janis Roux, +27 10 035 1172, support.africa@hikvision.com, www.hikvision.com
Credit(s)
Further reading:
Secure IoT devices and networks
Issue 6 2020, Technews Publishing , Cyber Security
Check Point Software's IoT Protect solution secures IoT devices and networks against the most advanced cyber-attacks.
Read more...
---
How encryption can protect sensitive data
Issue 6 2020 , Editor's Choice
Here's how encryption can help keep your data safe from prying eyes – even if your device is stolen or your cloud account is hacked.
Read more...
---
More than just compliance
Issue 6 2020, IACT-Africa , Editor's Choice
SA is one year away from the Protection of Personal Information Act (POPIA) D-Day.
Read more...
---
Security risk mitigation on a budget
Issue 6 2020 , Editor's Choice
Security estates often fall well short in terms of adequate protection when being assessed by an independent, experienced threat, risk and vulnerability assessor.
Read more...
---
Digital means managing your risk
Issue 6 2020, AVeS Cyber Security , Editor's Choice
Digital transformation in mining companies has become a business imperative to drive efficiencies, optimise competitiveness and reduce risks associated with human error.
Read more...
---
Face recognition and temperature measurement
Issue 6 2020, Suprema , Editor's Choice
Purpose built for FaceStation 2, Suprema's new thermal camera enhances safety by measuring skin temperature.
Read more...
---
From the editor's desk: Covid consolidation
Issue 6 2020, Technews Publishing , News
The global security industry has seen quite a few high-profile mergers and acquisitions over the past year or two, with an even greater number of smaller companies that don't get the headlines also merging, ...
Read more...
---
What, how and why of security
Issue 6 2020, Alwinco , Editor's Choice
As a security advisor, it's a continuous challenge to change the existing perceptions of CEOs/MDs and nowadays the procurement departments.
Read more...
---
A life jacket for buildings
Issue 6 2020 , Editor's Choice
The EAV is a purpose-designed vest which provides the user with on-demand air supply and other safety gear to help them escape from hazardous incidents.
Read more...
---
Overview of contactless identification technologies
Issue 6 2020, Suprema , Editor's Choice
A guide to two of the best available contactless identity confirmation technologies, along with some tips on choosing the right one.
Read more...
---