printer friendly version
A platform for enabling IoT ­solutions
October 2018 Editor's Choice, Integrated Solutions, IT infrastructure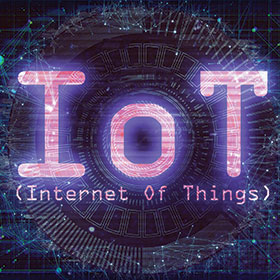 Digital Twin is a South African company that has developed a hardware, software and communication platform to enable companies to harness the Internet of Things (IoT) for their own applications.
The company was conceived by Richard Creighton, a 25-year veteran of the industrial control and automation industry, after he recognised the potential of IoT. "Fundamentally my background revolves around automation, control, sensing, and getting data into systems and processes that actually end up bringing value and ROI to customers. So when I saw the trend towards using IoT concepts to provide nothing more than convenience or trivial functionality, I thought there was an opportunity that was being missed," he says.
This led him to partner with two like-minded individuals, Anton Torlutter and Ivan Potter, to create Digital Twin in 2018. The trio then set about building IoT/IIoT (Industrial IoT) platform based on an indirect model to market. "This means we will never effectively do an installation at a customer site, unless a partner needs our help," Creighton expands. "Our involvement is in the build-out and development of a platform. We recognised that we will never be everything to everyone, so we position ourselves as an enabler for the experts in their particular vertical markets (be it oil and gas, mining, retail, pharmaceuticals, and so on) to offer advanced solutions to their own clientele to help their return on sales from a client engagement perspective."
Clients can adopt one of four tiers that make up the Digital Twin platform. Tier 1 comprises only the company's IoT-enabled hardware (locally designed and manufactured in Ruimsig, Johannesburg), leaving it up to the integrator to build their own software, dashboards and data lake on top of it. Tier 2 adds access to Digital Twin's data lake solution – this removes the significant effort that would be required for clients to establish the ability to connect to the hardware and start collecting info.
Tier 3 further includes a console for configuring and managing IoT gateways in the field and their associated inputs and outputs, in addition to trending, reporting, alerts, location services and data export. Finally, Tier 4 adds value-in-use development, customised visualisation and linkage to ERP, CRM and other systems, and advanced data wrangling and machine learning.
Security-specific application
In the security sector specifically, the platform provides the ability to embed technology such as biometric fingerprint recognition, and integrate tokens for access control. The company is also prototyping hardware that integrates an OEM version of a well-known biometric reader, which will allow for remote access applications via a cost-effective connection. It even intends to apply its technology for initiating payments and to become oracle inputs into blockchain solutions.
("A blockchain oracle is a third-party information source that has the sole function of supplying data to blockchains which allow for the creation of smart contracts" – https://www.mycryptopedia.com/blockchain-oracles-explained/. Another explanation can be found at https://blog.apla.io/what-is-a-blockchain-oracle-2ccca433c026.)
Importantly, for applications such as an access control point in a remote location, the Digital Twin solution mitigates the need to have some sort of GSM commander, Wi-Fi infrastructure, or operating in disconnected mode. Instead, the data connection is powered by the Thingstream, a global connectivity platform that employs USSD (unstructured supplementary service data) and the MQTT (message queuing telemetry transport) protocol.
In order to guarantee data security, the hardware is never connected to a TCP/IP network. For starters, it has a physical air gap, and when it does establish a USSD connection via MQTT it transmits the data as an encrypted packet that gets shared via the SDK (software development kit) into the gateway. That encryption is maintained right the way through to the database, at which point it is decrypted as per the client's credentials to view the data. What's more, Digital Twin's data lake is built on AWS (Amazon Web Services) and applies all the rigorous AWS security protocols for accessing that data.
"Thingstream is our brokerage of choice for that level of communication," explains Creighton. "Because USSD is supported by all GSM towers, our hardware can effectively be placed almost anywhere in the world, powered up and we're good to go – across any service provider and without any roaming charges or contract required. This is very powerful from a security perspective for things like managing access control points, or picking up remote signalling such as alarm conditions."
Cost-effective and redeployable
To give an idea of the price point for adopting the Digital Twin platform, its first hardware unit – called Pigeon – retails between R1500 and R1750, depending on the configuration, and access to data is nearly unlimited. At the minimum, 30-minute updates are provided, but that can be brought down to one minute, with a variation in cost from R45 to R80 per month. The hardware is being added to the global Thingstream catalogue to maximise its market opportunities, and three or four derivatives have been designed for various levels of functionality, depending on the application.
The hardware is redeployable, so for example, it can be used to manage a turnstile at a construction site, then moved to another site as needed. "In fact we're working with a company called IS Engineering that's putting these units into its barriers and turnstiles as a value-adding feature. This gives their clients a basic access management system at a very low cost.
"Secondly, for their own benefit, it gives them insight into how many times a particular boom or turnstile has been engaged and whether it's been subjected to severe temperatures. This helps them to manage the mechanical components and SLA on those units to ensure their network of providers get to their customers before a unit fails – on a predictive basis. Therefore, they get not just visibility into where all their barriers are for their own benefit and asset management purposes, but also their condition," Creighton says.
For more information, contact Digital Twin, info@digitaltwin.digital, www.digitaltwin.digital
Credit(s)
Further reading:
FortiGuard labs reports disruptive shift of cyber threats
Editor's Choice
Threat intelligence from the second half of 2020 demonstrates an unprecedented cyber-threat landscape where cyber adversaries maximised the constantly expanding attack surface to scale threat efforts around the world. Adversaries proved to be highly adaptable, creating waves of disruptive and sophisticated attacks.
Read more...
---
Obituary: Steven James Meyer
January 1957 - January 2022
Technews Publishing News
It is with deep sadness and shock that we announce the sudden death of SA Instrumentation & Control Editor, Steven Meyer. Steven joined Technews in October 2007 in the position of Deputy Editor. His ...
Read more...
---
From the editor's desk: In the cyber trenches
Technews Publishing News
Hi-Tech Security Solutions is proud to launch its first Smart Cybersecurity Handbook, a publication aimed at making sense of the complex world of cyber risks.
Read more...
---
The worst of times
Technews Publishing Editor's Choice
Cyber resilience in terms of people, processes and technology is where it's at when it comes to prevailing in a world beset with cybercriminals.
Read more...
---
Cyber trends for 2022
Editor's Choice
In the last six months, an organisation in South Africa was attacked on average 1737 times per week. This is more than double the global average (819) of attacks per organisation per week.
Read more...
---
Cybersecurity for the board of directors
Editor's Choice
Bike-shedding is a common distraction in boardrooms, especially when discussing issues board members are responsible for, but don't understand – like cybersecurity.
Read more...
---
Cybersecurity is now a digital transformation imperative
Editor's Choice
New research from the IDC reveals cloud security is the number one priority for investment, 50 percent of South African business leaders are concerned with the consequences of security breaches.
Read more...
---
Providing real-time visibility
Technews Publishing Editor's Choice
Comprehensive visibility is critical, but not always attainable without the support of a managed service provider dedicated to monitoring and securing your cyber environment around the clock.
Read more...
---
Getting the basics right
Technews Publishing Editor's Choice
Cybersecurity is like any other discipline, you can't start at the top, you need to get the basics right. Hi-Tech Security Solutions asks how to best do this.
Read more...
---
How to stop security threats early
J2 Software Cyber Security Integrated Solutions
Integrating a security ecosystem allows one to better protect the company, while also better understanding and improving the company's risk posture.
Read more...
---