printer friendly version
Keeping guarding personnel on mines safe
October 2018 Mining (Industry), Security Services & Risk Management, Products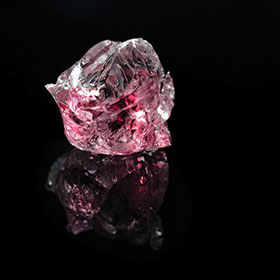 They patrol your property in the dead of the night, often risking life and limb to ensure that your assets are secure from the clutches of the criminal element. Hi-Tech Security Solutions spoke to a few local companies about how technology is providing mine operators with the tools to keep patrolling security officers safe.
The first order of business is the ability to track exactly where security officers are at any point in time. Laura Pretorius of Instacom, says that it has a solution called Mission Critical Locate (MCL) that enables live and historical tracking of all staff on ruggedised mobile devices. This also enables the dispatch of a response team that knows the right location to resolve any situation before anyone gets hurt. This live monitoring of staff is conducted in a control room environment from anywhere in the country.
The tracking app also provides security officers with a panic function that works together with the tracking application. Should the security officer press this panic button (located on his or her mobile device), the control room will be notified by an audible alarm. The PC software will then pinpoint the location of the officer and establish what team members are in the vicinity to assist with the event. The control room operator can view the map, and see if there is traffic en route to the incident, thereby minimising reaction time and maximising the safety of the security officer.
Once the panic button has been pressed, an incident may be recorded automatically by the device and saved to the cloud in case this information needs to be retrieved for investigation. The controller has the ability to listen in and thereby determine whether the event is an actual panic or merely a false alarm.
An electronic occurrence book/incident reporting system enables the security officer to actively capture an incident and record what he sees via voice. This provides him with enhanced safety since he no longer has to physically write a comment, allowing him to stay alert and record the incident. The incident message is then sent to all relevant parties.
Automatic discovery and dispatch
Keith Lawrence of BetaTrac, cites the company's eGuard as an alternative to a handheld device. The eGuard is a GPS-enabled tracking device within an armband worn on the security officer's left upper arm. This effectively keeps the officer's hands free and the unit is located out of harm's way. "When we designed the eGuard, the main focus was on the safety of the patrolling security officer, so it has a panic button and is linked via GPS for accurate positioning every 30 seconds. This regularly relayed signal differentiates the device from those which only emit a signal at the security touchpoints or when a panic button is pressed."
Because mine properties are very large, with a correspondingly extensive patrol area, security officers need the reassurance that no matter where they are on the property, they will have instant access to a response team via the control room when they activate the panic button.
Lawrence explains that when BetaTrac developed the eGuard in 2010, there were no other body-worn devices available. Combined with the company's AIMSS (Analytical Intelligent Mobile Security System), which sits on the back-end in the control room, eGuard enables the security company response vehicle to be directly linked to the eGuard duress panic position (via the RapidTrac vehicle module). This eliminates the stress of locating the nearest dispatch vehicle, thereby reducing the critical time to respond, since mere seconds may save a life.
Not only does RapidTrac provide information on the nearest vehicle to a panic situation, it also assists management with an overview of vehicle events such as the vehicle's location, excessive and harsh braking, and all stop-start incidences. It also enables the most efficient and rapid deployment of vehicles when a security officer activates a panic button.
"Both the eGuard and RapidTrac come with full daily, weekly and monthly autonomous reporting, highlighting performance of all involved. In addition, daily status reports show the real-time status of all the modules in the field. All violations and necessary alerts that are sent to the control room are also mirrored to mobile phones and emails, notifying management at any level selected. eGuard is always on duty in the field as a battery swap-out takes approximately only 30 seconds and it never needs to be docked for recharging," states Lawrence.
Using RFID
Casey de Villiers and Steve Boulton of Active Track, believe that it is advisable to place RFID tags at key points in facilities such as access and egress points, fence lines, machinery stores, and areas where extraction, sorting, crushing and screening takes place. This will serve companies from both a security and safety perspective. In the first instance, a security officer will be provided with a predetermined patrol route and the times required for him to conduct his patrols at these RFID tag points, whether they be external or internal points.
Boulton adds that a device, such as the Active Track, used together with RFID tags in key safety areas, will maximise adherence to occupational health and safety (OHS) regulations through the provision of a record of regular safety checks. The reports that are generated are completely independent and cannot be changed, thereby verifying their validity and objectivity, and providing accountability.
Active Track has online software which supports its device. As it is GPS-enabled, an accurate time and date stamp confirms events. Should a scanning event be later than scheduled, or even completely missed, an alarm will be triggered and a notification will be sent via SMS or email to a responder and a call made to the security officer on the device to establish the officer's status.
Boulton points out that most mines today outsource their security in order to contain operational costs. Active Track can be used to determine whether the security officer is patrolling according to the required SLA. The reports generated can be used for disciplinary hearings and will provide protection for both an aggrieved client or for a security officer who has been wrongly accused.
De Villiers says that in addition to a panic button, the Active Track device contains both a shock sensor and a call-in function. The shock sensor is activated when the device is dropped and it places a silent call to either the client or a call centre/control room that can then listen in on the event.
"We train security officers and control room personnel to calmly and methodically handle panic situations and we brief customers on what solutions are best suited to lone worker protection. The location of the event is precisely pinpointed via GPS and a notification is issued to a predetermined recipient. The Active Track device can function with as little as 7% Internet connectivity and still allow the movement of the device to be viewed as the security officer patrols."
Additional safety mechanisms
Another aid to security officer protection is the deployment of duress RFID tags. De Villiers explains that these tags are not scanned during a 'normal', patrol but when the security officer is being held under threat when he/she is trained to scan the standard as well as the duress tags. This action sends an alert to recipients and reaction teams can be deployed to assist him.
Lawrence says that eGuard is adding another element to the safety of all security personnel working on an opencast mine. With many large vehicles moving around a site, it is important for officers to be aware of their presence. "We have leveraged the Internet of Things (IoT) by adding an active RF tag to the eGuard so that all the vehicles fitted with a transponder will send an alert to people in specific predefined zones within their vicinity. This buzzer alert instantly notifies the security officer when the vehicle is nearby."
Pretorius says that, in order to ensure security officer safety, it is imperative that one has secure and reliable communication, such as PTT. "Conventional two-way radios just don't do the trick anymore, especially when it comes to range and clarity. When it is time to patrol, our devices are tracked, and a patrol alarm will be emitted, ensuring the employee has not fallen asleep. Should the security officer not accept the patrol alarm, the control room will be notified immediately, so that they can act accordingly, either contacting the guard or tapping into the device and listening in."
Credit(s)
Further reading:
From the editor's desk: Maybe I'm too old?
Technews Publishing News
There are many companies these days touting their ability to securely authenticate people via mobile devices (or selfies), claiming that it is secure and easy. Some banks are even allowing people to ...
Read more...
---
Workforce management to improve mining security
Mining (Industry)
Workforce management can improve customer satisfaction, increase and guard employee productivity, help maintain compliance and reduce costs.
Read more...
---
IDEMIA and Ideco demonstrate their value stacks
Technews Publishing Ideco Biometrics IDEMIA Conferences & Events Access Control & Identity Management News
Ideco and IDEMIA recently hosted a travelling show where attendees were given an update on the companies, as well as the full value stack they offer.
Read more...
---
The investment that boosts the bottom line
Mining (Industry)
Securiton SecuriHeat d-LIST is a resettable line-type heat detector system comprised of a series of individual hybrid temperature sensor circuits extruded in a robust cable.
Read more...
---
Sustainability, trust and predictability
Technews Publishing Bosch Building Technologies Conferences & Events CCTV, Surveillance & Remote Monitoring News Integrated Solutions
The future for Bosch Building Solutions is focused on predictive solutions based on sustainability and trust in an AIoT world of cloud services.
Read more...
---
Networked devices increase cyber risks for building systems
Technews Publishing News
Building managers need an integrated approach with IT professionals and clear lines of responsibility to ensure optimal facilities management and cybersecurity.
Read more...
---
Specialised surveillance and communications
Technews Publishing Editor's Choice News Integrated Solutions Residential Estate (Industry)
Hi-Tech Security Solutions spoke to Arcanum Africa's Peter Stolwerk and Aaron van Schaik to find out a bit more about the company and the unique products it is bringing to the local market.
Read more...
---
From Hill Street Blues, to Hillbrow, to managing risk for BMW
Technews Publishing Editor's Choice News Security Services & Risk Management
Jane-Eleanor Morrison's success story starts from growing up in the stressful pre-democracy times in KZN, moves through a successful career in SAPS. to BMW South Africa where she is now the risk control manager.
Read more...
---
Hikvision releases panoramic camera range with ColorVu
Hikvision South Africa CCTV, Surveillance & Remote Monitoring Products
Hikvision has released a new range of panoramic cameras that use integrated ColorVu technology to provide vivid and full-colour video imaging for a wide field of view in light conditions as low as 0,0005 lux.
Read more...
---
Water deluge fire suppression system
FS Systems Editor's Choice Fire & Safety Mining (Industry) Products
The FS Group custom-designed and installed an electronically actuated water deluge fire suppression system for an underground explosives magazine, ensuring both the safety of miners and operations, as well as regulatory compliance.
Read more...
---