printer friendly version
Integrated anything
September 2018 Editor's Choice, Integrated Solutions, Security Services & Risk Management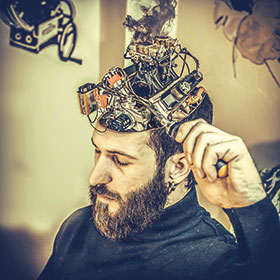 When it comes to management platforms, the security industry has no lack of products to choose from. There are systems designed for single products and the larger ones designed to integrate multiple products and solution categories into a single interface. Then there's Babylon, or officially, XMP-Babylon.
In development for over three decades by German company Autec, Babylon is designed to manage access control systems and more. However, its utility goes beyond management. Alvin Flaum, director of Veracitech, a Babylon OEM partner in southern Africa describes it as an automation platform that allows for the management of numerous and diverse business processes across diverse industries.
Autec appoints companies like Veracitech as OEM partners because the system is a complex platform that allows you to do almost anything, and Veracitech through some 28 years' experience as OEM partners for Babylon systems, has capitalised on this with a number of in-house developed products that run on the platform aimed to serve its clients' various requirements.
At a basic level, Babylon offers a fully configurable high-performance access automation system, which is fast, secure and flexible. It can be integrated with multiple access technologies and different types of identification, such as badges, card readers and biometrics. The data collected is stored in a secure environment and its encrypted in transit. For distributed operations, the master database continually updates all branches wherever they are to ensure all sites are using the current dataset. The system adds to this by offering time recording and accounting according to a modular-based model offering custom solutions for any application purpose.
You can also make use of a configurable security and facility management system that offers a graphical dashboard for easy management. CCTV systems and IP cameras, key management systems, phone and radio systems can be integrated into the system along with fire alarms, parking systems, intrusion detection and the usual security offerings. Depending on how the system is set up and what custom plug-ins are used, customers can have integrated video analytics, guard patrol management, X-ray scanning of objects or people, and other functionality running on the system.
Building management modules are also available for larger projects that can include functions such as energy, lighting and ventilation management, and you can even manage manufacturing systems from the Babylon interface. But that is only the start.
OEM benefits
Flaum says Babylon is used globally and is a standard at many African reserve banks and on many mines (as well as other large organisations) because of the system's versatility and the ease with which Veracitech's engineers can develop plug-ins for almost any purpose. This is not a plug-and-play system, however, it requires skilled engineers to implement successfully, but has a reputation for extreme reliability once installed. Veracitech also offers certified operator, administrator and service technician training on the Babylon platform.
Veracitech partners with a host of security suppliers, from Avigilon through to Traka, Idemia, Qognify, Dallmeier, Axis and others. All these systems are integrated into Babylon, and in some cases Veracitech has written its own integration to better meet customer demands. Some of the solutions Veracitech has developed and deployed as plug-ins for active client applications include the following:
• Babylon Avigilon: VMS Integration with Veracitech Soft Matrix feature, including fully integrated alarm and event video management and the ability to utilise multiple Babylon workstation monitors for video matrix switching.
• Babylon Key Management: High level database integration with Traka (ASSA Abloy).
• Babylon Enrolment: Morpho (Idemia) biometric enrolment and template management allowing for cardless fingerprint-only transactions on Babylon / Idemia (Morpho) equipped systems.
• Babylon Certifications: Access control incorporating health and safety as well as other statutory accreditations and training prerequisites. Integrating with HR databases and more, the system can control access to certain areas based on whether the person requesting access meets corporate requirements. For example, if a miner has been for a scheduled medical check-up or has been certified in a specific skill. Before allowing anyone to start a truck on a mine, the system may first check to ensure the individual's licence is up to date and that he underwent a breathalyser test that morning.
• Babylon Rules IBO: Integrating with maintenance and scheduling databases and more, the system can control temporary access to certain areas or machines.
• Babylon Toolstore: Technicians can be issued with tools or any assets at the start of a workday or when required, with each asset allocated to them according to their access credentials. The same person can be prevented from leaving the workplace if they have not checked their tools back in, or if they are allowed to take certain equipment home, it will be checked out to them until it is returned.
• Babylon Baggage X-Ray Search: In areas where people are regularly subjected to baggage X-Ray scans, Veracitech has integrated the system to include video images and RFID tags for bags people may carry, irrefutably linking people to their belongings – just in case someone tries to sneak out something in their bag only to claim it isn't theirs when caught.
• Babylon VLPR Access Control: Veracitech can also manage access in Babylon via licence plate recognition (LPR) using on-camera LPR systems. The client can manage vehicle entrance and exits in real-time. The camera is treated as a virtual access control reader on the Babylon system.
• Babylon Alarm Receiver Base Integration: This enables the monitoring and handling of alarm signals from alarm monitoring systems from companies such as RDC, FSK, and MAMI.
• Hardware developments: Veracitech has also developed client specific hardware components for Babylon.
There are numerous other applications Veracitech has developed on the platform. All told, Veracitech offers the design, installation, configuration and custom development and integration of multiple security and operational systems into the Babylon platform, which will allow clients to more efficiently manage their operations, even distributed operations, reliably from a central source.
Veracitech currently has a client list that includes companies like Anglo Platinum, De Beers, Petra Diamonds, Namdeb, Debmarine, Gemfields, South32, DTI, Transnet and others, including clients in Namibia, Botswana and Mozambique.
For more information, contact Veracitech, alvin@veracitech.co.za, www.veracitech.co.za
Credit(s)
Further reading:
The same security assessment for different reasons
Issue 7 2020, Alwinco , Editor's Choice
Like everything else in life, a security risk assessment also has two sides: one is the proactive approach, and the other is the approach taken 'after the fact'.
Read more...
---
A contact-free hotel experience
Issue 7 2020, Technews Publishing , Access Control & Identity Management
Check-in and go straight to your room without stopping at the reception desk at Hotel Sky in Sandton and Cape Town.
Read more...
---
Risk intelligence the key to a sustainable future
Issue 7 2020 , Editor's Choice
Only by building risk intelligent organisations will leaders be able to overcome six distinct global threats identified by the Institute of Risk Management South Africa (IRMSA).
Read more...
---
Profile D for access control peripherals
Issue 7 2020 , Editor's Choice
Profile D provides interoperability for devices such as locks, credential/biometric readers, PIN pads, LPR cameras, door phones, sensors and displays.
Read more...
---
Security investments and culture
Issue 7 2020 , Editor's Choice
Organisations must embed security into the culture of the company and approach security investments with this culture in mind.
Read more...
---
Elastic storage pricing
Issue 7 2020 , Editor's Choice
With elastic pricing, users can switch from one storage model to another without having to pay a premium or a penalty, and without having to physically move any data.
Read more...
---
Use technology as a differentiator
Issue 7 2020 , Editor's Choice
Juni Yan, director of Transport, Logistics and Automotive at BT, shares her insights on how logistics companies can leverage digital transformation to become a real market differentiator – no matter the state of the pandemic.
Read more...
---
Management of PPE allocation made simple
Issue 7 2020, Powell Tronics, Technews Publishing , Editor's Choice
Of all the roadblocks and challenges COVID-19 has introduced us to over the past few months, one of the tasks organisations have to manage is the issuing of PPE to staff.
Read more...
---
No downtime for transport security
Issue 7 2020, Secure Logistics, Technews Publishing , Logistics (Industry)
After a brief downturn in crime due to the COVID-19 lockdown, the transport sector is once again at the centre of a crime spree.
Read more...
---
Warehouse security and the pandemic
Issue 7 2020, Technews Publishing , Logistics (Industry)
The warehousing industry is under intense attack from organised, armed criminal syndicates following the lockdown.
Read more...
---