printer friendly version
Securing cargo for export
September 2018 Transport (Industry), Security Services & Risk Management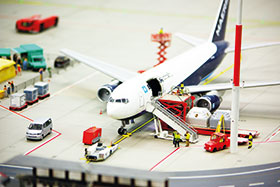 When cargo needs to be moved quickly to another country, the preferred method of transportation is via air. Delays in the supply chain can incur financial and reputational losses for exporters. Hi-Tech Security Solutions discusses the air cargo handling process.
According to the International Civil Aviation Organization (ICAO): "All those involved in these often complicated movements (of cargo) share the responsibility for ensuring the safety and security of the cargo and for operating within the law. In particular, they are responsible for ensuring that nothing contained in the cargo will endanger an aircraft and the lives of those travelling in it."
David Alexander, general manager at Professional – a company providing risk assessment, training and security to the South African aviation sector – explains that South Africa is one of the 192 Member States of ICAO and as such is bound by its regulations and requirements with respect to exported cargo.
ICAO's Member States have developed standards to support the implementation of a secure supply chain through the regulated agent and known consignor regimes. These entities are approved by the appropriate authority and may apply security controls, including screening, upstream in the air cargo supply chain.
In essence, these entities must ensure that the cargo to be carried on a commercial aircraft is protected from unauthorised interference from the point where screening or other security controls are applied, up until the departure of the aircraft. The implementation of the secure supply chain reduces the burden on aircraft operators, while simultaneously facilitating the processing of secure cargo when it arrives at an airport.
Protection procedures
Alexander points out that before cargo is loaded on to aircraft, it must be made secure. This occurs in two ways. Firstly, the cargo is delivered to the ground handling agent of the air carrier at the airport. The agent then screens the cargo using an X-ray machine or explosion-detection dogs to check for the presence of prohibited items such as improvised explosive devices.
"The key here is the prevention of acts of unlawful interference in the placement of an incendiary or explosive device. It must be noted that this procedure is not related to the security of cargo from a crime prevention perspective," says Alexander.
Once the cargo is screened, it will be placed in a secure on-site warehouse that makes use of access control systems and surveillance cameras to ensure that no unlawful entry or tampering occurs. A security declaration will be issued which states that security control has been applied to this cargo and that it is safe for transport by air. The ramp handling agent will then ensure that the cargo is loaded on to the aircraft.
The second method of handling cargo within the secure supply chain is that a known consignor who is the originator of the cargo (the exporter or manufacturer), working in adherence with the approved Civil Aviation Authority (CAA) security manuals, would seal the cargo with a tamper-evident seal so that its integrity can be verified. They then send it to a regulated agent/freight forwarder. All of these parties are CAA-registered entities.
The cargo will be delivered with a security declaration to the regulated agent and then delivered to the ground handling agent. In this way there is an unbreakable and secure supply chain from the point of origination to the delivery point.
Any entity that renders cargo secure is obliged to issue a Consignment Security Declaration (CSD) which specifies the security status of the cargo and displays other important security information. This document (hard copy or electronic) is transmitted to each party involved later in the secure supply chain in order for them to apply the appropriate security measures to the consignment and protect it from unauthorised access.
Alexander explains that if one is a regulated agent, then it will not be legally necessary for the cargo to be screened again when it is received by the ground handling agent, since the implemented security measures are deemed to be sufficient. "However, what usually happens is that the ground handling agent will in any case X-ray the cargo as they are employed by the aircraft carrier and may have been instructed to do so. No charge may be raised for this security screening since, in theory, it is not required."
It is important, says Alexander, that the staff of known consignors are carefully screened to ensure that they do not have a criminal record. The same criteria are applied to ground clearance employees and they additionally need to undergo aviation awareness and dangerous goods awareness training. In all cases there should be a designated official employed or contracted by the regulated agent who is responsible for all security screening and compliance of cargo.
Incoming
Alexander says that cargo coming into the country would be deemed secure if it has originated from one of the ICAO's Member States that applies similar security measures. "Security measures are applied at the point of origin, not at the point of receipt. On arriving in South Africa, it will simply be subjected to our customs control procedures.
"In the case of what is deemed transit cargo, in other words, cargo that originates from a Member State but is bound for another country, the cargo is never actually unloaded from the aircraft and therefore will not be subject to either our customs controls or security measures. The onus is on the operator to ensure that cargo is secure, not the regulatory authority."
He adds that with respect to transfer cargo, it would be placed in a bond warehouse which has an equivalent level of security and there would be rescreening of the cargo if there is any in doubt about its compliance with regulations, before onward carriage takes place.
Doing it right
Alexander points out that a secure supply chain potentially prevents delays in cargo being shipped out of the country. However, if the cargo has triggered an alarm when being screened by the X-ray machine or detection dogs, or the tape or seal is found to be damaged, then it will be held back and the entities responsible for its security will be alerted and instructed to ensure that the cargo is made secure.
"Often, the reason for a delay in transporting cargo via air is not a security one but rather one of safety compliance. There are 4 500 items defined as a Dangerous Goods by ICAO and the South African regulations and any cargo containing these items will only be considered safe to transport if the cargo is packed and shipped correctly. We find that because it costs more to transport these dangerous items, people may often be tempted not to declare them. However, once these items have been discovered and (1) the cargo has not been made secure and/or (2) there is no documentation stipulating that it qualifies as Dangerous Goods, then these goods will be returned for the attention of the responsible party for proper packaging and documentation," Alexander explains.
This naturally causes delays in the shipping of the cargo and therefore in order to ensure that cargo is moved along the chain as quickly as possible, proper packaging and sealing procedures, in accordance with regulations, should be followed. In addition, if dangerous goods are to be shipped, this must be stipulated on the necessary documentation for review by the handling agent or the known consignor.
"Finally, one should be able to match the documentation with the contents of the cargo. Common sense, logic and integrity are basic attributes which people shipping goods via air should possess, thereby ensuring the expeditious delivery of their goods to the destination," concludes Alexander.
Credit(s)
Further reading:
Putting secondary storage to work
September 2019 , IT infrastructure, Security Services & Risk Management
By 2022, more than 80% of enterprise data will be stored in scale-out storage systems in enterprise and cloud data centres, up from 40% in 2018.
Read more...
---
ContinuitySA offers Complete Continuity Practitioner in October
September 2019, ContinuitySA , Training & Education, Security Services & Risk Management
ContinuitySA is offering its popular five-day Complete Continuity Practitioner Programme on 21-25 October 2019 at its offices in Midrand.
Read more...
---
South Africans are urged to be aware when it comes to fraud
September 2019 , Home Security, Security Services & Risk Management
Recent statistics shows that while some forms of fraud are decreasing, there is a sharp increase in other areas.
Read more...
---
Distributed architecture lowers TCO, increases scalability
September 2019, Technews Publishing , CCTV, Surveillance & Remote Monitoring, Transport (Industry)
Faced with a number of security challenges and planned future expansion, a major airport decided it was time to implement a scalable security surveillance solution.
Read more...
---
TAPA: The role of an effective treasury function in business risk management
June 2019, Technews Publishing , News
Neil Le Roux, the Founder of Diligent Advisors will speak at the TAPA SA (Transported Asset Protection Association) annual conference on 26 July 2019.
Read more...
---
From the editor's desk: More things change
September 2019, Technews Publishing , News
Welcome to the CCTV Handbook 2019. This year's handbook breaks a long tradition of publishing the handbook in the first half of the year by releasing it along with the October issue of Hi-Tech Security ...
Read more...
---
A platform approach to innovation and value
September 2019, Technews Publishing , Editor's Choice, CCTV, Surveillance & Remote Monitoring, Integrated Solutions, IT infrastructure
Moving to the platform model of doing business holds tremendous advantages for end users and smaller developers, but also for the whole technology supply chain.
Read more...
---
Open does not always mean easy integration
September 2019, VERACITECH, Technews Publishing , Editor's Choice, CCTV, Surveillance & Remote Monitoring, Integrated Solutions
Customers who opt for best-of-breed solutions will have to rely on their integrators to develop customised integrated solutions for them.
Read more...
---
The impact of AI on the surveillance industry
September 2019, G4S South Africa, Hikvision South Africa, Myertal Tactical Security, Technews Publishing , Editor's Choice, CCTV, Surveillance & Remote Monitoring
What the impact of AI will be on companies, the services and solutions they supply, as well as on the jobs people do.
Read more...
---
Video analytics and AI
September 2019, Axis Communications SA, Dallmeier Electronic Southern Africa , Hikvision South Africa, Technews Publishing, Dahua Technology South Africa , Editor's Choice, CCTV, Surveillance & Remote Monitoring, Integrated Solutions
Artificial intelligence has the potential to deliver real benefits in the world of video analytics and many companies are already delivering customer benefits.
Read more...
---