printer friendly version
Buy local and unlock vast economic empowerment
August 2018
Editor's Choice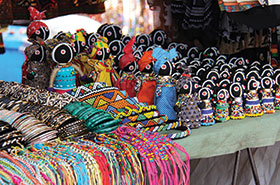 Are we wasting a golden opportunity to inject some pride and revenue back into our country? South Africa's local manufacturing sector has so much to offer in terms of employment, growth and development, as well as export opportunities.

Gus Brecher.
There's a global opinion that countries no longer need to industrialise to accelerate growth and development. However, in South Africa, we know that local manufacturing remains a core driver of GDP growth and direct employment opportunities.
Local manufacturing also positively impacts on the services sector, thanks to a rising demand flowing from a growing GDP. Think of peripheral industries such as medical aid organisations, property management companies, security and cleaning services, electricity departments, water and sanitation departments, insurance providers, furniture companies, stationery suppliers, the quality assurance industry, local sub-contractors, law firms, accounting firms … the list goes on.
The bottom-line is that manufacturing creates jobs, and lots of them. If just one breadwinner per average South African household is employed by the manufacturing sector, that job will support at least four other South Africans.
Export potential
Local manufacturing also generates foreign revenue for the country when the products manufactured are exported. Even products only used locally have a positive impact on the import/export trade ratio of the country.
The sector has the capacity to generate significant foreign revenue through exporting. Exporting local products has the potential to help improve the global competitiveness of South African companies and tap export-led economic growth benefits. Local organisations still feel that there is a lack of support and general apathy from government, public and private sector companies towards exporting home-grown products, but there are signs of hope.
Last year saw the launch of the Department of Trade and Industry's (DTI) Integrated National Export Strategy (INES), which aims to help improve the global competitiveness of South African exporters. The goal is to attain a 6%-a-year export growth target by 2030 envisaged by the National Development Plan (NDP).
In his state of the province address in February, the KwaZulu-Natal Premier, Willies Mchunu, said that provincial government remains committed to radical economic transformation to ensure inclusive, expanded and sustained economic output that creates more jobs. The provincial government's short-term focus, he added, would be on manufacturing, agriculture and tourism.
However, local industries are saying it's not sufficient. The agricultural industry, particularly local and independent farmers, are not getting nearly enough support. If government prioritised such businesses, it would help boost local township economies and assist locals to create employment.
Calling for interventions
The local manufacturing sector still needs government intervention to ensure its survival. Having almost been brought to its knees by an influx of cheap Chinese imports, the South African textile, clothing, leather and footwear sector has experienced a resurgence after seven long years.
This revival was as a direct result of the introduction of the government's Clothing & Textiles Competitiveness Programme (CTCP) in 2010, which has given local industry players a much-needed shot in the arm and laid out a platform from which to launch a competitive sector.
The local manufacturing sector has endured one of the toughest economic periods over the past year. Operating in a landscape characterised by economic downgrades, strike action, competition from cheap importers, political and leadership instability, and a lack of access to export markets, have taken their toll.
We need to guard our local sector and follow a similar approach as those taken by countries such as: Russia, Israel, Australia and even the United States. Buying local does not mean compromising on quality. There are in fact several local products that are developed, engineered and manufactured far better than their imported competitors. And that's to say nothing of the superior service and support you'll receive as well.
Getting behind local suppliers
There are several local manufacturing companies, including ours, who are doing very well exporting products, and I do also understand the benefits of the bi-lateral trade deals, as well as the need for cost effective goods for the people of the country. But it's still a concern that the potential to grow a strong local manufacturing sector that will benefit our country is being paid lip-service by the people who really can make a difference.
Local manufacturing has the power to unlock vast economic empowerment, growth, job creation, export opportunities and investment. As one of South Africa's largest economic sectors and with its labour-intensive characteristics and other socio-economic benefits, it has the power to create jobs and export opportunities faster than any other sector."
For my part, I believe that I need to practice what I preach, so I buy local wherever possible. As a consumer that supports local business, you will experience numerous benefits that you don't get from shopping at enormous national and international chain stores. These include: healthier food products that are free from pesticides and other harmful chemicals, the sense of satisfaction that comes from putting money back into the local community, you also get a more personalised and satisfactory customer service experience.
If everyone in this country has the same mind-set, I believe this will have an immense positive effect. Right now, the clothes I am wearing are all locally manufactured (even my jeans), our home is stocked with local produce, and even the toothpaste in my bathroom is local. Can you say the same?
For more information contact Cathexis Africa, +27 31 240 0800, sales@catafrica.co.za, www.cathexisvideo.com
Gus Brecher has been involved in local manufacturing companies for more than 25 years and is a director of Cathexis Technologies, a global supplier of video surveillance management software systems.
Credit(s)
Further reading:
Integrating security with financial operations
Issue 3 2020, Technews Publishing, Hikvision South Africa, Cathexis Technologies, Axis Communications SA , Financial (Industry)
Hi-Tech Security Solutions approached a number of companies to find out what they are doing to enhance the value their security technology provides to financial companies.
Read more...
---
Four financial risks for the future
Issue 3 2020, CA Southern Africa , Editor's Choice
Gregory Dellas, security presales consultant at CA Southern Africa, highlights four areas of cyber-risk the financial industry will face in 2020 onwards.
Read more...
---
Securex postponed to August 2020 due to COVID-19
Issue 3 2020 , Editor's Choice
Specialised Exhibitions has opted to reschedule its Securex South Africa, A-OSH Expo and Facilities Management Expo trade shows to 18 to 20 August 2020.
Read more...
---
Leaders in risk & security: Yesterday's achievement, tomorrow's standard
Issue 3 2020, Technews Publishing , Editor's Choice
Jack Edery ran a successful security distribution company and developed a team that was the envy of his competitors.
Read more...
---
The impact of the COVID-19 virus on security
Issue 3 2020, Leaderware , Editor's Choice
The social and personal implications of the COVID-19 Corona virus has already had a devastating impact on countries, social institutions, communities, businesses and individuals.
Read more...
---
85% of South African businesses are vulnerable to disruption
Issue 3 2020 , Editor's Choice
Disruption is an inescapable and growing threat across industries in South Africa. Accenture's 2020 Innovation Maturity Index shows that the majority of South African companies are vulnerable.
Read more...
---
Round table: Secure identification and authentication
Issue 3 2020, Technews Publishing, Dahua Technology South Africa, Suprema, neaMetrics, ViRDI Distribution SA, ZKTeco , Editor's Choice
Hi-Tech Security Solutions hosted a round-table specifically to look at what is happening in the world of secure identity verification and authentication.
Read more...
---
Driving success in turbulent times
Issue 3 2020 , Editor's Choice
It's time to strap on innovation and digital, and stride into the opportunities that lurk within a stagnant market.
Read more...
---
Tech Trailblazers Award winners announced
Issue 3 2020, Technews Publishing , Editor's Choice
The Tech Trailblazers Awards winners were announced recently, recognising outstanding early-stage companies across 10 major enterprise technology categories.
Read more...
---
IRMSA launches Risk Report for 2020
Issue 2 2020 , Editor's Choice
The Institute of Risk Management South Africa (IRMSA) has launched its sixth annual risk report, the IRMSA Risk Report SOUTH AFRICA RISKS 2020.
Read more...
---