printer friendly version
Advances in NVR and VMS capabilities
July 2018 Editor's Choice, CCTV, Surveillance & Remote Monitoring, IT infrastructure, Products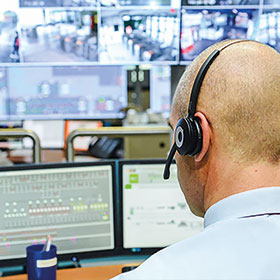 When IP cameras hit the mainstream, there began an evolution from the digital video recorder (DVR) to the network video recorder (NVR). At some level they boil down to the same thing: a DVR records analogue camera feeds while an NVR records IP video streams, but the differences do go beyond just a matter of terminology.
NVRs tend to be cheaper and more reliable, for example, as they don't require the analogue-to-digital conversion circuitry of a DVR, and their hard drives are less prone to failure because they don't need to record continuously the way a DVR does. Detailed analyses of the differences between DVRs and NVRs can be found if one is interested in learning more on the subject, but that is beyond the scope of this article. Rather, it is concerned with looking at some of the advances happening in the NVR and VMS (video management software) sphere, and the latest-cutting edge products available. What follows are the views of five of South Africa's leading NVR and VMS providers.
Arecont Vision
"AI (artificial intelligence) is beginning to play a significant role in the VMS realm, as efforts are being made to implement self-learning algorithms on VMS stations as a way of mitigating the risk associated with relying on a person to monitor a system," says Arecont Vision's Johan Crause, regional director – Africa and Middle East.
"In the wake of the scandal involving Facebook and Cambridge Analytica, another area that is receiving plenty of attention is data protection. When it comes to CCTV surveillance this is particularly tricky, as it boils down to a balancing act between the desire to keep people safe and the risk of infringing on their privacy. As a direct example of this, consider the push in Europe in particular to implement masking algorithms for facial recognition applications, to prevent people recorded by a camera from being identified.
"This is all well and good in terms of protecting your privacy, but what if you are the victim of a crime and you cannot be identified from camera footage because your face is blurred out? The South African security industry needs to consider these issues as we move closer to the implementation of PoPIA (the Protection of Personal Information Act)."
Arecont recently launched ConteraVMS, which was developed to meet customer demand for a cost-effective VMS, and is complemented by the ConteraCMR range of four customisable NVRs supporting from 8 up to 128 channels. Depending on the model, between 20 TB and 80 TB of onboard storage is provided, in addition to RAID 5 redundancy support on all but the base model.
Tying the VMS and NVR platforms together over the cloud is ConteraWS (web services). ConteraWS enables recording to occur locally on a ConteraCMR platform or third-party compliant server running ConteraVMS software. The ConteraCMR recorders can be accessed remotely over the local area network just as in a traditional video surveillance solution, and the system can be securely reached from anywhere via a choice of a thick client, mobile apps, the Apple TV app and a multi-browser web client. Video can also be stored in the cloud for important clips, then shared as needed.
Cathexis Africa
Gus Brecher, managing director of Cathexis Africa, says the company's main driving factor is improving command centre efficiency and effectiveness. The key element in achieving this involves integration with third-party products to bring many systems together. "We place a lot of emphasis on leveraging our partnerships with third-party companies in the domains of access control, electric fencing and so on," he says.
"Being a South African company we have a focus on PoPIA, with the goal of ensuring the integrity and traceability of data when it comes to any video exporting or archiving that takes place. On the cybersecurity side we build a lot of security into our software between our modules, and between the client and the server, to make sure that data connections are properly encrypted and digitally signed."
In order to provide video analytics that aid decision-making, Cathexis has developed smart tools for its VMS software to make it easier for operators to navigate systems and video footage. These include adjacent camera mapping which allows multiple cameras to be grouped together geographically, so instead of an operator hopping from one camera view to another, they are presented with a natural flow across multiple cameras.
Smart search functions further ease operation, for example motion search which identifies if there has been motion in a certain area, and snap search which is a thumbnail search that allows an operator to easily drill down when there's been an incident or an object that's been left. An activity trail function is also available, which overlays a colour coded trail of where the last motion in a scene was, and depending on the colour, how long ago that motion was on a particular camera. Cathexis has also developed deep learning analytics that do things like dynamic background modelling to minimise false alarms in applications such as perimeter detection.
Forbatt SA
According to Forbatt SA's Vaughn Tempelhoff, focus has shifted away from NVRs to some extent as analytics functions are moving onto the cameras themselves. "It's almost a case of the NVR being regarded more as a display, manipulation and storage device," he says. "Of course, one can't talk about these things without confronting the topic of cybersecurity. It is an undeniable concern and on the NVR side most vendors have addressed it by adopting the approach of forcing the user to change the password from the default password upon initial startup. Even if your NVR doesn't enforce this policy, I strongly urge people to adopt this policy as a standard practice – in my experience many people still don't.
"Features that are in high demand nowadays include cloud services and an emphasis on making setup and changes to settings easy. At the end of the day it shouldn't require a degree to set up remote viewing, even someone with limited IT knowledge should be able to do it without having to do things like port forwarding."
Forbatt SA recently secured the South African agency for NUUO, whose products Tempelhoff says have analytics features such as distinguishing between human and non-human objects in an area, setting up alarms for people not allowed in certain areas, and people counting.
Forbatt SA also distributes the TVT range, which boasts a time slice feature with a pyramid structure allowing a user to identify a rough time period of interest, then drill down to successively shorter time periods to find the precise moment when a handbag was stolen from a shop counter, for example.
Hikvision
"In the past most AI technology has been based on the software side, but we are making a push to intelligently integrate AI into our products," explains Hikvision product marketing manager, Toby Chao. "An example of this is an NVR we have released targeted at perimeter protection, which allows for recognising whether an object is a human, vehicle or other. This application of AI technology makes a CCTV system more effective by minimising the occurrence of false alarms.
"Another essential application of AI is in the area of facial recognition. We not only offer CCTV cameras with facial recognition analytics built-in, we also have a facial recognition NVR that gives users with standard cameras already installed the possibility to easily and cost-effectively upgrade their system with facial recognition – the analytics just happen on the NVR instead of on the camera or VMS."
Hikvision has also been focusing on enhancing the ease-of-use of its products, which has culminated in an overhauled GUI (graphical user interface), implemented in version 4.0 of its firmware. The interface is now quite similar to the familiar Windows operating system, meaning it is no longer the case that users will require additional training on how to operate the company's systems.
The cutting edge of Hikvision's technology is represented by DeepinMind, a range of products that utilises deep learning techniques. One particular high-end model in this range is the iDS-96128NXI-I24 with face picture comparison, human face capture and face picture search, in addition to other analytics functions. The recorder provides 32-channel face picture comparison alarm, and supports up to 32 face picture libraries and 300 000 face pictures. It also boasts full channel recording at up to 12 MP resolution and 16-channel synchronous playback at 1080p resolution.
Uniview
Uniview product manager, JT Reinders, says video resolution is an important differentiating factor in the NVR market. "As it is becoming more important for IP cameras to capture video at resolutions in the range of 12 MP because of the amount of detail provided at these high resolutions, it is equally important that NVRs are up to the task of recording and decoding such high-resolution streams.
"This, combined with the fact that some clients require long recording history, imposes a significant requirement on the amount of storage space provided. On Uniview's NVRs you can have up to 16 hard drive bays, extendable to 48 with an enclosure unit, which you can add on via mini-SAN. Another important feature when it comes to storage is the redundancy provided by RAID, in combination with hot-swap-ability to make replacements easier in the event of a hard drive failure. Reliability is further enhanced in higher-end models through the addition of redundant power supplies," he says.
Nowadays there are three primary modes for connecting an NVR to a network, Reinders continues:
1. Load balanced mode which will balance the throughput the NVR is receiving.
2. Fault tolerance mode, so for example if an intruder cuts a cable running to the NVR, it will flip to the other port and keep recording.
3. Multi-address mode, which some system integrators like because they want to connect one port to their local network and a second port just to the cameras in order to separate them from each other.
Some high-end Uniview recorders provide the ability to power an entire video wall, something which was not possible in the past, with up to 14 HDMI screens attached to a single NVR. As advanced as features become, Reinders says it is a constant objective to make NVRs as user-friendly as possible, such as making camera management easier by copying and pasting settings rather than setting up each camera individually. On the security side, the NVR should support black and white lists, and incorporate features such as automatic lockout when the wrong password has been entered a certain number of times.
For more information contact:
• Arecont Vision, +27 82 553 9338, [email protected], www.arecontvision.com
• Cathexis Africa, +27 31 240 0800, [email protected], www.cathexisvideo.com
• Forbatt SA, +27 11 469 3598, [email protected], www.forbatt.co
• Hikvision South Africa, +27 10 035 1172, [email protected], www.hikvision.com
• Uniview, +27 84 835 0010, [email protected], http://en.uniview.com
Credit(s)
Further reading:
Turkish university installs IDIS surveillance
CCTV, Surveillance & Remote Monitoring Products
IDIS video streamlines complex surveillance systems for learning institution, upgrading a 350-camera system with 24/7 control room monitoring to transform security for Social Sciences University of Ankara (ASBU).
Read more...
---
Brighter, greener, and smarter
Dahua Technology South Africa Products CCTV, Surveillance & Remote Monitoring
Dahua Technology released its new Dahua CH II Series Indoor Fine Pixel Pitch LED display, providing visual clarity and promoting energy efficiency and sustainability.
Read more...
---
Paratus signs re-seller agreement with Starlink for Africa
News IT infrastructure
Pan-African telco and network services provider Paratus Group announced it has entered an agreement as a distributor for Starlink's high-speed services across the African continent, available immediately in Mozambique, Kenya, Rwanda and Nigeria.
Read more...
---
Helping retailers optimise monitoring and security
Guardian Eye Retail (Industry) CCTV, Surveillance & Remote Monitoring
From a smart retail perspective, it is crucial to understand that monitoring stock and other assets through camera surveillance and a variety of Internet of Things (IoT) sensors stretches further than the stores themselves.
Read more...
---
What South Africans need to know about smart devices
Technews Publishing Editor's Choice
We live in a world surrounded by smart devices, from our pockets to our driveways and living rooms.
Read more...
---
The state of edge security report
News IT infrastructure
Edge computing has grown from being a niche use case in a handful of industries to offering a major opportunity for enterprises across industries to spread computing power around the world.
Read more...
---
Long-distance connectivity with Simplex ES Net Life Safety
Johnson Controls Global Products Fire & Safety Products
ES Net Network Bridge allows fire alarm system data to be transmitted across distant buildings via a customer's existing network infrastructure, improving system-wide monitoring and control in facilities and campuses where life safety networks are often widely dispersed.
Read more...
---
Visitor management via QR code
ATG Digital Access Control & Identity Management Products
ATG Digital has launched its QR Code Reader to enhance access control's security and efficiency. The new QR Code Reader enables seamless, contactless access control, creating an efficient user journey.
Read more...
---
District secures activity centre
Paxton Access Control & Identity Management Products
Paxton's Net2 access control solution is a user-friendly and flexible networked access control system, which made installing and managing access control security at an activity centre straightforward.
Read more...
---
Manage security systems remotely
Hikvision South Africa CCTV, Surveillance & Remote Monitoring IT infrastructure Products
Hikvision launched a new generation of smart managed switches that, in conjunction with the Hik-Partner Pro mobile app, enable installers to remotely deploy and configure security systems with comprehensive operation and maintenance capabilities.
Read more...
---