printer friendly version
Where safety, security and Industry 4.0 meet
July 2018 Editor's Choice, Integrated Solutions, Industrial (Industry)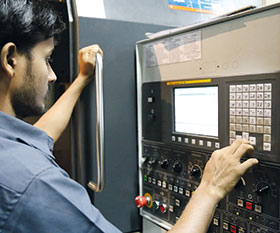 Manufacturing plants and other industrial facilities are subject to a broader risk profile than almost any other type of business. Over and above the usual security concerns, they are often inherently hazardous environments with heavy machinery, high voltages and in some cases materials at extremely high temperatures.
The Internet of Things allows more and more data to be gathered from connected devices, but this is a double-edged sword. On the one hand, it poses a risk in and of itself in the form of data security. Industrial plants have been particularly victimised by cyberattacks in recent years, with some having had to cough up small fortunes to be released from ransomware and others having their operations meddled with or even shut down entirely.
The upside is that, if done smart, this data can be used to improve operations in numerous areas, as we found out by talking to Brendon Cowley, business development director at C3 Shared Services; Rivash Raghubir, general manager at RR Electronic Security Solutions (RRESS); and Ernest Mallett, regional sales director at Tyco Security Products.
Safety first?
According to Raghubir, security is taking a backseat to safety as the main driver when it comes to the innovative application of available technologies. "Companies are faced with the situation that there is a higher risk penalty for a person getting injured on their site than protecting the site itself from intrusion. Don't get me wrong, security is still a core function, but the reality is that when companies are looking to tighten the purse strings, security is often the first budget to get cut, whereas the safety budget takes priority," he says.
An example he gives of how technology is being multitasked comes in the form of a symbiosis between access control and time and attendance. When entering or leaving a site, facial recognition can be used to clock people in and out, which gets around the issue of people swiping someone else's card to fool the system into believing they were at work when they actually weren't.
It goes far beyond this though. "What we're currently doing is taking analytics to the next level," says Raghubir. "People are boasting about analytics like line crossing and presence sensing and licence plate recognition, but what we're taking a step forward in doing now is monitoring people for a hardhat and eye goggles in a particular area, and using those analytics as a safety measure to not open an entrance door for someone without the correct PPE (personal protective equipment)."
Similarly, Tyco has enjoyed much success with large multinational manufacturers in providing enterprise class access control, says Mallett: "We're not talking about your general everyday access control where the only thing a person needs is to scan a tag at a reader to gain access to a building. Our customers are worried about a lot more and they're also using our access control systems to make their businesses better. The distinction between physical and logical access control comes into play here, so for example a company's ERP system might not allow an employee to do anything unless it knows they're physically at work."
Cowley believes a shift is happening in the industrial sector when it comes to addressing health and safety issues. "Due to the nature of their operations, some industrial sites require workers to be subjected to health and safety validations such as medicals, polygraphs and alcohol tests. There has long been a shortcoming in the industrial market in this regard, but systems are now becoming sophisticated enough to start addressing those corporate governance needs."
Integration matters
The key to addressing those needs, Cowley continues, lies in bringing disparate systems together into a seamless whole. "The push nowadays is to have an intelligent layer above all the different subsystems like access control, perimeter surveillance, intruder detection, etc., and making sure the correct information gets to the operators so the correct decisions can be made. The challenge in bringing all these systems together into a single command centre is that there is no standardisation of SOPs (standard operating procedures) and there are multiple interfaces.
"What is more, system integrators are often faced with the problem that a client has products and systems from different OEMs, and it can be very challenging to integrate them all together. Displaying information from a system is basic, but full bidirectional control and monitoring, from one command centre is a different story. The security industry is moving a bit closer to open platforms with the likes of ONVIF but that's just the video part – what about all the thousands of commands you get from access control, intrusion and fire systems, for example?" he poses.
Integration is also a key element of the work RRESS does for its clients. "There is a strong focus in terms of integrated solutions," Raghubir says, "and spending once to get two functions – safety and security – is definitely desirable. Features demanded by clients in terms of this integration include biometrics, access control, facial recognition, thermal and perimeter protection.
"Where a client has an existing system, instead of replacing the entire thing we look at different ways of using technology to fit the profiles in terms of safety as well as site monitoring of staff. There's no reason why a camera or access point that monitors for the correct PPE can't also be used to restrict access to an area by unauthorised people."
Mallett believes that Tyco offers benefits on the integration front in terms of cost as well as reliability. "We own brands covering the spectrum of applications across access control, CCTV and intrusion detection. Those brands work hand-in-glove from a development point of view, meaning that there is no cost to companies in terms of integration. In fact we consider our solution to be more than just integrated – it is truly unified," he states.
That obviates the risk of systems failing when system integrators do not follow the correct upgrade path, for instance if a VMS is updated to a newer version and the access control system can no longer communicate with it. Tyco has also put much effort into ensuring its products are secure from a cyber perspective, and making sure they're ready for PoPI compliance, according to Mallett.
Powering Industry 4.0
The push towards smart manufacturing, commonly referred to as Industry 4.0, is seeing not only an ever expanding proliferation of IoT-enabled devices, but also innovation in terms of applying technologies. "It is absolutely the case that traditionally security-only systems like CCTV cameras are being utilised more and more to fulfil a productivity role," Cowley states. We're doing quite a few nice things where we give certain people certain user rights to monitor certain things, and you can have specific analytics just for production purposes, for fire purposes, for security, etc.
"Then you can also start applying certain layers of intelligence, so we can do things like pattern recognition, e.g. if something goes off and ten people walk there and this happens and that happens then it represents a security issue. The same can be done for production purposes, where you can identify certain trends and statistics, and can also extend to inventory management, where character recognition can confirm that a product has arrived at its destination."
Another example offered by both Raghubir and Mallett is the use of a camera to monitor a production line, so that if there is a bottleneck or other problem, an alarm can be raised. Yet another example is monitoring a machine's temperature to ensure it doesn't go above a certain level, thereby performing a dual safety and preventative maintenance function.
There is no doubt that concepts like Industry 4.0, the Internet of Things, and big data are game changers for the industrial sector, and are increasingly being put into practice. As innovative ways of applying them continue to be developed, manufacturing companies will continue to reap the rewards of better efficiencies and ultimately lower operating costs.
For more information contact:
• C3 Shared Services, +27 11 312 2041, [email protected], www.c3ss.com
• RR Electronic Security Solutions, +27 11 794 2825, [email protected], www.rress.co.za
• Tyco Security Products, +27 11 026 9476, [email protected], www.tycosecurityproducts.com
Credit(s)
Further reading:
Smart water management
Axis Communications SA CCTV, Surveillance & Remote Monitoring Integrated Solutions
South Africa is currently facing a water crisis, with scarcity and inefficient water management posing significant challenges to sustainable, consistent access to water. Smart technology and powerful partnerships may offer a proactive solution to SA's water crisis.
Read more...
---
What South Africans need to know about smart devices
Technews Publishing Editor's Choice
We live in a world surrounded by smart devices, from our pockets to our driveways and living rooms.
Read more...
---
Empowering Istanbul's public transportation
Dahua Technology South Africa CCTV, Surveillance & Remote Monitoring Integrated Solutions
Dahua's intelligent transportation solution, using technologies like DSM and AI-based passenger flow counting, has facilitated an intelligent system upgrade for nearly 6 400 minibuses and electric buses in Istanbul.
Read more...
---
Smart manufacturing redefined
Hikvision South Africa CCTV, Surveillance & Remote Monitoring Industrial (Industry)
AI and intuitive visualisation technology allows managers to monitor manufacturing sites, production, and operational processes, and to respond in real time in the event of an issue – helping to drive efficiency and productivity.
Read more...
---
CHI selects NEC XON as trusted cybersecurity partner
News Cyber Security Industrial (Industry)
CHI Limited, Nigeria's leading market player in fruit juices and dairy products, has engaged in a strategic cybersecurity partnership with NEC XON, a pan-African ICT systems integrator.
Read more...
---
Collaboration delivers integrated and holistic security
Guardian Eye CCTV, Surveillance & Remote Monitoring News Integrated Solutions
Guardian Eye and Lytehouse have partnered to integrate their speciality solutions and provide a holistic security offering that overcomes the fragmentation of security systems and services.
Read more...
---
From overwhelm to oversight
Editor's Choice Cyber Security Products
Security automation is vital in today's world, and Microsoft Sentinel is a widely adopted, but complex answer. ContraForce is an easy-to-use add-on that automatically processes, verifies and warns of threats round-the-clock.
Read more...
---
Synology enhances functions for advanced surveillance integration
Technews Publishing CCTV, Surveillance & Remote Monitoring IT infrastructure Products
With the capability to function as both an API client and server, Surveillance Station offers a versatile platform for integration, whether it's embedding video streams into other platforms or overlaying external data onto recorded video.
Read more...
---
Planning for the worst is key to success
Technews Publishing Security Services & Risk Management
Planning for the worst is key to success when disaster strikes. Amidst frequent load shedding and often unpredictable stages of power outages, many businesses are concerned about the possibility of a total blackout.
Read more...
---
SMART Surveillance Conference 2023
Technews Publishing Editor's Choice CCTV, Surveillance & Remote Monitoring Conferences & Events
Some people think the future is all about cloud technologies, but the SMART Surveillance conference demonstrated that AI is making edge surveillance much more attractive, over distributed sites, than ever before.
Read more...
---