printer friendly version
Guarding your time with WFM solutions
June 2018 Editor's Choice, Access Control & Identity Management, Asset Management, EAS, RFID, Integrated Solutions, IT infrastructure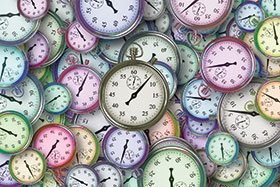 Whether it's a patrolling security guard, a driver, contract cleaning staff or a service technician, you can't always be sure that they are actually doing the job you are paying them to do. Or can you? Workforce management solutions ease some of the burden of out-of-sight-out-of-pocket costs for companies by instituting simple or complex checks to ensure that schedules are followed to the letter.
Thomas Marshall of Econz Wireless says that his company focuses primarily on GPS tracking, with several solutions available from entry level to enterprise level. The company's basic product – Timecard Checker – works on an Android phone and is ideal for mobile workers. He explains that, when the guard arrives for his shift, he opens the app on his device, clicks on his name, enters a code and takes a photo of himself to prove that he is on site. By using a PIN code and photo capture, buddy clocking in is drastically reduced. At the end of the shift he repeats the process.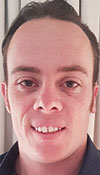 Thomas Marshall
Timecard GPS and Timecard Lite have higher end features that include GPS functionality. Timecard GPS is suitable for multiple employee scenarios while Timecard Lite is for use by one person, working alone on a site. Both solutions provide job costing and time-and-attendance (T&A).
Similar to the entry-level system, at the start of his shift the security guard clocks in on his app with a device ID and takes his own photo. However, because of the GPS capability, he will now be monitored as he patrols on site. The solution also offers functionality such as GPS clock in lock, geofencing, idle time triggers, speed triggers, device static triggers, payroll integration, timesheet signoff and sick/annual leave request forms.
The solutions have PIN code alert prompts that will allow management to determine whether a guard is awake or unable to answer the PIN code request because he has been incapacitated by criminals. Other benefits of the solution include the ability to provide mobile forms such as a site inspection form, as well as an emergency button activated via the app on all devices that allows the guard to send an automated emergency SMS or email or to management or the control centre.
Breadcrumb trails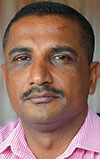 Neville Naidoo
Neville Naidoo, national operations director at Excellerate Services, says that their systems are used in a number of sectors and they believe that best practise in workforce management solutions would be a tracking system that has a breadcrumb trail.
"In this way, one could, in the logistics sector for instance, offer advanced insight into a driver's on-road performance. At every turn, curve and stop the technology would record all driving details and compare the derived data against the company policies defined in the software.
This will allow fleet management by exception and highlights if something is outside the company policy."
He continues that with a simple tap of the key reader, the system's driver ID solution allows reporting by either the driver or the vehicle asset itself, using RFID security tags. Near field communication (NFC) technology keeps track of each driver's productivity and on-road safety, irrespective of the vehicle they are driving. "Excellerate also assigns a dedicated staff member to the monitoring of vehicle exceptions and routes to ensure that drivers are physically where they should be and that they are following the rules of the road."
According to Mike Ellison of Bytes Systems Integration, the company's solutions are perfect for mobile staff that regularly go to sites, such as cleaners, security guards and technicians. Using a smartphone or tablet, the users log into the Kronos app for digital clock in and clock out. Geofencing allows management to determine where staff members are when they make the transaction and, if the location is deemed to be incorrect, then the system will highlight this and create an alert.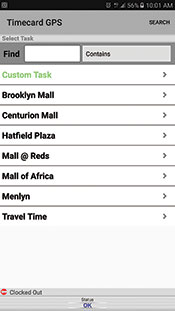 So now a security guard for instance, is clocked in on site, but how do you actually ensure that they are doing what they are supposed to be doing? Naidoo says that by issuing each guard with a patrolling device, it allows management to assign tasks and patrol routes to guards whilst they are on duty. The system issues a checklist which the guard must check off when tasks/route checkpoints are completed.
Duties are assigned according to the employee's job description and ongoing training is provided by compliance officers who regularly visit the guards onsite to ensure that they are competent in the use of the devices. Inspectors are also responsible for conducting check-ups at various time intervals to determine guard familiarity and compliance with devices. The Prof1t system tracks time and attendance to ensure that guards are on site and the provision of a biometric fingerprint code or one-time PIN (OTP) allows the system to 'book on' specific staff members for that particular shift.
Marshall says that the company's systems monitor how far a guard has moved, and geofencing provides feedback when the guard enters the prescribed locations. "Many of our clients place identifiable stickers on walls at specific points on the guard's route. The guard is then responsible for taking a photo of these stickers as he reaches that checkpoint, thereby providing evidence that he has completed that portion of the patrol route. Because each client's needs are different, we build functionality on the app around each request."
Similarly, when technicians are sent to site to install or fix something, it is often difficult to ascertain in real time whether the job has actually been done. Naidoo says that when technicians are assigned jobs, these can be tracked according to a booking board within the app. Therefore, when technicians receive a callout they will be tracked against a specific job card which needs to match the audit. In instances where it does not meet the specifications, an alert will be sent to management.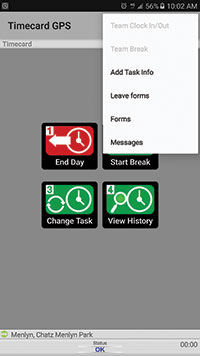 "It's also important that the service provider follows up with a phone call to ensure that the customer is satisfied and that checks are performed through predetermined testing methods that have been arranged with the control centre and allocated a reference number. Sales can be tracked according to a file which is delivered through a procurement system," Naidoo explains.
Marshall says that Econz has developed the EService web-based software to enable field service teams to receive and respond to customer work orders. EService allows mapping, monitoring and GPS tracking of technicians. The service allows technicians to answer questions sent by management or dispatchers and then allows them to send a response.
Once a technician is on site they can send photos of the immediate environment and of any damage incurred to equipment, together with information on the damage. They can also then obtain and capture the signature of the customer's device and send this data to the controller. Each photograph is time stamped to ensure authenticity in real time. This method of capturing data saves critical time on documentation and ensures a faster completion to billing process, thereby saving money and increasing efficiency.
Ellison says that Kronos workforce management solutions work hand in glove with other third-party software to monitor, track and manage employees. One example is the retail workforce scheduler which allows companies to plan staffing requirements based on the specific store, customer, and employee needs.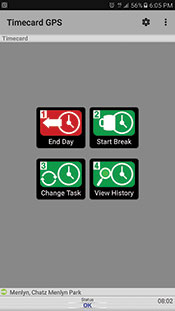 On the go
Mobile technology is playing an increasing role in managing workforce and workflow and a number of operational systems are now available through mobile apps. These advancements have allowed companies to capitalise on real-time reporting and incident management. Mobile technology is able to provide on-the-ground staff with the ability to capture incidents and provide pertinent information in real time. Notifications are then sent to the relevant manager who can take the required steps to address the incidents and utilise all pertinent information. Management can also actively track live incidents.
Mobile technology has reduced the need for heavy files and pieces of paper which could be lost or accidentally discarded, thereby creating a verifiable electronic occurrence book (OB). Managers are also able to schedule tasks, verify locations and receive live notifications of non-compliance.
Marshall says that mobile technology as a workforce management tool is constantly growing and such is its popularity that mobile service providers like Vodacom and MTN have assigned teams to enterprise mobility research and development. Interestingly, as the technology advances, the device price points are decreasing, thereby allowing more people to access the market. "Econz is constantly improving its app to keep pace with the rapid pace of technology functionality."
Ellison concurs that there is an increasing adoption of mobile technology for workforce management purposes, allowing users to clock in and out accurately in real time. From a human resources and work scheduling perspective, mobile technology allows the recording of employee activity. Supervisors can remotely authorise overtime and sick leave through the app and similarly, employees can apply for leave remotely, using the mobile app. Work schedules uploaded by supervisors can be viewed by employees on their device, an especially useful tool for shift workers in the hospitality and retail sectors.
Conclusion
While it may not always be possible to see exactly what your security guard or mobile employee is doing on site, the use of GPS-enabled tracking hardware, loaded with a suitable app or software and used in combination with tags and photos of identifiable stickers, can make the documentation and verification of patrolled checkpoints much easier to manage.
For more information, contact:
• Econz Wireless, +27 (0) 82 535 1255, thomasm@econz.com
• Excellerate Services, +27 (0)11 699 8600, info@excellerate.co.za, www.excellerate.co.za
• Bytes Systems Integration, +27 (0)11 205 7643, lise.west@bytes.co.za, www.bytessi.co.za
Credit(s)
Further reading:
The same security assessment for different reasons
Issue 7 2020, Alwinco , Editor's Choice
Like everything else in life, a security risk assessment also has two sides: one is the proactive approach, and the other is the approach taken 'after the fact'.
Read more...
---
A contact-free hotel experience
Issue 7 2020, Technews Publishing , Access Control & Identity Management
Check-in and go straight to your room without stopping at the reception desk at Hotel Sky in Sandton and Cape Town.
Read more...
---
Risk intelligence the key to a sustainable future
Issue 7 2020 , Editor's Choice
Only by building risk intelligent organisations will leaders be able to overcome six distinct global threats identified by the Institute of Risk Management South Africa (IRMSA).
Read more...
---
Profile D for access control peripherals
Issue 7 2020 , Editor's Choice
Profile D provides interoperability for devices such as locks, credential/biometric readers, PIN pads, LPR cameras, door phones, sensors and displays.
Read more...
---
Security investments and culture
Issue 7 2020 , Editor's Choice
Organisations must embed security into the culture of the company and approach security investments with this culture in mind.
Read more...
---
Elastic storage pricing
Issue 7 2020 , Editor's Choice
With elastic pricing, users can switch from one storage model to another without having to pay a premium or a penalty, and without having to physically move any data.
Read more...
---
Use technology as a differentiator
Issue 7 2020 , Editor's Choice
Juni Yan, director of Transport, Logistics and Automotive at BT, shares her insights on how logistics companies can leverage digital transformation to become a real market differentiator – no matter the state of the pandemic.
Read more...
---
Management of PPE allocation made simple
Issue 7 2020, Powell Tronics, Technews Publishing , Editor's Choice
Of all the roadblocks and challenges COVID-19 has introduced us to over the past few months, one of the tasks organisations have to manage is the issuing of PPE to staff.
Read more...
---
No downtime for transport security
Issue 7 2020, Secure Logistics, Technews Publishing , Logistics (Industry)
After a brief downturn in crime due to the COVID-19 lockdown, the transport sector is once again at the centre of a crime spree.
Read more...
---
Warehouse security and the pandemic
Issue 7 2020, Technews Publishing , Logistics (Industry)
The warehousing industry is under intense attack from organised, armed criminal syndicates following the lockdown.
Read more...
---