printer friendly version
What is your CCTV really trying to do?
June 2018 Editor's Choice, CCTV, Surveillance & Remote Monitoring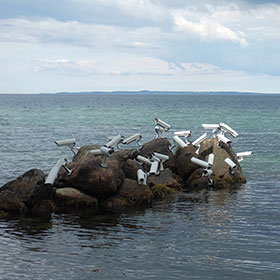 CCTV systems are often taken for granted as part of a security solution. The establishment of a set of cameras and a control room is seen to be a deterrent in itself, and it becomes a routine process that happens the same way every day. In a sense, we need to reinvent the way CCTV is done on a regular basis, to freshen up perspectives, and to realign what we want to get out of our systems.
As part of this, one can consider a number of questions about the systems you are working with. Firstly, are you confident that the camera views that are being displayed are what you think you need in order to deliver results?
This may highlight a number of issues, including the fact that cameras may not really be in the right place at all, that some time ago when being cleaned or due to deliberate actions they are now looking at something totally different from what was intended, that they may have deteriorated to the extent that the view is hazy or possibly doesn't exist anymore, that maybe with a higher megapixel camera you would be able to zoom into areas of interest a lot better than a current view being displayed.
Or you may simply notice that your cameras are in serious need of cleaning, need to be renewed, or you really need some more cameras to cover areas that are in fact quite important. In order to establish any of these things though, you need an idea of what you want to be using the cameras for, and if they satisfy those requirements.
Control room questions
Given that many CCTV control rooms have multiple screens with multiple cameras views per screen, how well can operators look at the camera views displayed? I've discussed the need for a camera viewing strategy on a regular basis, but look at the way cameras are being displayed on monitors (or even displayed at all). From a security management strategy, what purpose does each camera view provide? You may want to contemplate the following questions:
• Do camera views just fill up the screens so things look busy?
• Are they there just to make management feel more secure, or similarly make security feel like they are working?
• Do they give operators a way of evaluating the whole situation easily and quickly?
• Do they provide views allowing detection of warning signs or indications of conditions that may be a problem?
• Can display views actually allow an operator to detect crime actions or see people stealing, and does the current display really allow you to do that when you look at it?
• Do they providing a basis for target selection for more focused viewing?
• Are they just there to act as visual alarms?
• Do they really generate evidence that can be used in court or in an inquiry or are things going to be embarrassing if anybody asks you for footage?
The display of surveillance screens is not a one size fits all solution and different places and events need to be viewed differently to get successes. So do you have the same camera displays day after day, or are they changed for a different surveillance purpose? Do you have the same cameras being displayed or not displayed. Is there any variation for events or different times of day? Are camera views sized differently for different purposes? Have you thought about increasing the size of your display screens, or the number, or are they positioned appropriately for the operators?
Operator processes and capabilities
Do you have the right people looking at camera views, making decisions, and getting results? How were they chosen? Have they ever received any training and is this in line with what you are wanting to get out of the system? How do they report things, does anybody look at what they do, and is it relevant at all?
Are they being led by any kind of viewing priorities or strategy? How can things be improved so they can give you better information? When was the last time you got a successful detection of an incident? Is this acceptable performance? Can you measure performance, and is it in line with what you really want to get out of your system? Do you know what you want to get?
The biggest danger for surveillance is routine, not just for operators viewing screens all day, but generating an environment where the same things are done in the same way without really considering if they are fit for purpose and whether they are generating value. From time to time, take a different view of the systems and the way they are being used. Look at the cameras from where they are being pointed at, and look around you to see what happens there. Get operators to walk the areas they are viewing and come up with suggestions. Try new things, experiment, make things more challenging, and make things more fun. Change expectations.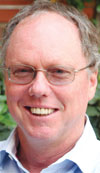 Dr Craig Donald is a human factors specialist in security and CCTV. He is a director of Leaderware which provides instruments for the selection of CCTV operators, X-ray screeners and other security personnel in major operations around the world. He also runs CCTV Surveillance Skills and Body Language, and Advanced Surveillance Body Language courses for CCTV operators, supervisors and managers internationally, and consults on CCTV management. He can be contacted on +27 (0)11 787 7811 or craig.donald@leaderware.com
Credit(s)
Further reading:
Off-grid power solution for residential estate
Editor's Choice Security Services & Risk Management Residential Estate (Industry) Products
Coral Beach Estate, an upmarket residential estate based in East London, has been struggling with load shedding and power outages due to South Africa's energy crisis, as well as the vandalism of its power infrastructure.
Read more...
---
Eleven steps to an effective ransomware response checklist
Editor's Choice Cyber Security
Anyone is a viable target for ransomware attacks and should have a plan in place to deal with a worst-case scenario. Fortinet offers this ransomware attack response checklist to effectively deal with an active ransomware attack.
Read more...
---
Keeping students, staff and communities safe
Vumacam News CCTV, Surveillance & Remote Monitoring Security Services & Risk Management
South African schools are facing increasing security challenges, making effective surveillance systems more important than ever. To address this issue, Vumacam is offering advanced security solutions with security partners, aimed at keeping students, staff, and the community safe.
Read more...
---
Arcules and IMMIX announce integration
News CCTV, Surveillance & Remote Monitoring Products
Arcules has announced that its integration with Immix Central Station and Guard Force is available. The integration provides Central Station and Guard Force users a way to manage, verify, and respond to security events, while using Arcules-managed video feeds.
Read more...
---
Top seven trends for the security industry
Hikvision South Africa Editor's Choice
Expect security systems to become even more deeply integrated and comprehensive, expanding with capabilities that are now shouldering tasks that are more intelligent, to improve efficiency in security as well as other operational functions.
Read more...
---
AI's take on physical security trends
Technews Publishing Editor's Choice
In Issue 1 every year, Hi-Tech Security Solutions looks at expected trends in the security industry, incorporating views from different sources. This year is no different, except we have a new contributor, ChatGPT from OpenAI.
Read more...
---
Developing an effective CCTV control room culture
Leaderware Editor's Choice CCTV, Surveillance & Remote Monitoring Training & Education
Organisational culture in organisations can be seen as the set of values, practices, focus, standards and behaviours, and ways of interacting with others that are accepted and subscribed to by the people who work there.
Read more...
---
Women in Security
Technews Publishing Editor's Choice News
Hi-Tech Security Solutions together with ASIS International's South Africa Chapter, will be focusing on women working within the South African physical security services and information technology sectors during 2023.
Read more...
---
Eagle Eye Networks releases 2023 Video Surveillance Trends Report
Eagle Eye Networks News CCTV, Surveillance & Remote Monitoring
Eagle Eye Networks has released the 2023 Trends in Video Surveillance ebook, identifying five trends that will have the largest impact on businesses around the globe in 2023.
Read more...
---
Enter the 2023 South African OSPA Awards
Editor's Choice News
Nominations for the 2023 South African Outstanding Security Performance Awards (OSPAs) in six categories have been extended and entries can be submitted until 18 April 2023.
Read more...
---