printer friendly version
Trust, but verify
May 2018 Editor's Choice, Security Services & Risk Management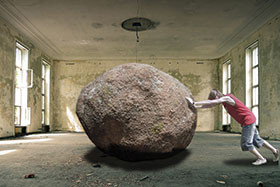 Employing someone is a serious task that can take weeks or even months of work in terms of interviewing people, selecting one or more and then finalising their contract and getting them into the company. Then you need to start training them to work according to the company's policies and procedures and ensure they are able to comfortably do their jobs. On-boarding can take as much as three months before the person is running at full productivity – depending on the position.
What happens after the contract is signed, the employee has been assigned to their desk and kitted out, introduced to everyone and shown how the company operates, and then you discover they can't do the job? Either they used fake credentials or simply lied about their skills, or they are not a good fit culturally and cause problems wherever they go and whatever they do – whether purposely or not.
Alternatively, you find that they provided a fake ID or neglected to mention they had a criminal record and can't be trusted in certain positions; who wants to hire someone convicted of fraud as a bookkeeper, for example?
There is little one can do to make the hiring process simpler, but you can make it more efficient in terms of ensuring the person you hire is who they claim to be, is able to do the job and will fit in with the company's culture and work ethic. Screening potential employees allows a company to gain insight into the real person in front of them and provides an additional level of confidence when making an offer.
Similarly, some companies also screen existing employees on a regular basis to ensure their circumstances have not changed and they are not a risk to the company. Using the bookkeeper example again, if your bookkeeper develops a gambling problem that has wrecked their credit record and has debt collectors at their door, they may be desperate and tempted to devise a scheme that allows them to help themselves to the company's money. Screening will highlight the problem and allow the company to address the person and help them through their crisis.
There are companies that are focused on screening potential employees (or any individuals) and providing a report to their customer (the hiring company) as to their status and capabilities for the position they are being earmarked for. However, screening costs money and there are a host of options when you want to look into who someone is and what their circumstances are.
Jennifer Barkhuizen from Managed Integrity Evaluation (MIE) says the demand for screening is growing and has been increasing consistently over the past few years. She adds that the decision on what to check depends on the company and the position of the person. To allow companies to hire with confidence, they should develop a set process of what checks are required for which positions.
Options for screening
Barkhuizen says the initial screening requests MIE receives are usually for standard criminal record checks as well as verifying the candidate's identity and qualifications – and a driver's licence check if appropriate to their jobs. Added to this are checks to verify their bank account details and employment reference checks. In addition, she notes it is worth checking a person's citizenship or whether they have the legal right to live and work in the country.
Depending on the job, or to gain an overview of the pressures on the person you want to hire, Jenny Reid from iFacts adds that credit checks are also important. However, the rules for supplying credit information changed in 2017 and it is not that simple anymore (see Credit history checks below).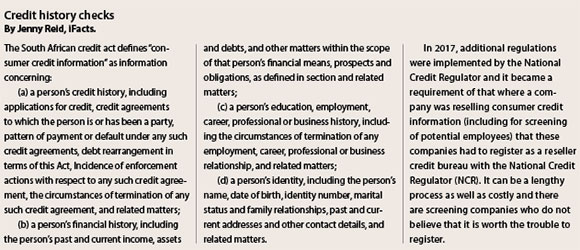 To do a credit check, the company needs to show that the person will be hired in a position in which this is relevant, such as a bookkeeper, adds Barkhuizen.
Reid recommends that companies extend the screening process from these basics to include other checks to gain a better understanding of the person and not only their employment credentials. These can include integrity assessments, behavioural assessments, voice stress analysis and social media risk assessments. Not every employee will have to go through all these tests, but issues like a social media assessment will provide significant insights into the person's character and personality.
Rudi Kruger from LexisNexis Data Services adds that the above checks are a good start, adding that fraud listing assessments are as important as credit checks. The ability to verify qualifications and references gained outside the country's borders are also important as it is easy to obtain a false qualification purportedly from an African university, for example.
He adds that personality tests are also available, however these need to be administered by a trained psychologist to ensure the results are valid and can be trusted.
It's also important to remember that it's not only tertiary qualifications that need to be checked. Barkhuizen says that literacy and numeracy tests are becoming common requests, as are general skills assessments that show if the individual can use a computer, or if they understand what a spreadsheet is, for example.
Digging deeper
There is more vetting that one can do for certain employees, adds Kruger. The next level of vetting of employees would involve your procurement and supply chain departments. Vetting for key conflicts of interest between your vendors and employees is essential for preventing fraud and corruption. Kruger recommends cross matching employees against vendor directors, as well as screening for company ownership not identified by the employee in the employee declaration process.
"Both your vendor and employee database is constantly evolving as people come and go. It is vital to vet these two databases against one another on an ongoing basis to ensure conflicts are addressed and managed as they arise. Our Lexis ProcureCheck solution performs this verification every 48 hours, indicating just how dynamic information can be," Kruger states.
Social media assessments (and any media in general) is important, especially for more senior employees before, during and perhaps even after employment. We have had many examples of people expressing their opinion online and a backlash has resulted against their company. "Adverse media on the senior and executive level is key to reputation management within your organisation," explains Kruger. "By identifying any negative news on your directors, you will be better prepared for any reputation-based issues before they reach the media and are associated with your organisation."
It's worth noting that social media assessments are not only there to catch negative issue about the candidate. Barkhuizen says that finding out that a candidate is involved in charity or volunteer work in their own time, for example, makes a positive impact on the hiring decision.
Post-employment screening
"Once a person is in your employ their circumstances can change and this can create financial risk to the organisation. This can arrive in many ways and often this can lead to reputation damage a company suffers for the bad behaviour of an employee," says Reid. "Ongoing social media risk assessments is a great way to manage this risk. Independent employee satisfaction and engagement assessments are also a great indicator of unease in the company."
A number of industries legally require ongoing vetting throughout employment, such as the financial services industry, adds Kruger. Many verifications are dynamic and change constantly. For instance, criminal records change on a daily basis, and checks are only valid for 3 months at a time. "A person's record could be clear on employment but could have been charged with an offence within their three-month probation period. Other checks that are vetted on an ongoing basis are credit checks, FAIS checks, driver's licences, professional driver's permits, work permits, and permanent residency. All these checks carry an expiry date and must be checked often," he notes.
When it comes to post-employment screening, Reid suggests the following human resource tools are used to add a different dimension to the risk profiles:
• Employee engagement tool.
• On-boarding assessments.
• Exit interviews.
• Employee satisfaction surveys.
• Performance appraisals.
• Career development & planning assessments.
In order to understand the best use of the various tools, iFacts prepared the infographic in Figure 1 demonstrating the screening processes through the life of an employee.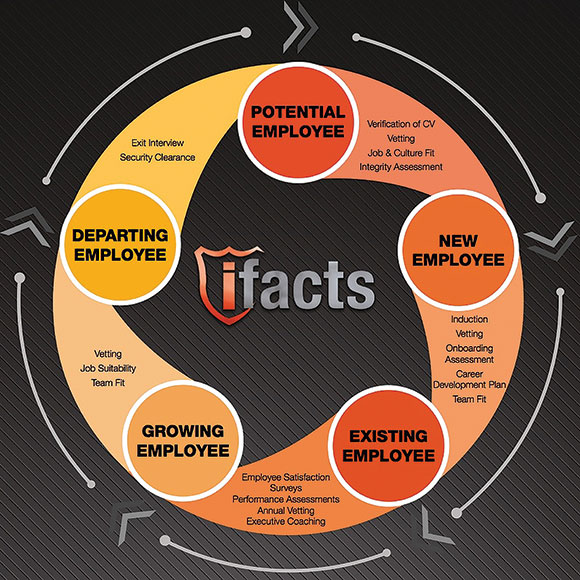 Figure 1.
A set process
There are obviously a number of checks and assessments that can be done, but which should be selected? Barkhuizen says that the value of these screening processes helps the company to manage the costs of hiring and avoid the additional costs of hiring the wrong people. However, she adds that not every assessment needs to be done on every employee.
"Every individual in your organisation needs to be vetted," agrees Kruger, "from your corporate office cleaner through to your senior executive team. However, the types of checks conducted will be different as some will be behavioural indicators and others will be qualification indicators."
He gives the following examples. A receptionist may not require a formal qualification, but at a minimum a Matric is required. Therefore the recommended checks would be criminal, credit, ID verification and matric qualification. A driver of your company's trucks would need a valid driver's licence, a professional driver's permit and a clear criminal record if you are employing him to move valuable stock around.
"On the other hand, a senior level executive would be screened for matric and tertiary qualifications, criminal, credit, ID verification, social media and adverse media. Reputational management is top priority at this level," Kruger adds. "We find most positions, at the very least, need to screen criminal and ID verification checks."
Barkhuizen explains that MIE understands that it can be difficult to decide which assessments should be used for which positions, not to mention expensive if the person is not in a senior position. The company has therefore designed a guide to assist customers in selecting the correct tests for different roles in the company.
Building on from what Kruger noted above in terms of criminal and ID checks, Barkhuizen says an entry-level position, for example, could also require an integrity test and a computer literacy test. The exact combination depends on what the company wants to gain by hiring the person. The more senior the position, the more assessments covering a broader scope are required.
Some standard profiles of what should be screened for a specific level of employee, assembled by iFacts, are listed in the sidebar Standard profiles below.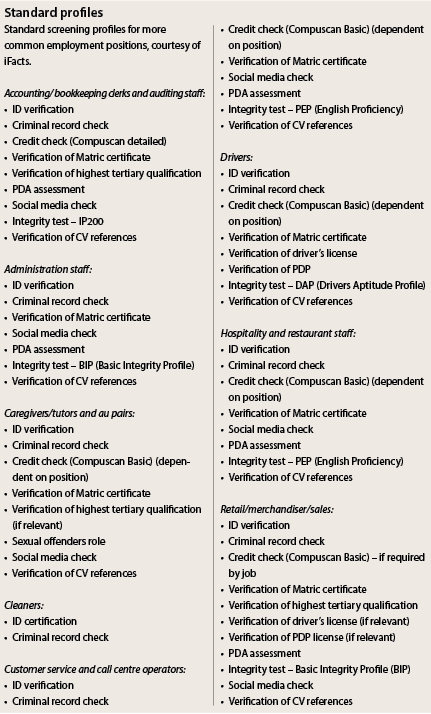 A growing demand
While screening new or existing employees is not a new discipline, its usefulness has not always been appreciated, nor have there been the variety of assessments available as there are today. However, as more people are desperate to find work and are willing to fake identities, qualifications and so on, this service is more necessary than ever.
Kruger says South Africa is well versed in background screening and LexisNexis finds most corporates and government organisations conduct some form of employee vetting. He adds that smaller companies often rely on recruitment agencies to conduct vetting on their behalf, but sometimes put themselves at risk when not employing through an agency as they tend to overlook screening new employees.
From MIE's perspective, Barkhuizen explains that even through the recent economic downturn, companies saw the value in screening and MIE has seen consistent growth over the past 5 years. "There are ups and downs brought about by external issues such as the changes to the National Credit Act, but the growth and uptake of screening is increasing year-on-year as more companies understand the value offered by the process.
iFacts has also found that it is more common to have some form of employee screening policy in South Africa. However, Reid notes, "Sadly, often the people who have been instructed to conduct the screening have no understanding why it is being done and the value it adds to the company. It is often a tick-box process with people trying to get it done as quickly as possible so that they can move on to the next administrative task they have to do in the recruitment of a person.
"If an employee screening document is done properly and read thoroughly, the value is immense and the chance of having the right person in the right position is so much greater."
For more information, contact:
• iFacts, +27 (0)11 609 5124, sonya@ifacts.co.za, www.ifacts.co.za
• LexisNexis South Africa, +27 (0)11 245 6500, amber.packham@lexisnexis.co.za, www.lexisnexis.co.za
• Managed Integrity Evaluation (MIE), +27 (0)12 644 4000, jenniferb@mie.co.za, www.mie.co.za
Credit(s)
Further reading:
The same security assessment for different reasons
Issue 7 2020, Alwinco , Editor's Choice
Like everything else in life, a security risk assessment also has two sides: one is the proactive approach, and the other is the approach taken 'after the fact'.
Read more...
---
Risk intelligence the key to a sustainable future
Issue 7 2020 , Editor's Choice
Only by building risk intelligent organisations will leaders be able to overcome six distinct global threats identified by the Institute of Risk Management South Africa (IRMSA).
Read more...
---
Profile D for access control peripherals
Issue 7 2020 , Editor's Choice
Profile D provides interoperability for devices such as locks, credential/biometric readers, PIN pads, LPR cameras, door phones, sensors and displays.
Read more...
---
Security investments and culture
Issue 7 2020 , Editor's Choice
Organisations must embed security into the culture of the company and approach security investments with this culture in mind.
Read more...
---
Elastic storage pricing
Issue 7 2020 , Editor's Choice
With elastic pricing, users can switch from one storage model to another without having to pay a premium or a penalty, and without having to physically move any data.
Read more...
---
Use technology as a differentiator
Issue 7 2020 , Editor's Choice
Juni Yan, director of Transport, Logistics and Automotive at BT, shares her insights on how logistics companies can leverage digital transformation to become a real market differentiator – no matter the state of the pandemic.
Read more...
---
Management of PPE allocation made simple
Issue 7 2020, Powell Tronics, Technews Publishing , Editor's Choice
Of all the roadblocks and challenges COVID-19 has introduced us to over the past few months, one of the tasks organisations have to manage is the issuing of PPE to staff.
Read more...
---
Robots in warehousing and freight, a security perspective
Issue 7 2020, FSK Electronics , Editor's Choice
The logistics industry needs support from technology to meet its ongoing demands and ongoing security concerns.
Read more...
---
The new training normal
Issue 7 2020, Leaderware , Editor's Choice
Insights from running my first CCTV Surveillance Skills and Body Language and Advanced courses at physical training venues since COVID-19 started.
Read more...
---
An exciting journey in security
Issue 7 2020, Technews Publishing, BTC Training Africa , Editor's Choice
Errol Peace describes his 40-plus year career in the security industry where he was and is a great proponent of training as an "exceptionally exciting journey".
Read more...
---